The Best Cheap XLR Microphones In 2023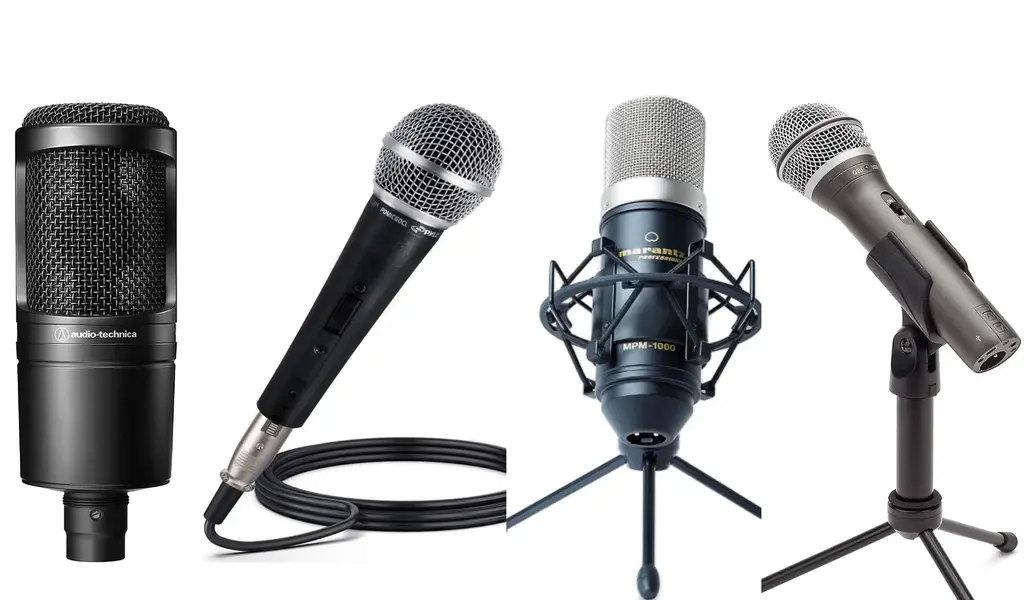 (CTN NEWS) – A budget-friendly XLR microphone is an essential piece of equipment if you're starting a podcast or recording vocals for your music.
While expensive gear can offer top-notch performance, you can still achieve excellent quality with a microphone priced well below $100.
XLR microphones are favored by professionals in the music and broadcasting industries for their reliability and compatibility with various interfaces.
You won't have to worry about software updates causing issues with your microphone, and it won't become technologically obsolete anytime soon.
Investing a modest amount today will allow you to enjoy the benefits of this equipment for many years, if not decades.
The best affordable XLR microphones can deliver results that may negate the need for future upgrades.
How we chose the best cheap XLR Microphones
When selecting the cheap XLR microphone recommendations for our guide, we took into account the diverse needs of potential users.
Musicians and podcasters may have slightly different requirements, but many XLR microphones can work well for both purposes.
We also considered microphones that come with accessories such as stands or arms, as these bundles can offer additional cost savings compared to purchasing individual pieces of equipment.
While the term "cheap" is relative, we ensured that all the microphones we recommend are priced under $100, with the most affordable option costing less than $23.
While the Shure SM7B is a standard choice, not everyone has a budget of $399 or more to spend on a single component.
The best cheap XLR Microphones: Reviews & Recommendations
Whether you're looking to kickstart your podcasting journey or elevate your music recordings from smartphone mic quality to professional-level tracks, these budget-friendly XLR microphones are your ideal starting point for building a recording setup.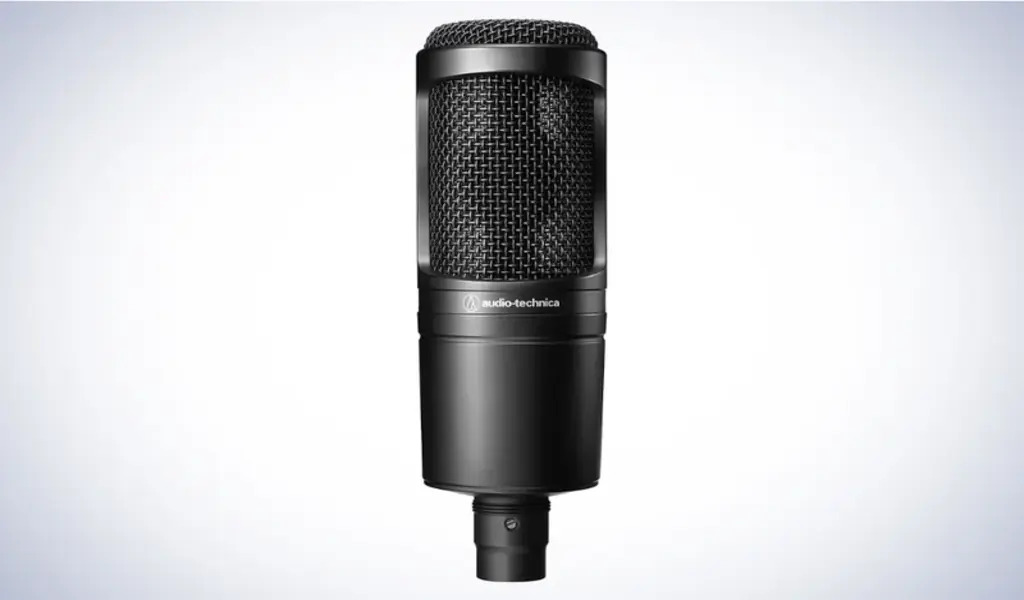 Specs
Microphone type: Condenser
Weight: 1.32 Pounds
Price: $99
Pros
Sound source isolation
Includes stand mount
Part of a rich accessories ecosystem
Cons
While it's the priciest option on our list, the Audio-Technica AT2020 offers exceptional audio quality that justifies the investment.
This condenser microphone is tailor-made for broadcasters and vocalists, ensuring your voice sounds its best. Its cardioid pattern is great at rejecting unwanted sounds from the sides or rear, focusing solely on capturing your voice.
The microphone comes with a mount, making it easy to attach to any microphone stand, and it can be oriented on its side for convenience.
Given its weight, you may want to invest in a sturdy stand. Audio-Technica products are known for their durability, and the company offers a range of first-party accessories to enhance your setup.
Starting with the AT2020 today allows you to gradually build a top-notch studio-class audio setup over time.
Specs
Microphone type: Condenser
Weight: 0.66 Pounds
Price: $49
Pros
Directional cardioid mic capsule
Includes shock mount, Windscreen and Desktop stand included
20-20,000Hz Frequency range
Cons
Not a great choice for recording instruments
If you're looking to broadcast on a budget without limiting your hardware options, the Marantz MPM-1000 is an excellent cheap XLR microphone choice.
This microphone comes with all the necessary accessories to help you achieve high-quality audio recordings on the go.
To complete your setup, you'll need to add an audio interface or mixer, which will give you access to outboard processing.
The MPM-1000 features a cardioid microphone capsule that's oriented to capture only your voice, and its frequency range is well-suited for the human voice and hearing.
Additionally, the included windscreen acts as a pop filter to prevent unwanted frequency spikes when pronouncing words with the letter "p."
Marantz's shock mount ensures that the microphone won't pick up distortion if it's accidentally moved on the stand.
With a price tag of just $50, this bundle offers exceptional value, and you can elevate your setup by opting for a package that includes a set of M-Audio headphones for under $90.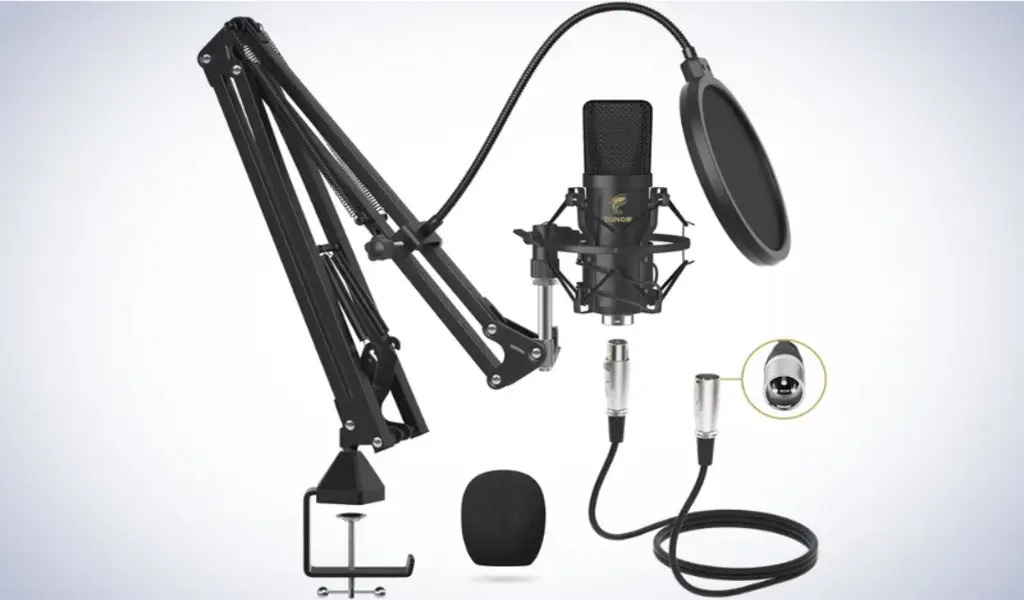 Specs
Microphone type: Condenser
Weight: 4.19 Pounds
Price: $64.99
Pros
Includes a lot of helpful accessories
20Hz-20kHz frequency range
Off-axis audio suppression
Cons
You need a permanent recording space
The Tonor XLR microphone bundle is an excellent choice for those with a dedicated recording space.
The microphone itself is designed to suppress off-axis audio, ensuring that it captures your voice while reducing ambient noise.
Its high-frequency range enables accurate recording of voices with various pitches. What makes this bundle stand out are the included accessories:
Pop filter: This filter prevents harsh sounds that can occur when pronouncing certain consonants, resulting in cleaner recordings.
Shock mount: Tonor's shock mount stabilizes the microphone, reducing the impact of movement or vibrations during recording.
XLR cable: The included XLR cable connects the microphone to your audio interface or mixer.
Microphone arm: The microphone arm allows you to position the microphone directly in front of your face at the perfect angle, optimizing recording quality and offering flexibility in adjusting your chair's position.
Overall, this bundle provides essential tools to create high-quality recordings, making it a great choice for those with a permanent recording setup.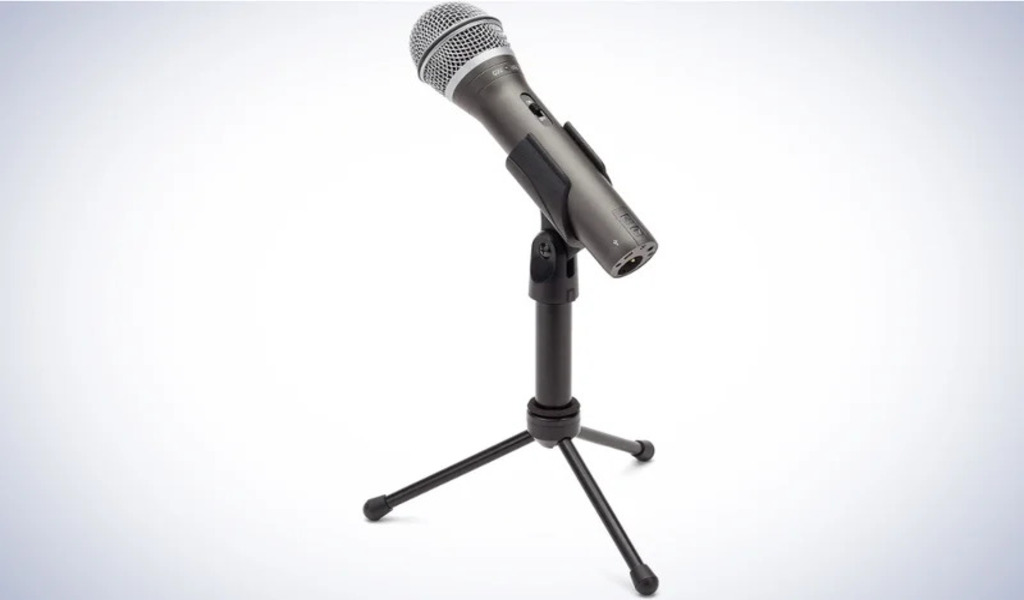 Specs
Microphone type: Dynamic
Weight: .7 pounds
Price: $69.99
Pros
Great for recording instruments and vocals
Can be connected directly to a computer if need be
Has a built-in headphone jack for monitoring
Cons
Samson's Q2U is a versatile microphone that offers both XLR and USB connectivity, making it an excellent choice for those looking for flexibility in their recording options. Here's why it's worth considering:
USB and XLR Connectivity: The Q2U allows you to connect directly to your computer via USB for digital recordings or use an XLR connection for analog setups. This versatility accommodates various recording needs.
Built-in Headphone Jack: Unlike other recommendations, the Q2U features a built-in headphone jack, allowing you to monitor your recordings in real-time. This feature is valuable for adjusting microphone placement and ensuring recording quality.
Accessories Included: Samson includes essential accessories with the microphone, such as a pop filter and desktop stand, providing a complete and compact recording setup right out of the box.
Versatile Usage: Whether you're a beginner podcaster, musician, or content creator, the Q2U's versatility makes it suitable for various applications.
While it may be slightly pricier than some other recommendations, the Q2U's flexibility and included accessories make it a valuable choice for those looking to start their recording journey.
For even higher build and sound quality, you can consider the Samson Q9U, which offers excellent performance, capable of handling both high sound pressure levels and subtle vocal nuances.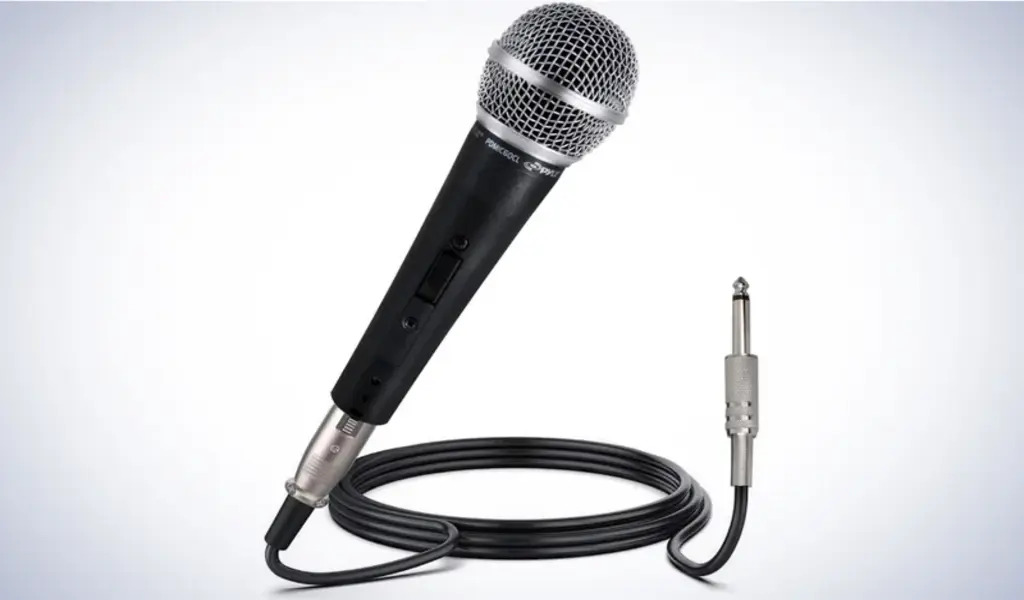 Specs
Microphone type: Dynamic
Weight: 1.32 pounds
Price: $22.80
Pros
Includes long audio cable
On and off switch
Price
Cons
Pyle's Professional Dynamic Vocal Microphone is an ultra-affordable XLR microphone that offers a straightforward and reliable option for various audio recording and live performance needs.
Here's why it's worth considering:
Budget-Friendly: Pyle's microphone is one of the most cost-effective options for those on a tight budget. It provides excellent value for its price, making it suitable for beginners or as a secondary microphone.
Durable Construction: The microphone features an all-metal design with an anti-dent ring in the middle, enhancing its durability and protecting it from physical damage.
Built-in Pop Filter: Pyle claims that the built-in pop filter effectively manages unwanted sounds, eliminating the need for an additional filter. This can save you money on extra accessories.
On-Off Switch: The microphone includes a convenient on-off switch, which is valuable for live performances when you want to prevent feedback and noise during breaks.
15-Foot Cable: Pyle provides a 15-foot-long cable with the microphone, offering flexibility in positioning and setup.
While it may not have all the features and accessories of higher-end microphones, Pyle's Professional Dynamic Vocal Microphone is a reliable and budget-friendly option that delivers decent sound quality for its price. If you're looking for the most affordable XLR microphone without compromising too much on performance, this microphone is a solid choice.
MORE RELATED NEWS:
United Auto Workers (UAW) Union Expands Strikes Against General Motors And Ford Motor
International Safe Abortion Day: Latin American Women March For Abortion Rights And Gender Equality
Hong Kong And Macao Police Arrest Four More Suspects In $200 Million JPEX Cryptocurrency Scam