[iOS 16 Supported] How to Remove MDM Profile on iPhone 14/14 Plus
In the latest released version of Passvers iPhone Unlocker, the new MDM removal function is introduced, working to help you easily remove MDM profiles from iPhone/iPad, including the latest iPhone 14/14 Plus Pro on iOS 16 systems to get your devices out of monitor and free all functions, letting you to take full control over them once again. But how Passvers iPhone Unlocker MDM removal function actually works? Can we trust it? This review will introduce it with all the details to you.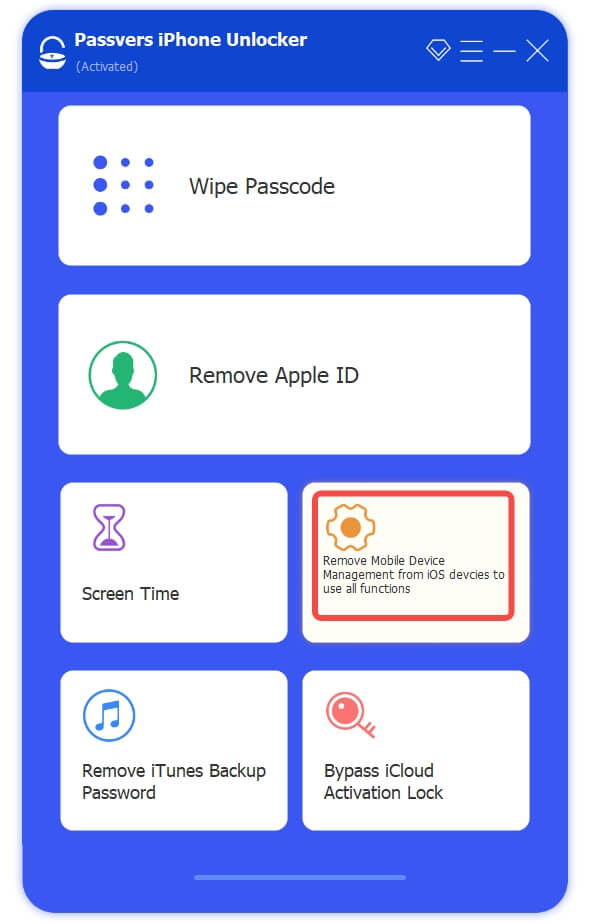 Passvers iPhone Unlocker New MDM Removal Feature Also Supports iOS 16
The MDM bypassing function is a newly-released one added on Passvers iPhone Unlocker. When you have installed or updated the software to the latest version, you will see this feature added on its Home Screen.
When the software adds support to analyze most types of MDM servers on the market, it is possible to help you remove them in a quick way. After bypassing MDM profiles on your iPhone/iPad, you can get your devices free from third-party monitors, and regain full access to them for using without any limitation.
As a new function released on Passvers iPhone Unlocker, how the software makes the MDM removal feature the reliable and helpful one to server users in needs? Here are some advantages that make itself attractive. Have a look.
Easy and Safe Software Installation
Passvers iPhone Unlocker only needs very simple installation process to set up the software. It will clearly lead you to complete installing the software and won't ask you to download extra software or extensions at all. Passvers iPhone Unlocker has included all its provided functions on the Home Screen, so you can surely access the MDM removal function and get started using it.
The simple installation process also makes sure a complete safe environment as it has strictly prevent bundled malware or viruses attacking your devices.
User-friendly UI and Easy Operations
Passvers iPhone Unlocker also designs the whole MDM bypassing operation to be simple enough. Every steps will contained with clear guidance on the screen to let you easily follow to complete the whole removing process. Even if you are the first time using the software, you can easily delete MDM profiles on your devices just by easy clicks.
Wide Support on All iOS Devices and MDM Agents
To meet more users' needs on MDM removal, Passvers iPhone Unlocker also improves its compatibility to make the function work for all iOS devices. For the latest updated iOS systems or newly-launched iPhone/iPad series, even for those disabled devices, the software can work to bypass MDM for you.
Also, Passvers iPhone Unlocker has added support for the MDM technologies provided by the most MDM agents, which also improves higher success rate in processing MDM profiles removal outcomes no matter what MDM agents the device owners used to monitor your iPhone/iPad.
When you need to unlock MDM added on iOS devices, simply use Passvers iPhone Unlocker and you can manage to remove it without any failure happening!
No Data Loss in Work Properly Mode
When you do MDM removal on iOS devices that are working properly, Passvers iPhone Unlocker ensures high safety to save all your data, without affecting any of them or leading to unexpected data loss. But pay attention that if you are going to manage MDM removal on disabled devices, because it needs you to turn on the "Recovery Mode", all data will be erased, so make sure you have backed up them in advance.
Affordable Price
Compared with many other similar products on the market, Passvers iPhone Unlocker offers affordable price plans to let more users can access and use the MDM removal service.
It only takes USD 35.95 a month and the subscription can be cancelled at anytime. If select a yearly plan, the cost for a month can even be reduced to USD 3.33 and during this period, you don't need to pay extra fee but use the software without any limitation.
How to Remove MDM from iPhone/iPad Without Passwords
Now, you can see the following tutorials and know how exactly Passvers iPhone Unlocker works to uninstall MDM agents added on your iPhone/iPad no matter if they are disabled or not.
Remove MDM Profile on Normal Devices Without Data Loss
Firstly, you can follow the steps below to remove MDM on a device (iPhoe 14/iPhone 14 Plus supported) working properly without any data loss.
Step 1. Open Passvers iPhone Unlocker and then choose the "Remove MDM" function. Then you will need to connect your device to let the software detect it.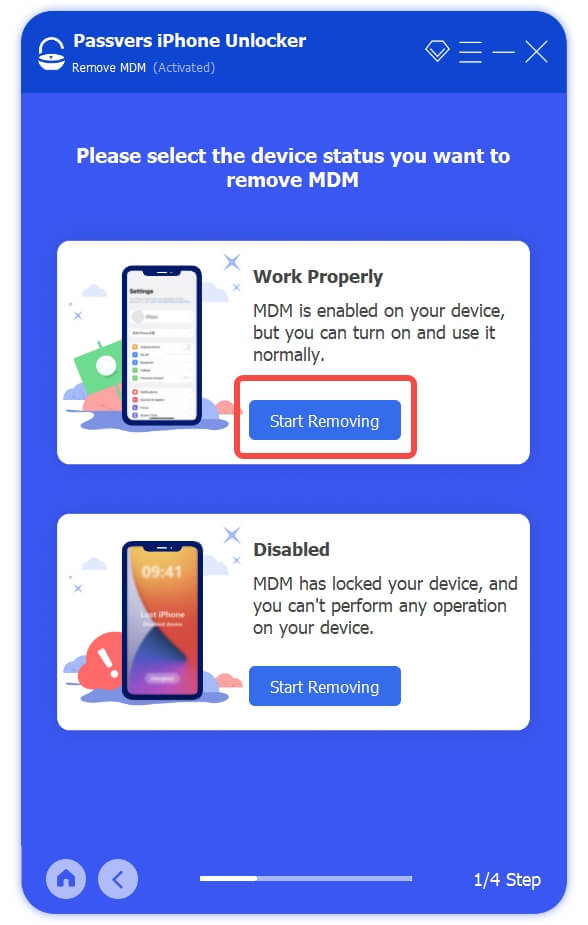 Step 2. Choose "Work Properly" mode and click "Start Removing". Next, you need to follow the guide showed up on the screen to turn off Find My on your iOS device.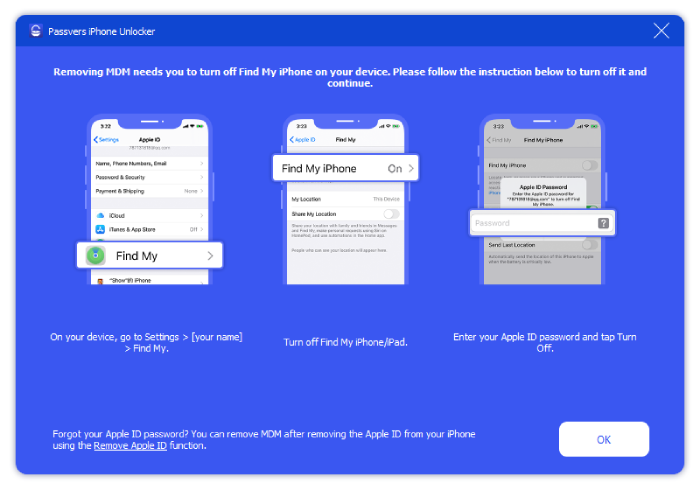 Step 3. Start removing MDM to get your device out of third-party monitor by clicking the "Start" button.
Bypass MDM on Disabled iOS Devices
If your iOS devices are disabled, you will need to take two more steps to remove MDM profiles. Also, pay attention to back up data first because the operation will erase data on your disabled iPhone/iPad.
Step 1. When you select "Remove MDM" from the function list, choose the "Disabled" mode.
Step 2. Enter "0000" to confirm and you will be asked to follow the guide to put your device into "Recovery Mode".
Step 3. Next, connect it with the computer and Passvers iPhone Unlocker will detect and show the device information for you. Click "Start" to install a firmware package.
Step 4. Once the firmware package download completes, just click "Device Activated" and Passvers iPhone Unlocker will begin to remove MDM profiles and unlock the disabled iOS device for you immediately.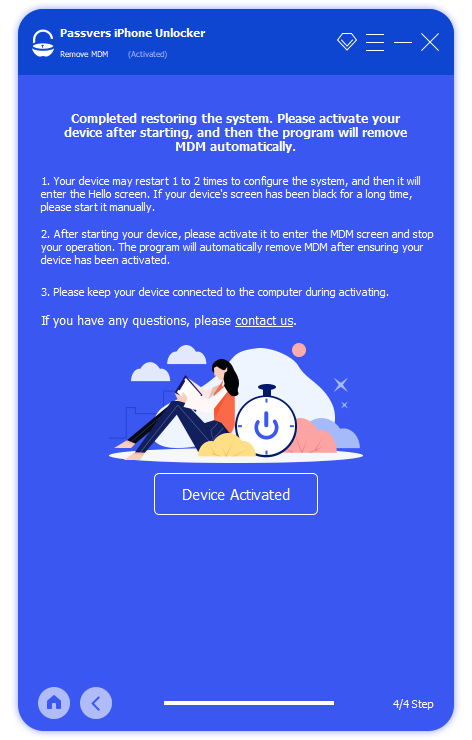 Why Trust Passvers?
You can firmly trust the newly-added MDM removal function added on Passvers iPhone Unlocker, because Passvers has ensured provided the best iOS solutions to help iOS users solve any problem they may meet in daily life. To see all products provided developed by Passvers, they all come out to provide high success rate and the safest functions to work for you in a speedy way. If you want to fix iOS errors on devices efficiently, Passvers software is your best choice.
In Conclusion
The new MDM removal function can be fully trusted as it is developed based on Passvers's advanced technologies, ensuring greater ability and success rate to provide faster performance. No matter what iOS devices you need to remove MDM, it can be the best choice you should not miss.
SEE ALSO: Vintage Apple-1: Steve Jobs' Handwritten Ad Sparks Bidding Frenzy, Fetches $175,759!