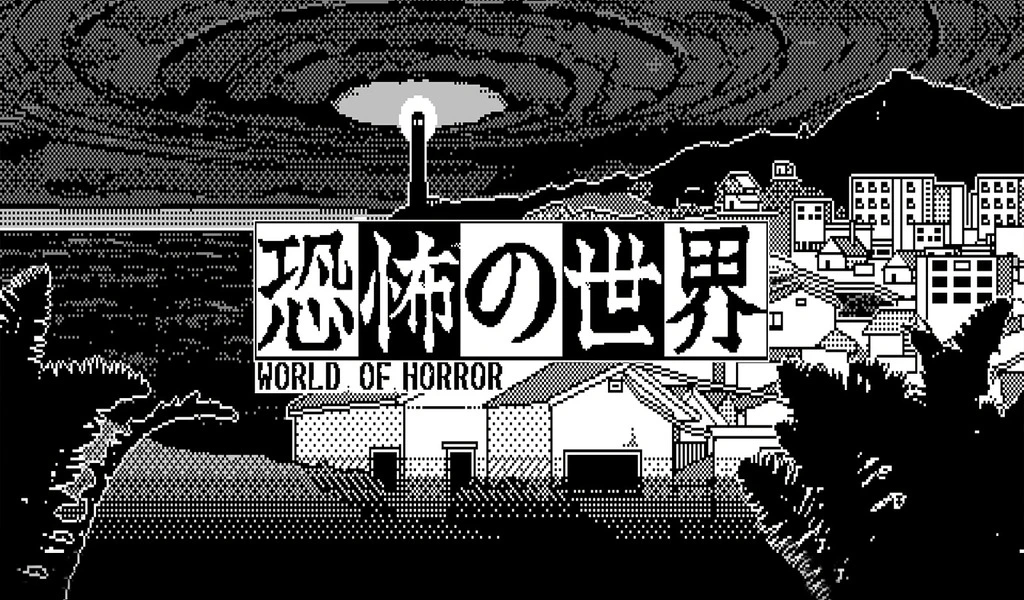 (CTN NEWS) – If you're in search of a storytelling experience that combines the visual style of Junji Ito with the Old Gods worship of H.P. Lovecraft, "World of Horror" might be just what you're looking for.
For those unfamiliar with these influences, Junji Ito is a renowned manga artist and writer known for his horror work, often characterized by unsettling imagery and themes of mental unraveling.
H.P. Lovecraft, on the other hand, is a famous author known for his unique brand of horror that delves into madness and cosmic entities seeking to awaken and take over the world.
"World of Horror" has been in Early Access on Steam for several years and has now received its official 1.0 release.
With its distinct blend of 1- or 2-bit visuals and Lovecraftian horror, the game caters to a niche audience well, offering a grotesque experience in monochromatic glory.
However, it's important to consider whether this style is suitable for everyone.
The game kicks off with a custom-made introductory mission that takes around ten to twenty minutes to complete.
It provides an easy-breezy introduction to the game's mechanics set in 1984 Japan, reminiscent of the vintage PC era.
The core gameplay involves a roguelike structure, where players take on the role of a heroine tasked with solving five mysteries to obtain five keys.
These keys are used to unlock a long-forgotten and ominous lighthouse that has remained unopened for years.
Each of the five missions presents bite-sized stories, as players visit various locations, engage in encounters, and occasionally confront monsters.
Given its roguelike nature, players are never quite sure which multiple-ending mystery they'll have to unravel or how the scenario will unfold.
Whether you successfully complete the game or not, the allure lies in the desire to revisit and unlock new creepy encounters and endings.
Typically, a single playthrough of "World of Horror" is likely to last anywhere from one to two hours, though experienced players might complete campaigns in less time.
The game's appeal hinges on the creativity and shock value of each scenario. The roguelike element is pivotal here; you never quite know what to expect, but each scenario adheres to the same basic structure.
For instance, one mystery casts you as a recluse trapped in an apartment, and your goal is to escape.
How you explore the apartment or interact with its objects is likely to unlock different endings, while the random encounters each day introduce variety to the gameplay.
"World of Horror" immerses players in a world of chilling and bizarre tales, where the combination of retro aesthetics and unsettling narratives creates a unique and enthralling experience.
For fans of Lovecraftian and Junji Ito-style horror, this game promises a journey into a world where the boundary between reality and the supernatural blurs, and sanity is never guaranteed.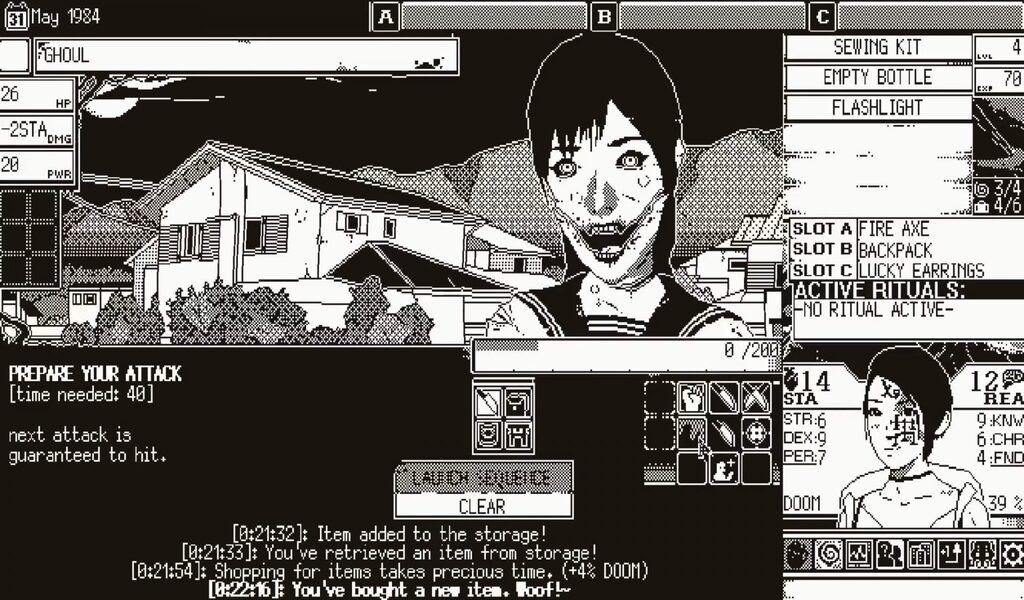 In "World of Horror," the gameplay loop is relatively straightforward. Players embark on a series of tasks that involve visiting locations, interacting with the environment, and engaging in encounters.
These encounters can lead to combat with various enemies or challenge the player's core statistics with skill checks, resulting in either minor bonuses or penalties.
This cycle repeats daily until a particular mystery or scenario concludes, at which point the next one begins. The simplicity of this loop is a defining feature of the game.
While the combat system may initially appear complex due to the numerous available actions, "World of Horror" offers a decent tutorial to help players grasp the mechanics.
It might take some time to become accustomed to the various options, which include searching for weapons during combat, executing weak or strong attacks, enhancing the next attack, calling upon allies, and setting up dodges, among others.
However, many players find success by selecting a reliable weapon, buffing it, and engaging in combat without delving into intricate tactics. Actions in combat are associated with a timer bar, and each action consumes a different amount of time.
For instance, wielding a heavy weapon may require more time for a swing, while a lighter weapon inflicts less damage but requires less time.
Generally, combat can be seen as a diversion from the intriguing and eerie narratives players explore during each mystery.
Players have the opportunity to level up and acquire stats or perks that offer minor advantages.
Although stats have a limited impact in the game, primarily serving as random checks for various events, they play a vital role.
Increasing knowledge, strength, dexterity, or other stats remains somewhat unpredictable, as players cannot foresee which events will challenge specific statistics.
Consequently, "World of Horror" leans more toward being an adventure game rather than a traditional RPG.
While elements of inventory management and character specialization are evident, the game's heavy reliance on randomness and episodic gameplay places a stronger emphasis on experiencing the bizarre and unpredictable events that unfold with each choice.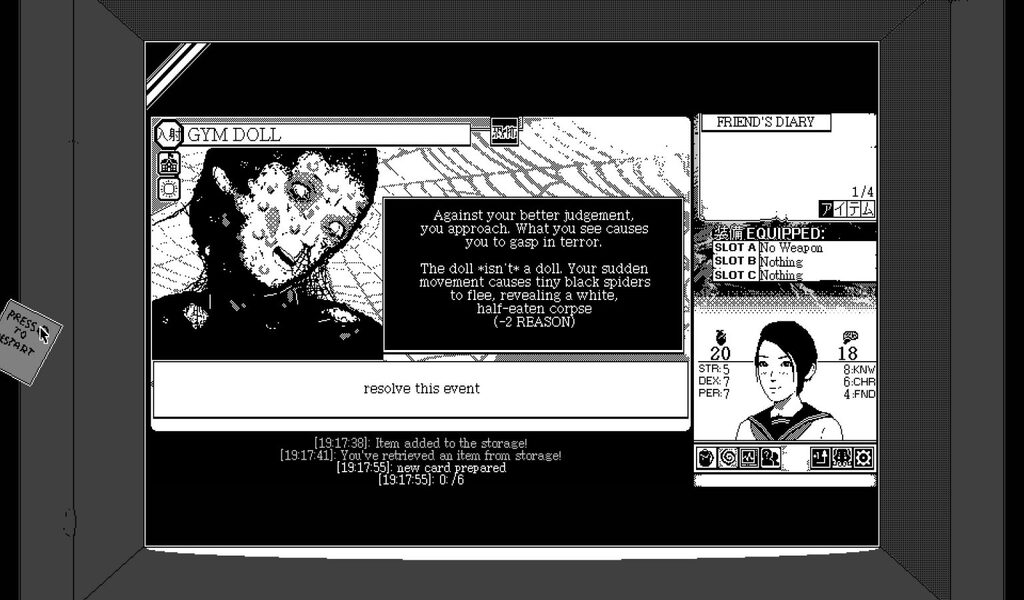 I would also never call World of Horror scary.
Some of the imagery can be offputting, as one might experience in a Junji Ito manga, but, at most, this is a creepy game.
Given the visual style—think something akin to Shadowgate on the NES—being genuinely frightened is difficult.
Also, each mystery's under 20-minute playtime makes establishing suspense challenging.
Fortunately, the eerie, MIDI-esque soundtrack is phenomenally composed.
Each track establishes suspense when it needs to or quietly accentuates the heavy mood.
Need a feeling of urgency? Got that covered, as well.
Of course, given the art direction, the MIDI-like instrumentation is practically essential, but it also stands firm on its own as well-created music.
Certainly, the music only supports a title that eagerly seeks to get in your head and fill you with wonder.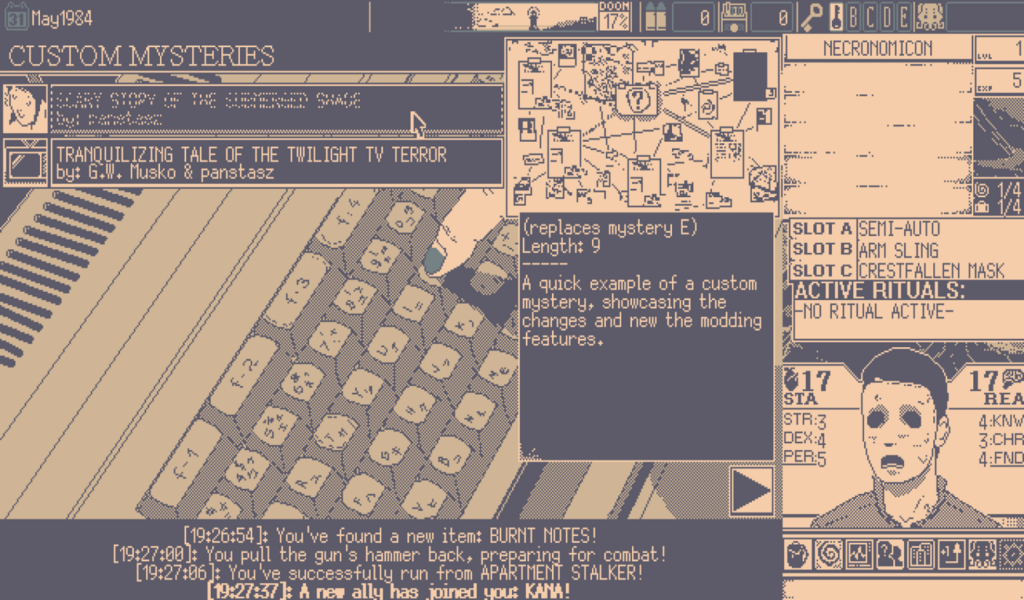 "World of Horror" does have some drawbacks that can affect the player experience.
The game's interface, with an abundance of buttons that blend into the environment, can initially be cumbersome to navigate.
Determining what can be interacted with and managing the inventory, which features numerous buttons, can be a bit overwhelming.
While the clickable buttons are clearly indicated, the overall presentation may not be user-friendly, and the numerous stats and menus can detract from an otherwise clean experience.
The game's reliance on its writing, visuals, and randomized events is evident.
Once players have encountered most of the content, the game may lose some of its initial appeal.
Speeding through repeated events can remind players that they are, in fact, playing a game rather than immersing themselves in a cursed town in 1980s Japan.
However, for completionists and horror enthusiasts, "World of Horror" offers significant replay value, as many scenarios provide variability and multiple unique endings.
In summary, "World of Horror" is competently crafted, with much to appreciate, but it does have some issues, including recurring content and a somewhat convoluted user interface.
Despite these drawbacks, the game succeeds in creating an eerie and captivating atmosphere.
MORE RELARED NEWS:
Epic Games Store Free Games Next Week Until 26th October
Heardle Today – Here's The Heardle #602 Daily Song For October 18, 2023
Epic Games Store Free Games Next Week Until 19th October