Trump Pledges to Reimpose Muslim Travel Ban At Jewish Gathering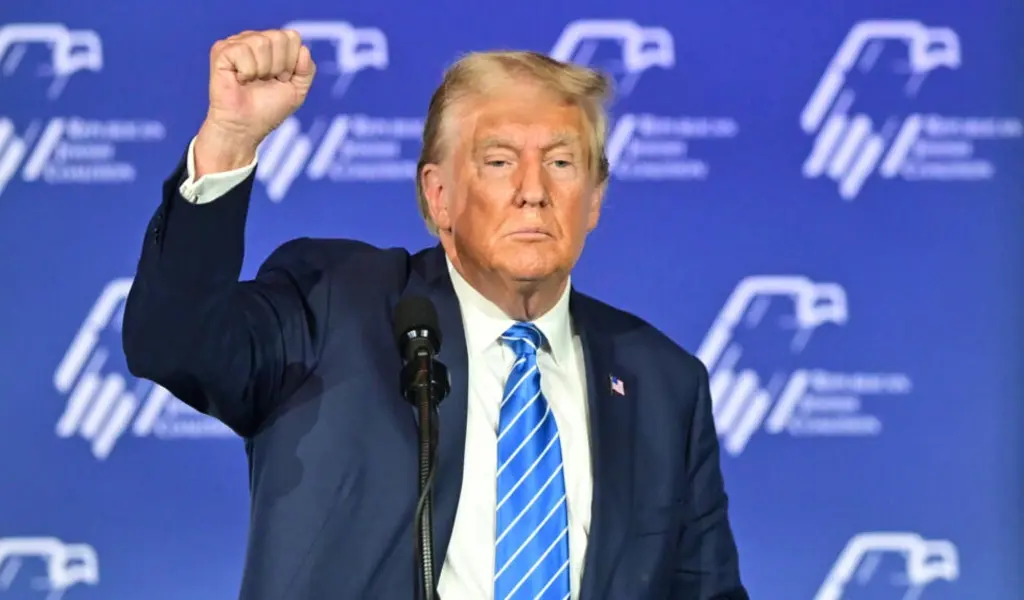 (CTN News) – Trump told the crowd at the Republican Jewish Coalition's annual summit, "We will keep radical Islamic terrorists the hell out of our country."
The prohibition on foreign travel, don't you recall? I will reinstate our travel ban on the first day.
In the first days of his presidency in 2017, Trump banned all citizens of Iran, Libya, Somalia, Syria, Yemen, and at first, Iraq and Sudan, from entering the United States.
Trump's hardline anti-immigration programme, including the bans, was well-received by his base, despite being promptly challenged in court as religiously discriminatory.
In 2021, during President Joe Biden's first week in office, he lifted the restriction.
Biden "was proud to overturn the vile, un-American Muslim ban enacted by his predecessor," according to a White House spokesperson.
A number of Republican aspirants, including the former US leader, lined up at the meeting of major Jewish financiers to express their steadfast support for Israel's battle against Hamas.
At the rally in Las Vegas, Nevada, Trump promised to "defend our friend and ally in the State of Israel like nobody has ever."
Trump, who garnered the most applause from the crowd, took aim at the Biden administration while avoiding criticism of his competitors by describing the struggle between Israel and Hamas as "a fight between civilization and savagery, between decency and depravity, and between good and evil."
After provoking outrage in recent weeks with remarks praising the Lebanon-based Islamist group Hezbollah as "very smart" and criticising Israeli Prime Minister Benjamin Netanyahu, the former reality show host is the overwhelming favourite to win the party nomination to run against Biden next year despite facing multiple criminal prosecutions.
Trump's nearest competitor, Florida Governor Ron DeSantis, was also present in Las Vegas, and he referred to the October 7 Hamas surprise strike on Israel as "the most deadly attack against Jews since the Holocaust itself."
At least 1,400 people, largely civilians, were slain at the hands of Hamas extremists.
According to the health ministry in the Hamas-controlled Gaza Strip, more than 8,000 Palestinians have been killed by Israel's continuous retaliatory bombardments, the vast majority of whom are civilians and many of whom are children.
DeSantis and others have suggested cutting funds to universities and cancelling visas for pro-Palestinian international students in response to what they see as escalating anti-Semitism on US college campuses.
For this cancer, Senator Tim Scott says "cultural chemotherapy" is necessary.
"Any student with a visa who calls for genocide should be deported."
"next week we are going to have a resolution on the floor to condemn the actions of anti-Semitism on campuses across our country," said Steve Scalise, the majority leader in the House of Representatives.
"If you cannot stand against terrorism today, when can you?"
To "give Israel the funding it needs to replenish" its strategic missile systems, he highlighted one of several forthcoming bills.
Nikki Haley, Trump's former ambassador to the United Nations and the only woman in the race, has caused concern that anti-Semitic violence may increase in the United States.
Haley has promised to "change the official federal definition of anti-Semitism to include denying Israel's right to exist" and to take away funding from institutions that don't actively work to combat anti-Semitism.
"College campuses are allowed to have free speech, but they are not free to spread hate that supports terrorism," according to her. Anti-Semitism education prevention plans are mandated by federal law. Together, we will make this law stick," she promised.
Mike Johnson, the freshly minted speaker of the House of Representatives, made his first public speech since taking office, and he said that Republicans would "stand united for Israel"
"We will not stop standing by the side of the Israelis until they have won," he stated. "There will be a ceasefire only when Hamas ceases to be a threat to Israel" .
On Saturday, former Vice President Mike Pence shocked the crowd by announcing that he was suspending his campaign for president in 2024.
"It's become clear to me: this is not my time," he commented. "After much prayer and consideration, I have decided to suspend my campaign for president."
The enormous number of Jewish voters in the United States has made support for Israel a major issue for both major political parties. This is one of the few instances in which foreign policy counts at the ballot box.
For evangelical Christians, the presence of a Jewish state is a necessary prerequisite for the anticipated "second coming" of Jesus Christ, hence this is an important issue for them as well.