Recreational Cannabis Use in Thailand Faces New Scrutiny
Thailand's incoming Prime Minister Srettha Thavisin came out against recreational cannabis usage on Friday, but said his administration will maintain rules favouring its medical use.
Thailand became the first Southeast Asian country to decriminalise cannabis last year, but only a week later enacted a slew of hurried, fragmented rules to limit its potential unregulated use, notably by youngsters.
"Medical cannabis will be the focus of cannabis policy." "I disagree with recreational use," he declared in an interview with Thai news website The Standard.
Srettha's Pheu Thai party is the leader of an 11-party coalition administration that took office in August. Under the previous administration, its largest partner, the Bhumjaithai party, successfully spearheaded the decriminalisation of cannabis.
Both parties have stated that they are only in favour of medical use.
Over the next several years, the country's cannabis sector is expected to be valued up to $1.2 billion, with thousands of outlets cropping up in tourist hotspots.
"Drug abuse is a major issue in the country that has gone unaddressed… cannabis must be used medically," Srettha told Reuters.
Srettha, who is also the finance minister, outlined economic initiatives geared at boosting consumption and expenditure as Southeast Asia's second-largest economy struggles to recover.
"This is a targeted policy, domestic spending will increase enormously," he stated, alluding to his hallmark policy of a 10,000 baht ($282.09) digital wallet gift to all Thais over the age of 16.
The 560 billion baht payouts are likely to be distributed in February.
Srettha also stated in the interview that he hopes to attract international investors during discussions with business executives in New York later this month when he attends the United Nations General Assembly meetings.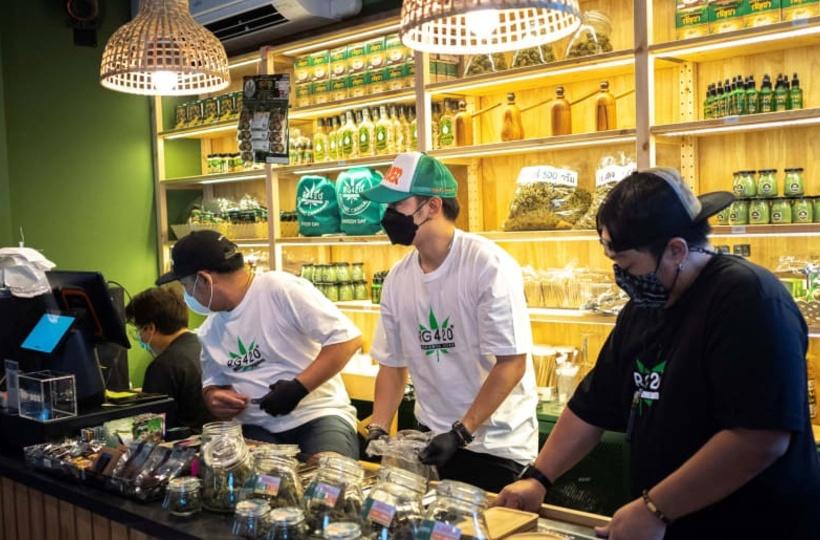 Cannabis cafés and pot stores have become prevalent in Thailand since the delisting of components of the marijuana plant as a narcotic last year.
However, contradictory government modifications to the regulations and ongoing discussion about what should be permitted have resulted in what has become described as "a weed Wild West" that might leave travellers in hot water. "Since legalisation, no one really knows whether we have the right information," says Kitty Chopaka, a Bangkok-based independent cannabis advocate.
The Ministry of Public Health has issued a new handbook, and "as long as tourists follow a few simple rules." "There's nothing to be afraid of," says Mendel Menachem of High Thailand, a cannabis information resource.
So, what is permissible and what is not in Thailand?
Cannabis is lawful for people over the age of 20 who are not pregnant or breastfeeding.
Where can you get it?
It is legal to smoke cannabis in one's own home, and it is legal to consume cannabis-infused cuisine in a licenced restaurant. Marijuana smoking in public locations, including as schools, temples, and shopping malls, can result in a 25,000 baht ($750) fine and a three-month prison sentence. People should be mindful of not "encroaching" on other people's space, according to Chopaka.
Where can you purchase it?
There are over 5,000 marijuana dispensaries around the country, selling cannabis flowers, pre-rolled joints, sweets with less than 0.2% THC, infused foods, and CBD oil. Dispensaries are common in places such as Bangkok, Chiang Mai, and Pattaya. "But try to buy things from reputable, licenced places," Chopaka advises.
Can you cultivate it?
Individuals must register with the country's Food and Drug Administration in order to cultivate cannabis. A permission is also required to use cannabis flower buds for study, export, or commercial processing.
How much can you eat?
Menachem claims that there is no limit to personal consumption. However, the ministry's advice advises against driving after drinking.
What is still illegal?
Tourists may not bring any part of the plant or its seeds into or out of the country. Furthermore, possessing extracts with THC levels greater than 0.2% necessitates permission, which visitors are unlikely to acquire.
According to Menachem, "people who live here and use [cannabis] appropriately and responsibly would hope that our guests and visitors will respect Thailand and the people around them and do things responsibly."