[VIDEO] Freak Hail Storm Damages 570 Homes in Chiang Mai, Thailand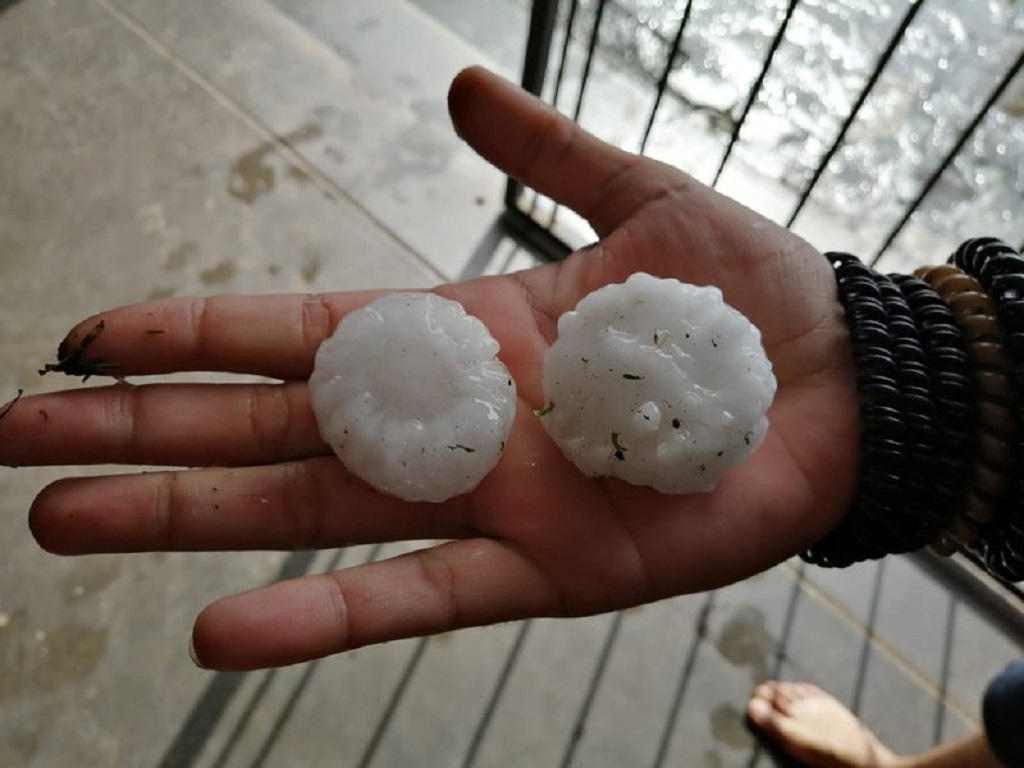 On Saturday, strange summer storms in northern Thailand's Chiang Mai province caused damage to hundreds of homes with hail the size of golf balls. Videos on social media showed what happened in Chiang Mai when there was a lot of wind and hail.
Mr. Chaichai Wongkam, whose house was severely damaged by strong winds and golf ball-sized hail, said, "It rained and hailed hard for almost 20 minutes." (See Video Below)
Even though the air force spread silver iodide to stop hail, it damaged hundreds of buildings in four districts.
On Sunday, the local office of the Department of Disaster Prevention and Mitigation said that 17 sub-districts in Chiang Mai were hit by hailstorms.
In Mae Rim, summer storms damaged both private and public property in the Huai Sai, Khee Lek, Sa Luang, Mae Ram, Rim Nuea, Rim Tai, and San Pong sub-districts. Roads were blocked by trees, power lines, and signs.
In the Suthep sub-district of Chiang Mai, hail storms damaged 579 homes and farmland. In the Fa Ham sub-district, many people lost power because power poles fell onto roads and blocked them. In the Mae Hia and Nong Hoi sub-districts, more homes were hurt.
Sugar palm trees were blown down in the Sam Kamphaeng sub-district of the San Kamphaeng district, which caused damage to cars and garages.
In the San Phra Net subdistrict of San Sai district, trees fell onto high-voltage wires (click for video) and roads. San Sai Noi and Mae Faek Mai sub-districts both lost power. In the Nong Han sub-district, two power poles were broken.
Nirat Pongsitthaworn, the governor of Chiang Mai, told local organizations to set up a command centre and shelter at Wat Langka in Muang district. Local officials have been giving people who have been affected by the storms food, water, and other basic needs.
On Sunday night, a hailstorm in northern Thailand's Nan province turned the streets and homes white, making it look like it was winter.
Chaloem Phra Kiat district residents from Ban Daan and Ban Piangsor said the storm lasted 10 minutes and dropped hail as big as golf balls.
The hailstorm made the alpine landscape look strange, and locals said they felt like they were in a different country.
The Thai Meteorological Department says that on Sunday, strong winds and hail will hit the north, north-east, and central parts of the country.
The department said that a moderate high-pressure system from China and a westerly depression in the North are causing the storms.
People were told to stay inside and stay away from big trees, loose billboards, and other things that could fall outside. Farmers were told to take steps to protect their crops.
Hail Wreaks Roofs in Chiang Mai