Chinese Tourists Sexy TikTok Video Sparks Outrage in Chiang Mai Thailand
A baht bus cooperative in northern Thailand's Chiang Mai has asked drivers to keep a better eye on passengers after a video of a Chinese woman went viral on TikTok. The Chinese woman was seen sexily exposing herself on the rear of a downtown red bus.
Such misbehaviour could harm the image of Chiang Mai, a region known for its attractive culture and tourism, as well as the image of the red baht buses, according to Natthawut Chotethaweephun, president of Nakornlanna Co, on Tuesday.
In Chiang Mai, the company cooperative has 2,199 red baht bus operators.
He was reacting to three videos released a few days ago on huanxi59's TikTok account, where she described herself as a Chinese girl.
They showed a woman performing sensual gyrations on a red baht bus in downtown Chiang Mai while wearing a bra top and lowering her slacks to expose her bottom and G-string panties. Each video has received between 500,000 and one million views.
According to Mr Natthawut, the woman boarded a red baht bus in the Tha Phae area. He hadn't yet identified the bus or the driver.
According to him, the cooperative urged its members to assist in identifying the bus. He did not believe the driver was aware of his passenger's activity, though, because he had very limited vision through his rear view mirror.
Mr Natthawut stated that he has requested all members to assist in preventing such tragedies.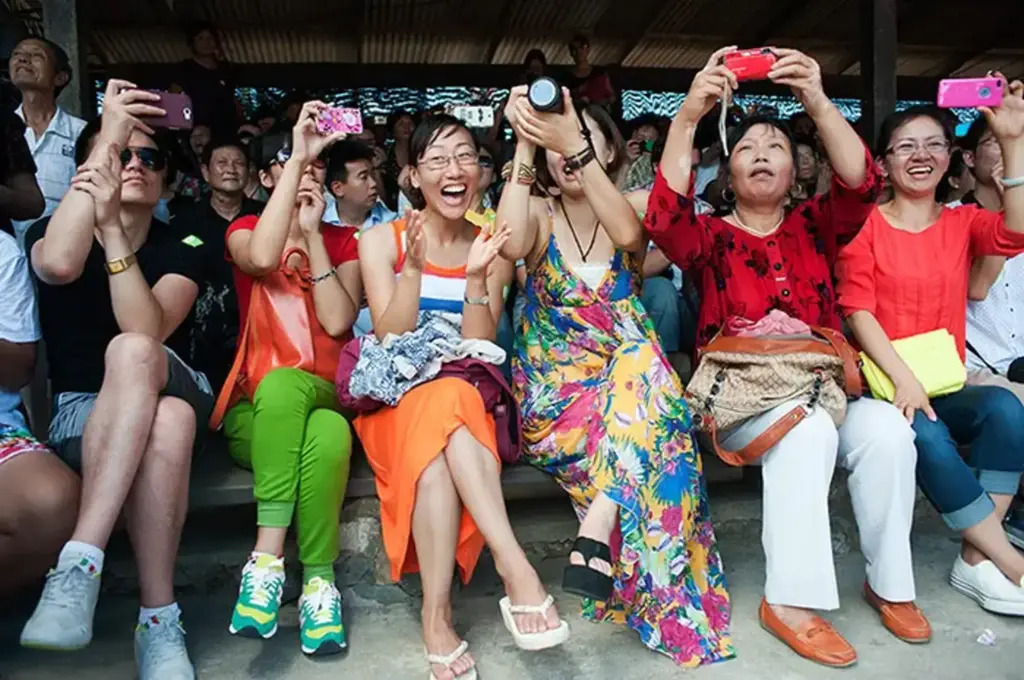 Tens of thousands of Chinese tourists were drawn to Chiang Mai in 2014 by the successful, low-budget Chinese comedy Lost in Thailand, but locals in Thailand's ancient and culturally rich northern city were outraged.
After witnessing a record amount of Chinese tourists during the Lunar New Year break, some locals labelled the situation as "cultural clashes," while others simply found the visitors' actions unpleasant and impolite.
[Chinese visitors] have a habit of driving on the wrong side of the road at high speeds and frequently driving against traffic on one-way streets. Chinese tourists will frequently stop in the middle of busy intersections to argue over instructions.
Some hotel and guesthouse owners are refusing them because they claim that Chinese tourists frequently reserve a room for two but remain in groups of four or five. They also lament their proclivity to litter and hang their clothes on the balcony railing.
Thai people then urged the Thai government to collaborate with the Chinese embassy to better educate its tourists so that Thailand might "thrive" rather than "suffer" from Chinese tourism.
On social network sites and local forums,
locals posted more evidence

 of what they say are offensive acts by the Chinese:
A tendency to not flush the toilet.
Washing their feet in sinks at White Temple in Chiang Rai
Flouting traffic laws when driving, riding a bicycle, or parking their car.
Being loud – even in five-star hotels.
Littering, spitting, queue-jumping.
Allowing children to defecate in public pools.
Terrible English-language skills that lead to difficulties in communication.
Even Chinese people living in Chiang Mai said they found the behaviour of their fellow countrymen shocking and embarrassing.
"In the past I've always told people with pride that I am Chinese. I will be reluctant to do that in the future," wrote one local.
"Please stop bringing shame to our people," wrote another.
Still, more Chinese tourists are bound to visit. The Tourism Authority of Thailand expected more than 1.5 million Chinese to visit this year.
Ministry of Tourism and Sports officials and tourist police were trying to explain to foreign tourists, especially Asians, through their travel agents, that Thai culture is different from theirs and both sides should adjust to this.
Thai Model Slams Chinese Tourists in Unbelievable Video Rant