Chinese Flock to and from China as Borders Reopened After 2 Years
For the first time since imposing travel restrictions in March 2020, China has reopened its borders to international visitors. Incoming travelers will no longer be required to quarantine, marking a significant shift in the country's Covid policy as the country battles an increase in cases.
They will still require proof of a negative PCR test performed within 48 hours of departure. Many people are relieved to be reunited with family.
In the coming weeks, 400,000 people are expected to travel to mainland China from Hong Kong, with long lines for flights to cities such as Beijing and Xiamen. On Sunday, double-decker buses full of tourists arrived at the Hong Kong-Zhuhai-Macau Bridge to catch buses to Guangdong province, including college students returning home.
One man told the BBC that he hadn't seen his extended family in three years and couldn't contain his excitement after purchasing a plane ticket back to China. Another woman said she hadn't seen her parents in years, despite one of them having colon cancer, and that she was "so, so happy" to see them.
Hundreds of thousands of people are also expected to depart China in the coming weeks, with many of them heading to Thailand.
The reopening of China coincides with the start of "Chunyun," the first period of Lunar New Year travel. Prior to the pandemic, it was the world's largest annual migration of people returning home to spend time with family. This Lunar New Year, two billion trips are expected, more than doubling the number that traveled last year.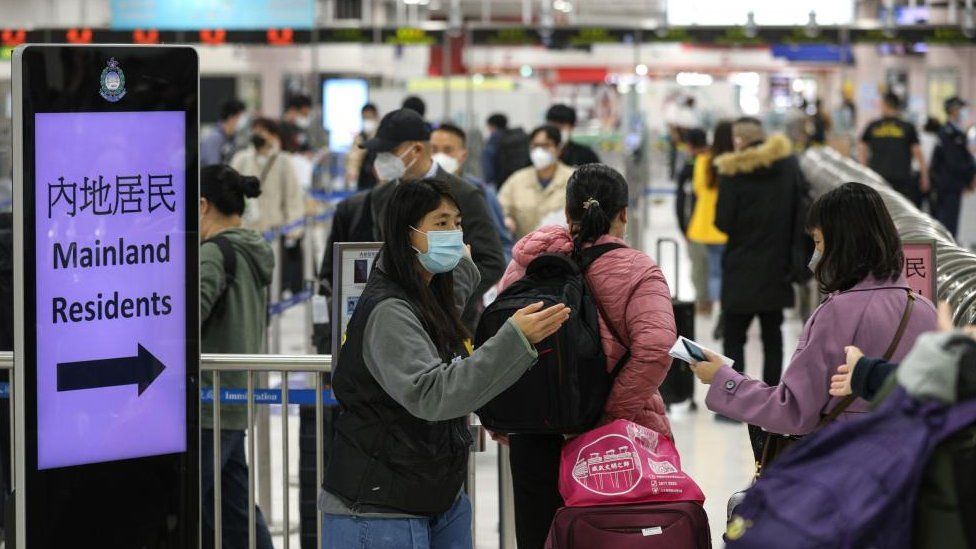 Chinese Returning to China
Li Hua, who traveled from the United Kingdom to China to attend the festival, said it was a memorable experience ""It's been far too long" since she had returned, and she was overjoyed to be back and breathe Chinese air. So pleased, so pleased ".
After visiting Hong Kong, Mark Clayton returned to Zhuhai, Guandong, with his wife and baby. He told the BBC his trip home had been "nearly as smooth as it used to be pre-Covid".
"We didn't even show them the PCR; we just scanned a code and filled out a quick customs declaration… and then straight through," he explained.
Some are concerned that opening the borders will result in more Covid-19 transmission. Unease from both travelers and nations that have long awaited the return of deep-pocketed Chinese tourists has dampened the festive mood.
As China quickly lifted Covid restrictions, a virulent outbreak has swept the country in recent weeks, causing havoc in hospitals and putting strain on health-care workers. Beijing's decision to open its borders, announced less than two weeks ago, has surprised, confused, and alarmed many people.
Nations all over the world are excited to welcome back Chinese tourists like Zhao and her parents. Prior to the pandemic, Chinese tourists spent $250 billion annually abroad.
When China abruptly suspended tour groups and travel packages in early 2020, many tour guides and travel operators went bankrupt. Thailand, Japan, and South Korea were among the countries hardest hit.
However, some of those same countries are hesitant to attract Chinese tourists due to health experts' concerns about the scope of China's Covid outbreak, the potential for new coronavirus mutations, and the strain that sick tourists could have on health care systems.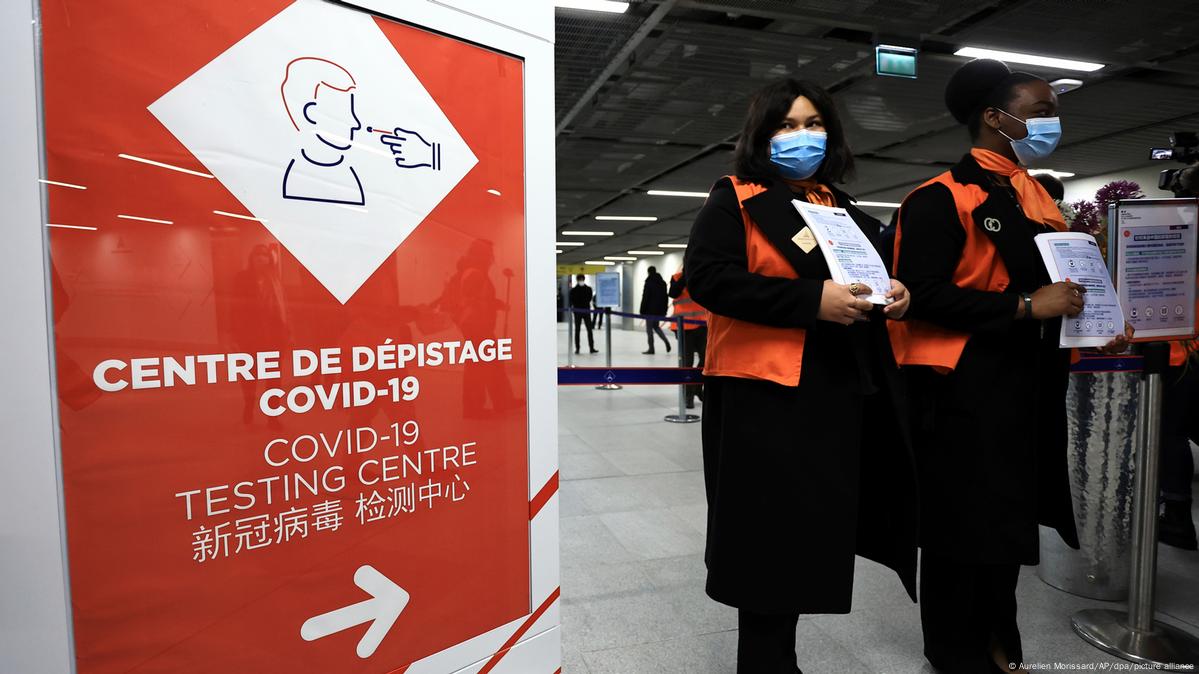 Covid-19 Testing on Chinese Travellers
Global health experts and the World Health Organization have warned that the outbreak in China, as well as the country's lack of transparency in reporting cases, has made determining the severity of the situation difficult.
In recent days, dozens of countries around the world have begun to require Covid testing and health monitoring of Chinese travelers. Beijing has reacted angrily, claiming that the moves have no scientific basis.
On Wednesday, the European Union said it "strongly encouraged" its 27 members to implement testing and masking requirements as Chinese tourists return to popular European cities.
Even Hong Kong, which had many of the same border restrictions as China until recently, has taken a cautious approach to opening its border with the mainland, capping the number of visitors at 60,000 per day.
The rule will also apply to Hong Kong visitors traveling north. Anyone crossing the border must show proof of a negative PCR test.
Many businesses on Jeju Island, a South Korean destination once popular with Chinese tourists, are on hold. The government has suspended all direct flights from China to the island, redirecting visitors to the country's main airport in Seoul, where they will be subjected to a PCR test upon arrival and quarantine if found to be sick.
"For the time being, we are focusing on alternative markets such as Japan and Southeast Asia," said Kim Chang-hyo, an official with the Jeju Island Tourism Association. South Korea has also halted the processing of short-term visas for Chinese nationals, with the exception of diplomatic or business visits.
Thailand Bows to China's Demands
Thailand's reaction has been more cordial. One government minister proposed providing booster vaccines to Chinese tourists. Another urged Thais not to "bully" Chinese visitors based on unfounded Covid fears.
However, the government is also taking precautions to prevent a sudden outbreak from overwhelming the hospital system now that China's borders are open. All visitors to the country must receive two doses of the Covid vaccine, and the government recommends wearing a mask in public. Visitors must have medical insurance to cover Covid treatment if they become ill.
According to Yuthasak Supasorn, governor of Thailand's Tourism Authority, the country expects around 300,000 Chinese visitors in the first three months of 2023. "There are only 15 flights per week compared to around 400 flights per week before Covid," he said. Prior to the pandemic, nearly 1 million Chinese tourists visited the country each month.
Employees at the Maetaeng Elephant Park in the northern province of Chiang Mai expressed delight at the return of Chinese visitors. For the time being, they are preoccupied with South Koreans, who have largely replaced Chinese customers as their primary customers.
"We'll have to wait and see," said Thipsuda Poungmalee, the park's sales and marketing manager.
Japan remains strict on Covid-19
In Osaka, Japan, where Chinese tourists have occasionally made headlines for what the Japanese call "bakugai" — or explosive buying — the mood is also subdued. "Of course, the city has been much quieter without tourists from China," said Makoto Tsuda, an official with the Osaka prefecture's Tourism Promotion office. Prior to the pandemic, China accounted for nearly half of all foreign visitors to the city, he said.
Visitors from China are required to provide a negative PCR test prior to arrival and to take another test once they arrive. Tsuda stated that he anticipates more Chinese visitors, but not immediately.
"I do believe there is an additional barrier compared to visitors from other countries, so it may be a more gradual increase in incoming tourists from China," Tsuda said.
Yan Yan, a 55-year-old garment wholesaler from South Carolina, was among those arriving at Hong Kong International Airport on Sunday.
They waited patiently in a crowded departures hall to check their luggage on a Xiamen Airlines flight to Tianjin.
Every year, she would travel to Tianjin to see her parents. However, this will be her first visit home since the pandemic began in early 2020. Until now, she had been put off by limited flights and abrupt cancellations, not to mention onerous quarantines and PCR testing. One of her friends who had flown back to China had spent the entire flight hopping from quarantine facility to quarantine facility.
"It's much better now that the restrictions have been relaxed," she said, adding that she was relieved to see her relatives after they had recovered from difficult bouts of Covid a few weeks ago.
"It will be a wonderful new year spent with family."