Cat Survives After Falling 6 Stories and Crashing Through Car Window
Despite making a large hole in a car windscreen, a cat in Bangkok, Thailand, survived a six-story fall with no serious injuries. The car's owner, Apiwat Toyothaka, stated on Facebook on Saturday (May 27) that he was alerted about the event by his condominium's management at 7 a.m.
The digital developer, who also has a cat, claimed he couldn't be upset when he saw the terrified cat, which had jumped out of the large hole in his cracked glass and was cowering beneath his car.
According to The Nation, the cat, Shifu, is named after Master Shifu from the Kung Fu Panda flicks.
Closed-circuit camera footage shows the 8.5kg kitty briefly dangling from the sixth-floor balcony before slipping off. It briefly strikes the third-floor balcony before falling into Mr Apiwat's back windscreen.
Shifu's X-rays, according to Mr Apiwat, indicated no damaged bones and only two claws were gone. On Monday, he also stated that Shifu was eating and excreting normally following the incident. He was also able to file a claim with his insurance company for car damage.
Mr Thanakorn Jongjaemfah, the manager of the condo on Soi Sathupradit 49, told The Nation that the incident demonstrates why residents are prohibited from keeping pets.
Shifu the cat's owner was fined 1,000 baht and has vowed to relocate her cat to a relative's home, according to him.
A cat fell off a residential building in Wenzhou, China, in 2021 while attempting to steal steak from a balcony. It fell on a parked car, shattered the front windscreen, and dashed away.
Another cat survived after falling off a balcony and damaging a car's front windscreen on Staten Island, New York, in 2012.
A cat fell from a 19-story window in Boston in 2012 and survived with a wounded chest. Scientists have proposed many hypotheses for why cats can survive high falls.
For starters, they have a very big surface area in proportion to their weight, which decreases the impact with the ground. Cats' powerful legs can also act as shock absorbers and spread their legs out to generate a parachute effect.
"They splay out their legs, which expands their body surface area and increases drag resistance," said Dr Andrew Biewener, a professor of organismal and evolutionary biology at Harvard University, according to a BBC story.
In Singapore, however, some cats have died after being thrown from high-rise buildings.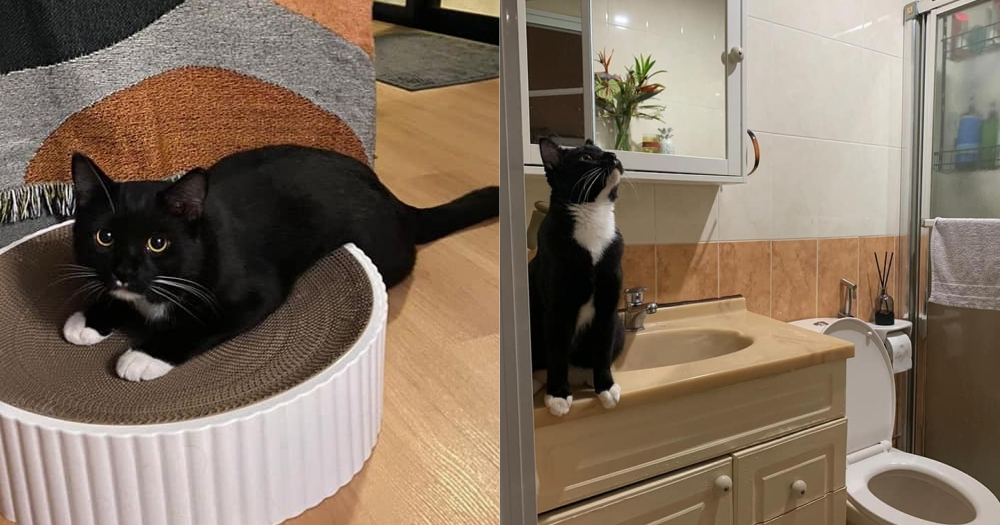 On May 22, Ms Jasmine Tan posted on the Hougang Community Cats Facebook page, asking for witnesses and camera footage after a community cat was suspected of being thrown from a height at Block 614 Hougang Avenue 8. The cat, dubbed Tuxy by the residents, died.
Residents were outraged after a child allegedly murdered a cat named Panther by hurling it down the 22nd storey of a HDB block in December 2022.
According to animal advocates, reports of such events are on the rise, with the Society for the Prevention of Cruelty to Animals (SPCA) reporting a jump in cat abuse cases in 2023 so far.
The SPCA stated on May 27 that it is expanding its youth education programmes in response to the current wave of animal cruelty charges.
Animal cruelty is a global issue that occurs in various countries, including Thailand. While Thailand is known for its rich cultural heritage and beautiful landscapes, there are instances of animal cruelty that take place within the country. It's important to note that not all individuals in Thailand engage in or support such activities, and there are also many organizations and individuals actively working to address animal welfare concerns.
One prevalent form of animal cruelty in Thailand is related to the tourism industry. Activities like elephant riding, dancing bears, or performing monkeys have been associated with animal abuse and exploitation. Many of these animals endure harsh living conditions, physical abuse, and are forced to perform unnatural behaviors for the entertainment of tourists.
However, it's worth mentioning that there has been a growing awareness of these issues, and many tourists now seek out ethical and responsible tourism options that prioritize animal welfare.
Another area of concern is the illegal wildlife trade. Thailand serves as a transit point and market for the illegal trafficking of endangered species and their body parts. This trade contributes to the decline of many species and threatens biodiversity. The Thai government, along with international organizations, has been working to combat wildlife trafficking through increased enforcement, public awareness campaigns, and stricter regulations.
It's important to acknowledge that there are also Thai organizations and individuals dedicated to animal welfare. These organizations work tirelessly to rescue and rehabilitate abused animals, advocate for stricter animal protection laws, and educate the public about the importance of treating animals with compassion and respect.
If you witness or suspect animal cruelty in Thailand or any other country, it's crucial to report it to the appropriate authorities or local animal welfare organizations. By doing so, you can contribute to raising awareness and helping to prevent further acts of cruelty.