Former Police Officer Sentence to 16 Years for Rape of Teenager
On Tuesday, a former London police officer was sentenced to 16 years in prison for raping a lady and a teenage girl, the latest in a string of terrible instances that have eroded public trust in the capital's force.
Adam Provan, 44, was sentenced to 16 years in prison with a further eight years on extended licence for repeated rapes committed over an eight-year period on a 16-year-old girl and a female police officer.
"I am sure the public will be as shocked and revolted by Provan's crimes as we are," said Louisa Rolfe, Assistant Commissioner of the Metropolitan Police.
"He abused his position as a cop to gain the trust of both of these women." His behaviours are completely despicable."
All of the charges occurred while Provan was a serving officer.
Rolfe stated that the force was investigating Provan's history with the Met in order to "fully understand whether we could have acted sooner to bring him before the courts, or prevented him from joining the police."
The police force in the United Kingdom is under pressure to change and address increasing public concern about its officers. An independent study earlier this year found the force to be institutionally racist, misogynistic, and homophobic, as well as incapable of policing itself.
After a serving officer was sentenced to life in prison for the rape and murder of a young woman, the review was launched in 2021.
The public outrage that followed that case exposed countless additional instances of criminality and corruption in the police force.
Meanwhile. After a backlash after the arrest of anti-monarchists before a protest at King Charles III's coronation, UK Prime Minister Rishi Sunak reaffirmed on Tuesday that the country's police services were "operationally independent."
Sunak supported London's Metropolitan Police, which has been under fire for holding six members of the pressure group Republic only hours before Saturday's rally.
"They (the Met) make the decisions on the ground in the way that they see fit," Sunak explained to Reuters.
"That's how we've always done it." That is the proper method. It would be inappropriate for me to intervene in their operational decisions."
Graham Smith, Republic's chief executive, was among those held in central London, despite months of planning with Met officers.
He stated he had assurances that the march would not be disrupted.
Police utilised new powers, enacted only a week ago and designed to target environmental activists after years of disruptive protests, to detain the anti-monarchists on Saturday. At the end of the day, they were released.
Late Monday, the Met expressed "regret" that the demonstrators were unable to join the protest as planned and said that they would face no further action.
Met Commissioner Mark Rowley defended the force, claiming that officers arrested were "vigilant, curious, and proactive" and had a "reasonable suspicion" that the gang was preparing trouble.
"While it is unfortunate that the six people affected by this were unable to join hundreds of peaceful protestors, I support the officers' actions in this unique, fast-moving operational context," he said.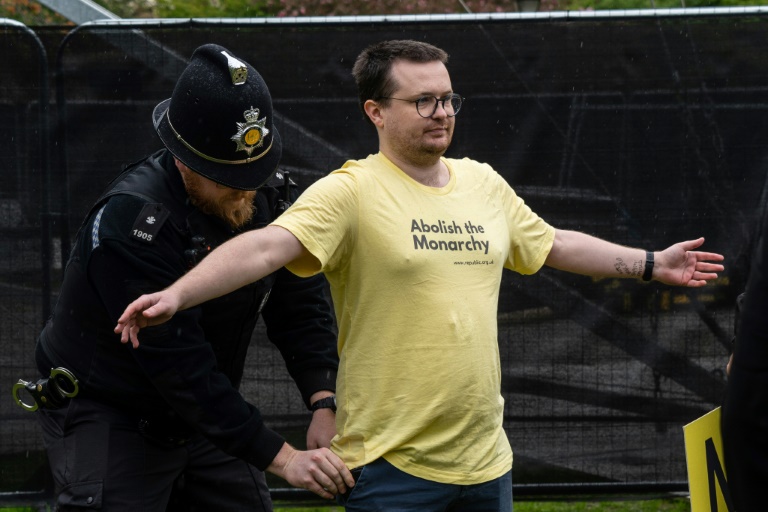 Chris Philp, the policing minister, praised the security operation in parliament, saying the intelligence picture "included more than one plot to cause severe disruption by placing activated rape alarms in the path of horses to induce a stampede and a separate plot to douse participants in the procession with paint."
He noted that hundreds of individuals were permitted to protest along the path of the march, and he stressed that police were "operationally independent" of politicians.
Smith, on the other hand, has lashed out at their treatment, declaring on Sunday that the right to protest is now "contingent on political decisions made by ministers and senior police officers."
"It certainly appeared to be a premeditated decision to arrest us and disrupt our protest," he said on Tuesday to Sky News.
He has now called for a "full investigation into why they repeatedly lied to us and who authorised the arrests."
London Mayor Sadiq Khan, who is in charge of establishing the strategic direction of policing in the capital, has requested Rowley to undertake an investigation and make the results public.
"It is clear that some of the arrests made have given rise to concerns," he wrote in a letter to the police chief, adding that "lessons learned" were important.
Sunak's spokesman earlier revealed "communication" between the Met and the ministry, chaired by hardliner Suella Braverman, before to the coronation, amid allegations that she requested the arrests.
However, he emphasised that such meetings were "business as usual."
"There would always be communication between the Home Office and the police in the run-up to large-scale events," said the prime minister's spokesman.
Police in Thailand Issue Nationwide Warning Over Call Centre Scams