How to Bring Carry-on Luggage on a Plane?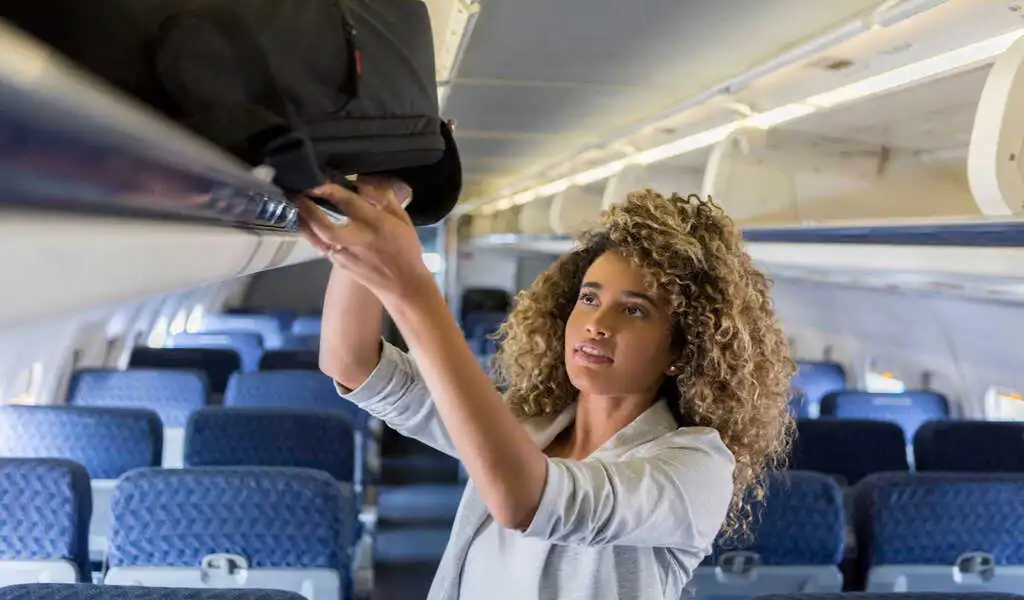 Luggage on a Plane: Anyone who has ever flown with carry-on luggage knows that you have to think about a lot of things. We've looked at what airlines want and what the international standards are. You can get ready for the next flight in half an hour.
Every passenger can see why they would want to put more things in their carry-on bags. No one wants to give up their phone, laptop, glasses, and a lot of other small things that they need.
But there are a lot of people, and the cabin is small, so airlines limit the size and weight of hand luggage. Also, airports have very strict safety rules that say certain things can't be taken on board an airplane.
Don't be scared. Even with the limits, you'll be able to bring more on board than you might think.
How big and heavy carry-on bags are
Size and weight are the two main rules that airlines have about carry-on bags.
The average size of a carry-on bag is 55 cm in length, 40 cm in width, and 20 cm in height, which adds up to 115 cm. With those measurements, you can put your bag on the luggage rack above your head or under the seat in front of you. Low-cost airlines sometimes have stricter rules about how big your hand luggage can be.
The normal weight for carry-on bags is between 5 and 10 kg. Low-cost airlines have less than regular airlines. There are some nice exceptions, for example, 23 kg on board a Boeing 787-8 American Airlines.
Allowance for carry-on bags. How to make sure your hand luggage meets the rules.
Measure your bag before you go
If your bag looks small and light, most people at the airport won't care about how big or heavy it is. But if you have a big trunk behind your back, airline workers can do the following at check-in, in front of the departure area, and before the boarding gate:
Weigh your carry-on bags ahead of time.
If there are too many things, they will have to be checked in (often for an extra fee) or paid for as non-standard hand luggage. During the boarding gate, the surcharge may be larger than at check-in;
Put your hand luggage in a special frame to check its size. Take it to the hair salon. Not included: you have to check in your luggage, which may cost extra.
How to avoid a surprise bill:
Find out what you need to bring on board in our plate or on the airline's official website.
Buy a special bag or backpack for your carry-on. Most airlines agree that they meet their needs. The 44-liter Airsize backpack weighs 760 grams and is made of nylon. The American Tourister Bon Air will make your bags weigh 2.5 kg more, which isn't much for a suitcase.
Bring a small bag or backpack that can fit in your carry-on. To do this, don't pack it too tightly and tighten the side straps more.
You should weigh your own carry-on bags, either at home or at the airport. If you see too much, do one of the following before you check in for your flight: a) wear a sweater and your heaviest shoes, b) put small but heavy things in your pockets, or c) pull out everything you can bring into the cabin without weighing it (laptop, book, umbrella).
What else can I bring on a plane besides my carry-on?
You can bring a lot of things into the cabin for free and without weighing them, in addition to your main piece of hand luggage. Here are some things you might need on the plane.
Most foreign airlines let you bring one personal item, like a small handbag, a camera in a case, or a laptop, with you in your carry-on. Usually, there are size and weight limits. For example, the second bag must fit into a space that is 40 cm by 30 cm by 10 cm. The total weight of all hand luggage cannot be more than 7–10 kg. Also, many still let you bring an umbrella, outerwear, and duty-free bags without weighing them.
But keep in mind that smaller regional passenger aircraft like the COMAC ARJ21 has stricter carry-on and baggage regulations due to their small size.
People Also Read:
Find Affordable Baker's Racks Online
Trust us! And for the Stunning Car and Vehicles Outlook Grab Our Services!
Do Modern Technologies Change the Behaviour of Drivers?
Tesla Earned $18.76 Billion in Q1 and Achieved Record Margins