Swiss Man Flees After 6 Underage Girls Rescued from Bar in Phuket, Thailand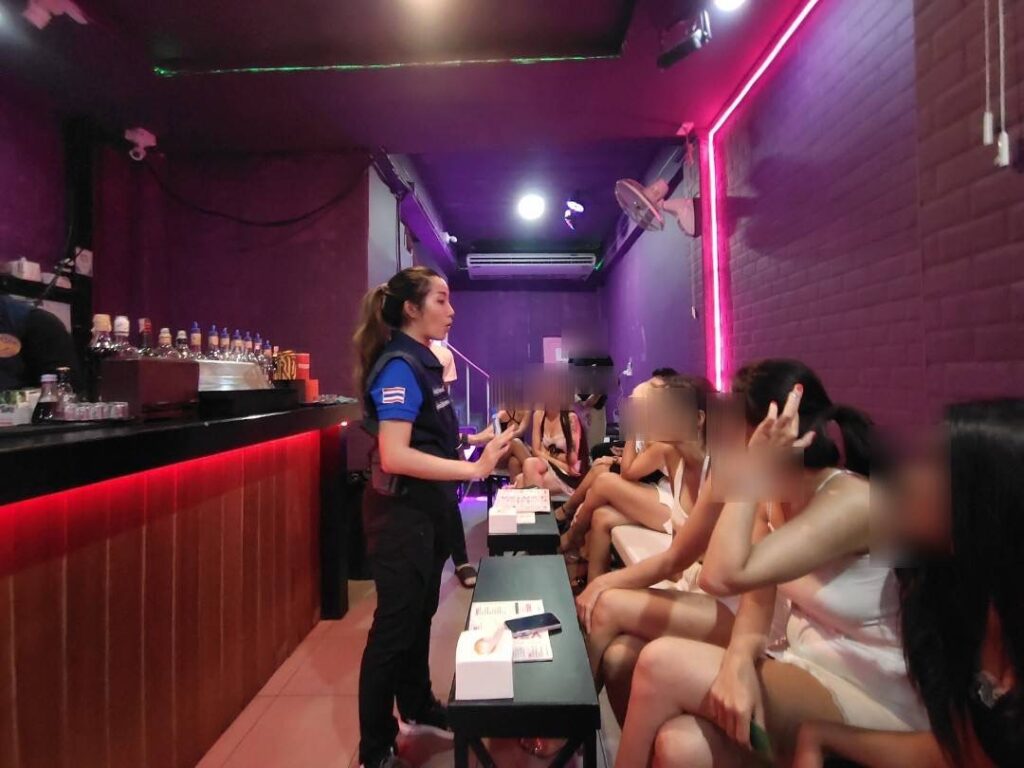 Following a raid on a local bar run by a foreigner who allegedly employed girls under the age of 18 as sex workers, nightlife operators in Patong Beach, Phuket, claim their businesses have lost approximately 100 million baht in the past week.
Operation Underground Railroad (O.U.R.) had provided information to law enforcement in Phuket prior to their cooperation by sending an undercover officer to collect evidence and confirm that human trafficking had occurred.
Then, they formed two teams for the operation: the first team went to apprehend two women who were providing underage girls to foreign clients, and the second team went to assist the victims.
The National Referral Mechanism (NRM) has been tasked with the rehabilitation of six minor girls, the youngest of whom is only 15 years old.
Two women faced serious charges, including human trafficking for the purpose of sexual exploitation of children and illegally opening a bar.
Chairman of the Patong Entertainment Business Association, Weerawit Kruesombat, met with nightclub owners yesterday to devise measures to prevent venues from engaging in illegal activities, such as drug dealing and sex exploitation of minors.
This was in response to a recent raid conducted by a special task force unit of the Department of Provincial Administration on a bar in Kathu district's Soi Bangla on Wednesday, during which two suspects were arrested.
Deputy national police chief Pol Gen Surachate Hakparn stated on Saturday that the bar was run by an unnamed foreigner who has reportedly fled to Laos.
Additionally, the suspect ran bars in Bangkok and its surrounding provinces.
Mr. Weerawit stated that the incident prompted authorities to order all entertainment venues in the area to close at 1am, resulting in a loss of at least 100 million baht in earnings for the sector over the past week.
Additionally, he urged everyone to act as the authorities' eyes and ears to prevent future incidents.
The same proprietors operate four restaurants. Authorities have ordered them to close, but the association will ask the landowner to cancel the leases in response to allegations that they offered sexual services to minors, he added.
In an effort to protect sex workers from exploitation, a bill to legalize sex work is being drafted.
Faculty of Law lecturer at Thammasat University, Narong Jaihan, stated on March 17 that the bill, drafted by the Ministry of Social Development and Human Security (MSDHS), will legalize sex work and limit the minimum age to provide or purchase the service.
Mr. Narong stated that workers under the age of 20 who engage in sexual activity will not be found guilty, but that business owners who employ them will be prosecuted, as well as their parents.
The proposed legislation stipulates that such services must be compensated at an appropriate rate, which does not include the minimum wage, and that sex workers must undergo regular physical examinations to ensure their health and safety.
Under the provisions of this bill, business owners in Bangkok are required to register with the Metropolitan Police Bureau and provincial governors in order to conduct business. The license granted to them will be valid for three years.
Mr. Narong stated that if sex workers are forced to perform services against their will, this will be considered human trafficking. In addition to legalizing sex work, a centre for the protection of sex workers will be established to prevent any potential violence against them.
"This bill will prevent the exploitation of sex workers and ensure their protection," said Mr. Narong.
After the May elections, the MSDHS will submit the proposal to the new government for approval. This legislation will result in the repeal of the 1996 Prevention and Suppression of Prostitution Act.