First-Ever Cannabis Workers' Strike in Arizona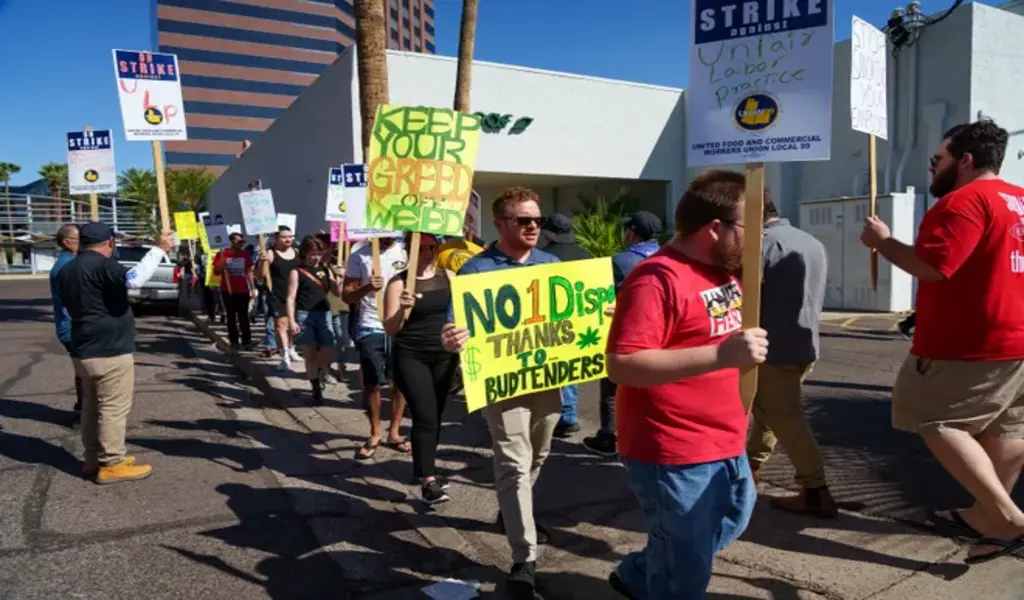 (CTN News) – A historic labor action, employees of a marijuana dispensary in Phoenix, Arizona, went on strike on September 15, marking a significant moment for the state's cannabis industry.
These workers at Curaleaf Midtown, supported by elected leaders and community members, took to the streets to demand better working conditions, pay, benefits, safety, and the reinstatement of a fired colleague.
The strike comes after the employees voted in favor of unionizing in June 2022, but they have not yet secured a union contract. Here's a closer look at the key details surrounding this groundbreaking labor strike.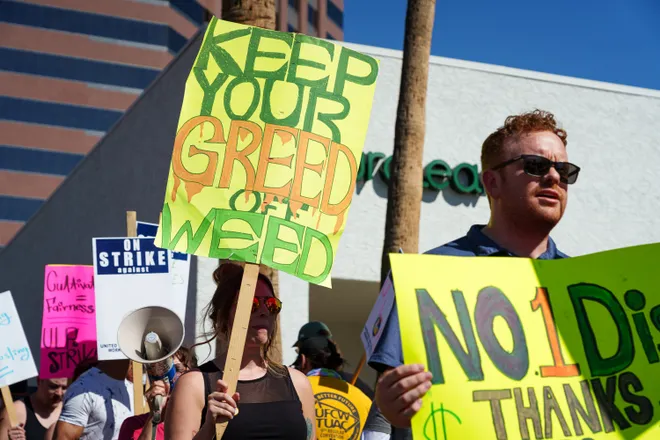 The Workers' Demands:
The employees at Curaleaf Midtown, represented by UFCW Local 99, have several demands as they participate in this historic strike. They are advocating for:
Better Pay: The workers are seeking improved wages that reflect the value of their labor in the growing cannabis industry.
Benefits: Access to comprehensive and equitable benefits that ensure their well-being and security.
Working Conditions: Improved working conditions that prioritize the health and comfort of employees.
Safety: Enhanced safety measures to protect workers in a potentially hazardous environment.
Reinstatement of Fired Worker: The workers are calling for the reinstatement of a colleague who was allegedly terminated due to her union involvement, as confirmed by a complaint filed with the National Labor Relations Board (NLRB).
Union Contract Negotiations: They urge Curaleaf Midtown to engage in meaningful negotiations for a union contract, as ordered by the NLRB.
Worker Testimonies:
Nickolas Fredrickson, a Budtender at Curaleaf Midtown, expressed the frustration of the workers: "We've been fighting for almost two years now, and we aren't anywhere close to a contract. We're demanding that Curaleaf come to the table and negotiate with us like they were supposed to do when the NLRB ordered them to recognize us."
Protest Highlights:
During the September 15 protest, tensions ran high, with a labor organizer reportedly being escorted off the premises by the police. Inside the dispensary, attempts were made to conceal the strikers' signs, underscoring the intensity of the labor dispute.
Curaleaf's Response:
In response to the strike, Curaleaf issued a statement acknowledging the rights of team members who have chosen union representation. The company expressed its commitment to working with union leaders in good faith, emphasizing the importance of a positive work environment that listens to and respects the voices of its team members.
Conclusion:
The first-ever labor strike of its kind in Arizona's cannabis industry signifies a growing movement among workers in the sector who are demanding better treatment, fair wages, and the recognition of their rights.
As the strike at Curaleaf Midtown continues, it draws attention not only to the specific concerns of these workers but also to the broader issues facing employees in the burgeoning cannabis market. The outcome of this labor action may set a precedent for labor relations within the industry and have implications for cannabis workers across the state.