Bringing Nature Indoors: How Does A Round Timber Dining Table Revamp Your Home?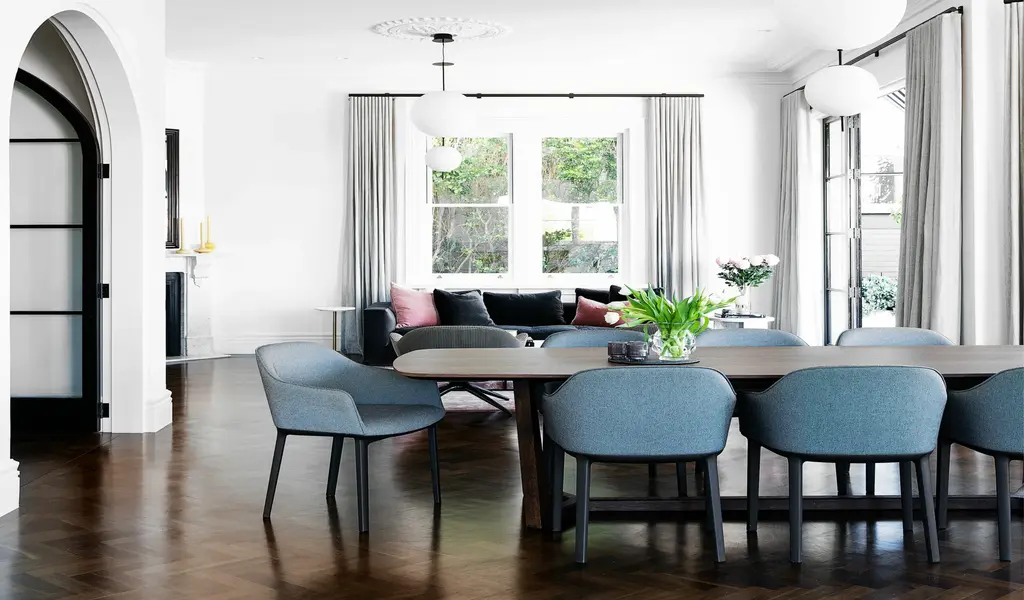 If you are an artist and designer by heart, picking the right furniture to decorate your house requires a keen level of perception about art.
The paint on the walls, the hanging chandeliers, the wooden picture frames, and most importantly, deciding on what kind of dining table should be placed in the centre of the house.
When you are the type of person who likes to have a close and continuous conversation with family or friends, a round timber dining table is for you.
Why Choose A Round Timber Dining Table?
Picking a dining table is an important decision that may sometimes last a lifetime, whether it is for family get-togethers or entertaining guests. When the dining table doesn't fit the measurements of your space, the room may appear compromised regardless of how aesthetically pleasing your interior design is.
Moreover, the dining room table is also the centre of every house. It is the place where you all congregate after a long day at work, where your children finish their homework or crafts, and where you enjoy joyful occasions.
Although round dining tables may fit your area better, rectangular ones are more conventional. By choosing the proper shape, you can make sure that the table you choose meets your demands and is perfectly suited to your taste.
What Are The Advantages Of Choosing A Round Timber Table?
Works Well In Smaller Spaces
Round tables typically have a smaller overall size, and a round dining table's missing corners really save space. A rectangular table in a compact location could be a waste of space.
Everyone is seated at an angle to one another around a circular table; this creates room for conversation and an air of openness. Nothing is worse than having a table full of elbows and knees.
Furthermore, circular tables frequently include a central base or leg, meaning there is more room for everybody to sit comfortably. Additionally, it's simpler to cram an extra seat in if necessary, for instance, on special occasions.
Enhances A Flowing Atmosphere
A round dining table's edgeless design contributes to their airy, light atmosphere. This permits unrestricted mobility across the space as well as around the table, which is fantastic, especially if you frequently stroll across the room and have a contemporary open-plan living idea. Furthermore, a round dining table has no sharp edges, so you can avoid running into them and putting your young children at risk for damage.
Keeps Conversations Going
Compared to rectangular tables, round dining tables frequently provide a more cosy atmosphere. Everyone gets the opportunity to speak to everyone, not just the neighbours directly across from them, which makes interaction simpler.
Aside from that, round dining tables give off a more relaxed vibe. Since there is no head seat, the feeling of a particular seat or prominence is frequently absent. Also, rectangle tables may look better with an equal number of guests.
Round dining tables, on the other hand, are more understanding of unequal numbers. They also avoid "the bad seat" situations, in which you are seated in a way that makes it difficult for you to talk to a lot of people or get to the food.
What Type of Round Dining Tables Can You Get?
Grace Round Dining Table
The grace round hardwood table has a modern, elegant appearance. It's an impressive piece for casual eating in any contemporary house because of its simple lines. It can be used with any interior design theme.
Hamptons Round Dining Table
The exquisite Hamptons circular dining table is ideal if you're looking for a traditional Hamptons-style dining table. It will survive many years because it is made of durable teak wood. Additionally, it is ideal for outdoor use. However, make sure to shield it from the elements.
Montferrano Round Dining Table
This kind of table design is reminiscent of the exquisite, well-preserved tables for dining in a historic home. A circular dining table unquestionably provides a dramatic focal point with its hefty, handcrafted pedestal base.
The large tabletop's natural coating gives it an additional rustic feel. The Montferrano is an exquisite example of conventional design that serves various purposes. In addition to the dining area, it will look stunning as the focal point of a large foyer.
Why Choose Living Edge Furniture For Your Home Decor?
A kind of wooden furniture that preserves the wood's original shape is called live edge, also called natural edge. Live edge furniture keeps the distinctive anomalies—cracks, grooves, curves, and all—rather than adhering to the conventional practice of changing the aesthetic of a piece of timber (by sawing and smoothing its edges).
Choosing furniture constructed from live edge timber is a celebration of the natural beauty that surrounds us. Live edge furniture was designed specifically for the rustic, rural, and cottage themes with warm colours and raw edges.
It keeps the distinctive irregularities, including cracks, grooves, and curves, as opposed to the conventional practice of modifying the aesthetic of an actual piece of timber (by sawing and smoothing its edges).
Conclusion
A round timber dining table is perfect if you have a smaller space and don't want your guests to feel crowded. Have you noticed how round tables tend to catch people's attention? Any room can benefit from the circular shape, which unifies the surrounding pieces. Because of this, a round table can serve as both a centrepiece and an anchor for the space.
Moreover, it is the best combo combined with live edge furniture and aesthetics. Since live edge furniture has the advantage of blending in with a variety of designs, it is not meant to conform to a particular design. With live edge furniture and a round timber dining table at the centre of the house, there are countless styling possibilities.