OABeans Reviews: Is it the Best Amazon Lead Generator?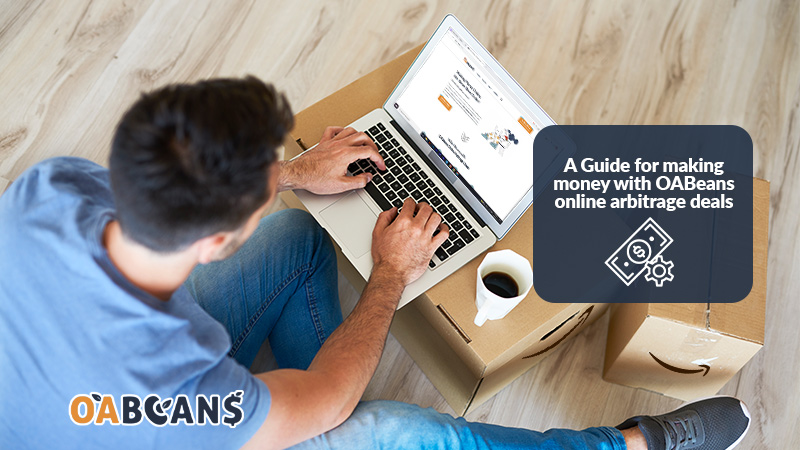 OABeans Reviews: When doing online arbitrage, finding the right products to sell on Amazon can be tough. You're not alone if you've struggled with this – it's a common problem. Spending hours searching for good products, comparing prices, and checking out suppliers can be really time-consuming and overwhelming.
But don't worry – OABeans is here to help. OABeans is a service provider that makes your life as an Amazon online arbitrage seller much easier by offering sourcing lists and other related services. In this article, we'll get to know this company better, discuss its pros and cons, and find out if it's really the best Amazon lead generator.
What Are the Usages of OABeans?
For Amazon OA sellers on the hunt for the next big opportunity, OABeans can be a great strategic ally. Specializing in identifying lucrative product leads for resale, OABeans offers top-notch sourcing lists to simplify and enhance the sourcing process, allowing sellers to channel their efforts into what really matters – growing their businesses.
Imagine the effort it takes to manually search through websites, study trends, and keep an eye on leads to pinpoint products with potential. This process is not only time-consuming but also mentally taxing. OABeans eliminates this process by delivering carefully curated leads lists directly to sellers' fingertips.
In addition, OABeans offers other services that can be useful for Amazon sellers. They have an Amazon FBA calculator for weighing the profits of a lead against its expenses. They also offer ungating services, which is great for sellers who don't have the time or energy to put into ungating themselves.

OABeans Pros & Cons
OABeans has an obvious advantage for sellers doing online arbitrage – it frees them of the need to spend endless hours searching for profitable products. Here are OABeans' pros and cons in more detail:
Pros:
Time-Saving: One of the most significant advantages of using OABeans' sourcing lists is the time it saves. No more tireless hours spent scouring the internet for profitable products!
Diverse Product Range: OABeans offers you a diverse portfolio of products. These lists grant you access to plenty of profitable items, allowing you to explore a wide array of possibilities and tailor your inventory to meet diverse customer needs.
Informed Decision-Making: OABeans' sourcing lists are compiled using important metrics like reviews, rankings, ROI, Amazon fees, and competition analysis. These insights are also included in the lists, so you can make informed choices about what to buy.
Handpicked and Curated: The curation and compilation of sourcing lists is done by online arbitrage experts. They compile these lists through software-driven analysis, offering you a carefully curated selection of potentially high-profit-margin items.
Fresh Perspectives: OABeans keeps everything fresh with daily lists. These lists offer a continuous stream of innovative ideas for your next product venture.
Support and Educational Resources: OABeans offers excellent support and the chance to master online arbitrage through regularly-updated educational articles in their blog.
Money-Back Guarantee: OABeans offers a 3-day money-back guarantee. This allows you to test the waters before fully committing, ensuring the service aligns with your needs.
Cons:
Cost of Sourcing Lists: The cost of online arbitrage sourcing lists might pose a challenge for budget-conscious sellers. However, it is more beneficial in the long term.
Availability and Number of Leads: The handpicked nature of OABeans' sourcing lists means options can be limited (about 4-10 leads per day, based on the plan you choose).
Competition: Sourcing lists usually come with a disadvantage – you're not the only one getting the leads, which can lead to more competition over them. However, OABeans minimizes this competition by limiting the number of seats for each list.

Unique Features of OABeans and Amazon
In addition to the features discussed above, OABeans offers some unique and useful features compared to other sourcing list providers, including:
Leads Undergo Human Examination: OABeans goes the extra mile in ensuring the quality of each lead. They thoroughly examine the leads and their sources, distinguish genuine reviews from fake ones, and verify the site's credibility, guaranteeing clean and precise lists.
Leads from Reputable and Diverse Sources: OABeans recognizes the diversity of businesses and budgets. Their subscription plans offer leads from a variety of reliable sources, enabling you to tailor your sourcing strategy to your unique needs.
Buy Box, Hazmat, and IP Complaint Check: The lists you receive from OABeans are checked against various criteria, including price history, hazmat, IP complaints, etc. They exclude any chemical, fragile, or hazmat items that might pose risks to your business.
OABeans Pricing in 2023
OABeans offers three different plans for Amazon online arbitrage sellers. These plans include:
Fayot (Starter): $118 per month – $12 average profit
Pinto (Professional): $138 per month – $14 average profit
Adzuki (Semi-Exclusive): $298 per month – $14 average profit
They also offer a special plan for Amazon.ca sellers called Lentil, which costs $118 per month and offers a $14 average profit.

Best Alternatives for OABeans
There are various tools and service providers that offer sourcing lists for Amazon sellers. Some of the best alternatives for OABeans include:
OA Cheddar
They offer 12-14 fresh, high-quality leads on weekdays, ensuring you're always ahead. OA Cheddar guarantees minimum ROI and net profit for each lead, and their sales commitment boosts quick turnover. With a subscriber limit of 35-55, they keep the leads exclusive and valuable.
OA Pie
With 9 fresh leads each weekday, up to 70% ungated products, and an average ROI of 70%, OA Pie serves up a diverse range of profitable opportunities. Catering to just 47 subscribers ensures the exclusivity and value of their leads, while expert reviews guarantee future profitability. From top-selling categories to unlimited support, OA Pie counts as a hassle-free solution for online arbitrage sourcing.
OA Hunt
OA Hunt features a team of online arbitrage experts who select deals for their daily lists. Since 2020, they've been aiding Amazon sellers in scaling their businesses by offering diverse plans suitable for all seller levels. Using a blend of manual and software sourcing through Tactical Arbitrage, OA Hunt ensures quality results. Their standout customer service is another benefit of this sourcing list provider.
Final Thought
Considering OABeans' strong features and user benefits, it's evident that their sourcing lists greatly aid Amazon sellers in streamlining their sourcing process. With a focus on quality deals, reliable profits, and user-friendliness, OABeans counts as a great partner for your online arbitrage business. Alternatives such as OA Hunt, OA Cheddar, and OA Pie also offer similar services, so you can try out each one to see which fits your business goals and needs more.