29-Year-old Woman Rescued from Chinese Human Traffickers in Myanmar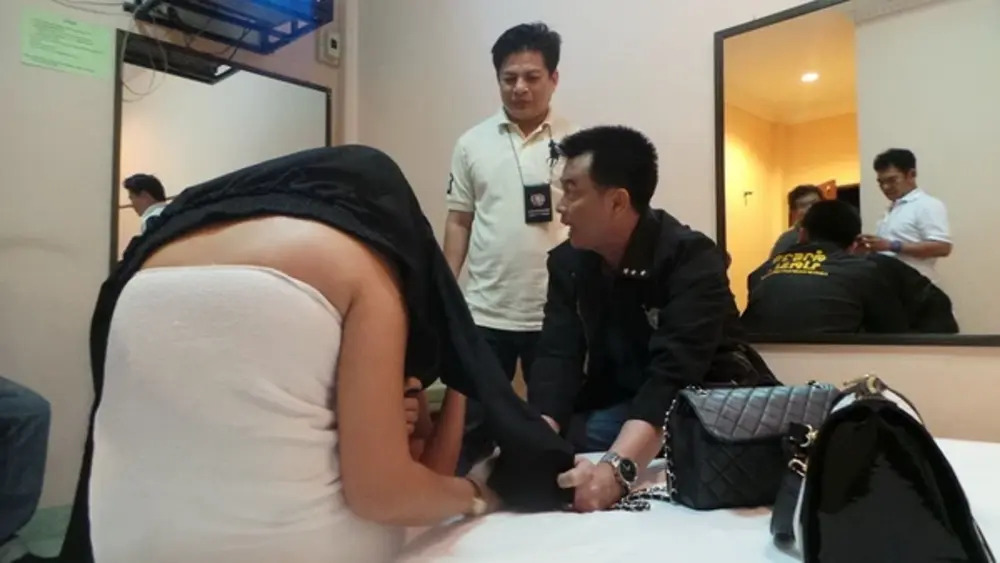 Chiang Rai authorities rescued an Udon Thani woman who had been a victim of Chinese human trafficking in Myanmar. The 29-year-old lady, named only as Nam, had been forced into providing sexual services to contact centre workers in Shan state by Chinese operatives.
A citizen journalist from the Facebook group Ninja Today brought the case to the attention of Chiang Rai police and the Ministry of Social Development and Human Security.
Thai authorities tracked the woman to a Chinese-operated contact centre in Myanmar and then rescued her via the National Referral Mechanism, a regional framework for sharing information about human trafficking.
On Friday, Nam returned to her home nation. She informed reporters that in May of this year, she was working in a Bangkok restaurant when she was approached by a TikTok user who offered her a job in "customer relations" at a location in Shan state.
After denying the offer several times, she finally agreed to a daily payment of 900 Chinese yuan (4,300 baht), with 450 yuan deducted for expenses.
Nam was eventually persuaded to travel north to Chiang Rai and, with the help of a local smuggler, cross the border from Mae Sai district.
Once in Myanmar, the woman was transported to a two-story structure enclosed by barbed wire and compelled to perform sexual services to the workers, who were largely Chinese nationals duped into participating in the operation like her.
Other people who have been duped into working for a contact centre gang in Myanmar.
She was compelled to sign a document in Chinese, which she was told would bind her for six months. She claimed she was assaulted after refusing to sign the document at first.
The victim stated that if she refused to perform sex acts, she would be locked in a cell, assaulted, and malnourished for up to three days at a time.
Her rescue occurred when she was able to successfully contact Ninja Today, which subsequently cooperated with the authorities. Nam cautioned other Thais not to fall for seemingly high-paying job offers in foreign nations while speaking to the media.
Chinese Gangs Using Social Media
Many Chinese human traffickers, according to investigators, have shifted to using social media and smartphone applications to find new victims. They claim that the process of rescuing persons kidnapped abroad is complex and time-consuming, and they urge those looking for work to be cautious.
According to a United Nations report released last month, "hundreds of thousands" of individuals are being trafficked by criminal gangs and forced to work in scam centres and other illegal web activities that have grown up across Southeast Asia in recent years.
According to the research, "credible sources" estimate that at least 120,000 persons in Myanmar and over 100,000 in Cambodia are involved in scam activities, with other criminal-owned firms in Laos, the Philippines, and Thailand ranging from crypto-fraud to online gambling.
When consumers receive messages from companies urging them to join an investment for a financial product, they should first verify the facts with the organisation, according to Thailand's Digital Economy and Society (DES) Ministry.
Before making an investment decision, the ministry recommends people to consider certain factors. To begin with, many of these scam mailings promise exceptionally significant returns on investment in a short period of time. These claims can entice customers who are looking for a high return on their investment.
Complaints of Online Fraud Skyrocketing
From January 2022 to April 2023, the Online Fraud and Complaint Centre received 49,352 complaints about online trading/shopping fraud. Some online posts, for example, promise that consumers can earn a 50% profit in 15 days after investing only 10,000 baht.
Many scammers often upload images of high-profile celebrities or businessmen on their profiles and claim to be investors in the scheme, but they don't disclose any details about their business ambitions.
These pages make specific incentives to entice visitors to make an investment decision as soon as possible. The advice is always the same: invest now or you will miss out on a good investment return.
According to the ministry, in certain cases, scammers exploit the names of publicly traded firms and the symbols of the Securities and Exchange Commission (SEC) and the Thai Stock Exchange to defraud customers looking to invest in gold. According to the DES Ministry, these scammers also claim to have consultants accessible to assist investors while guaranteeing earnings of 15-30% every day.
People can report online crimes connected to technology, such as online fraud, to local police stations or the Royal Thai Police's Technology Crime Suppression Centres by calling 1441 or 081 866 3000, or by visiting the website: https://thaipoliceonline.com.
According to officials, scammers may construct bogus complaint channels and websites in order to lure victims. Before engaging with state agencies, victims should properly verify the validity of these channels.
Chinese Scammer Linked to "Royal Gold Scam" in Golden Triangle Arrested