Thailand's E-Commerce Sector Shows Increasing Growth in 2023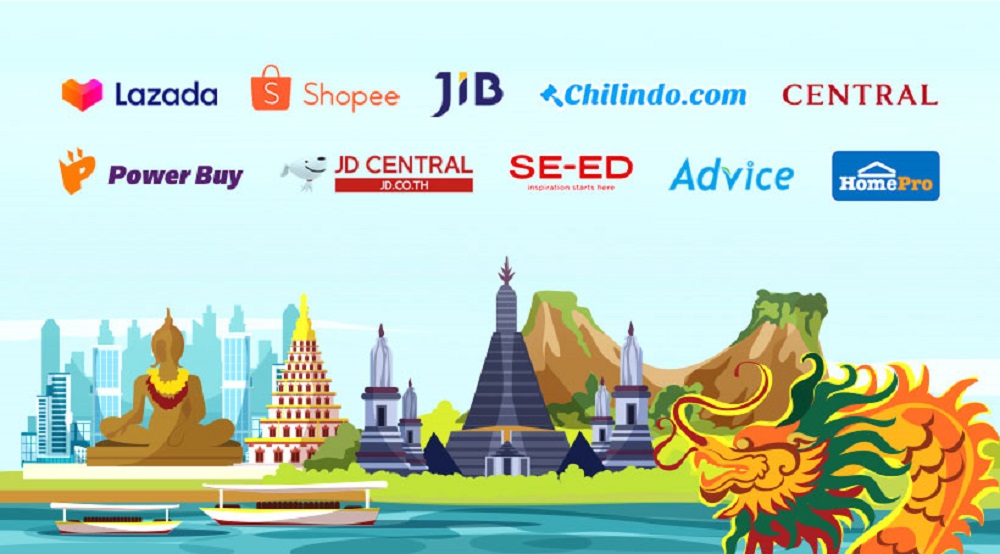 Thailand's e-commerce industry is anticipating a thrilling year in 2023. The kingdom is seeing an increase in online purchasing as the digital landscape develops, which presents opportunities and difficulties for both businesses and customers. We will examine the development of the e-commerce industry in Thailand in 2023 in this article, providing analysis, data, and a closer look at what this means for all parties concerned.
1. The Rapid Rise of E-commerce in Thailand
Online purchasing and selling of goods and services is known as e-commerce. Thailand has seen a significant increase in e-commerce activity during the past ten years. Several important factors have fueled this rise, including:
a. Increased Internet Penetration: More and more people in Thailand are having access to the internet, which has led to a steady rise in internet penetration. More over 50% of people had access to the internet as of 2022, offering a sizable potential consumer base for online firms.
b. Changing Consumer Behavior: Thai consumers are increasingly using internet retailers to fulfill their buying needs. One of the main draws is now being able to browse and buy things from the comfort of one's home.
c. Mobile Commerce (M-commerce): The growth of e-commerce has been hastened by the increasing use of cellphones. Customers may now easily buy while they are on the go thanks to mobile apps and flexible websites.
2. E-commerce Growth Statistics
An effective E-commerce order management system plays a pivotal role. It helps businesses streamline their operations, ensuring smooth order processing, inventory management, and timely deliveries, ultimately enhancing customer satisfaction and boosting competitiveness in the market.
Let's take a deeper look at some important figures that demonstrate the remarkable expansion of e-commerce in Thailand:
a. Revenue Growth: Thailand's e-commerce market is anticipated to generate over 4.6 billion dollars in revenue by 2023, according to Statista. In comparison to prior years, this marks a significant increase.
b. Online Shoppers: Around 25 million people were online consumers in Thailand in 2022, and this number is projected to rise in 2023. A wide variety of shoppers have been drawn to online shopping because of its convenience.
c. Product Categories: Despite the fact that clothing and electronics have historically dominated the e-commerce industry, there is rising demand for products in the grocery, health, and beauty, and even home improvement categories.
3. Key Players in Thailand's E-commerce Landscape
The Thai e-commerce market is dominated by a few significant businesses. In addition to making internet purchasing easier, these platforms have significantly influenced how consumers behave:
a. Lazada: Thailand is an important market for Lazada, one of Southeast Asia's biggest e-commerce platforms. It has a huge selection of goods—from electronics to clothing—and frequently holds sales.
b. Shopee: Another significant player in Thailand's e-commerce business is Shopee. It has grown in popularity among Thai consumers thanks to its user-friendly software and wide range of product offerings.
c. JD Central: JD Central is a partnership between Central Group, a significant Thai retail conglomerate, and JD.com, a major Chinese e-commerce company. It concentrates on offering high-caliber goods and effective delivery services.
4. Challenges and Opportunities
Even if e-commerce is expanding in Thailand, there are a number of opportunities and challenges that come with it:
a. Competition: The number of new online enterprises has increased the level of competition. Businesses need to stand out from the competition by providing outstanding customer service and distinctive products.
b. Logistics: A seamless e-commerce experience requires effective logistics and trustworthy delivery providers. A fundamental difficulty that the sector still faces is meeting delivery expectations.
c. Payment Methods: Increasing the number of payment choices, such as cash-on-delivery and digital wallets, can assist in meeting the different customer demands.
d. Consumer Trust: For e-commerce platforms to gain customers' trust, safe transactions and data protection must be provided.
5. The Future of E-commerce in Thailand
The e-commerce industry in Thailand is set for growth as we look to 2023 and beyond. Important trends to keep an eye on include:
a. Cross-border E-commerce: Customers in Thailand are increasingly experimenting with foreign internet buying, which presents potential for companies to go worldwide.
b. Sustainability: Demand for sustainable and ecologically friendly products is being driven by environmentally conscious consumers. Sustainable practices are likely to give e-commerce companies a competitive advantage.
c. Personalization: In order to provide tailored shopping experiences that can increase customer happiness, e-commerce platforms are investing in data analytics and AI-driven technology.
d. Mobile Shopping: Mobile shopping is anticipated to rule the e-commerce market as smartphones continue to grow in popularity. For success, mobile experience optimization is essential.
Conclusion
The expansion of Thailand's e-commerce market in 2023 is evidence of the nation's shifting retail environment. Businesses who adapt to these changing patterns and deliver outstanding online experiences are well-positioned to flourish in this dynamic industry as more consumers embrace online purchasing.
Thailand is leading the charge in the e-commerce revolution that the digital age has brought forth. Therefore, it's crucial to keep up with the most recent changes and opportunities in Thailand's booming e-commerce market, whether you're a business owner or a consumer.