Debt-Laden U.S. Pharmacy Chain Rite Aid Files for Bankruptcy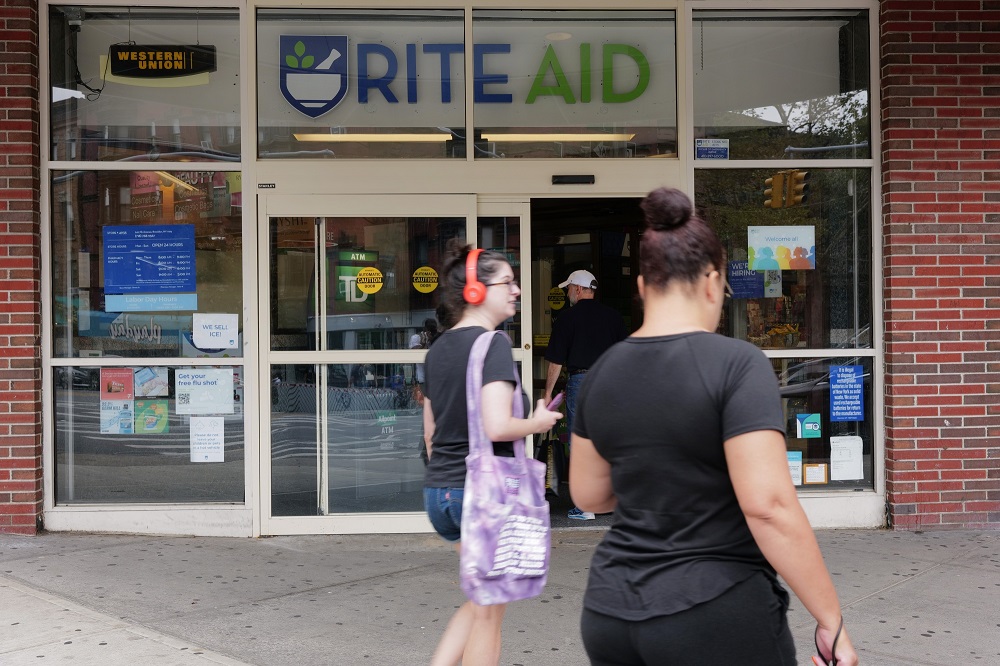 Debt-laden After filing for bankruptcy protection late on Sunday, the U.S. pharmacy chain Rite Aid (RAD.N) announced plans to sell its pharmacy benefit firm Elixir, eliminate underperforming shops, and settle litigation arising from the selling of addictive opioid prescriptions.
According to court documents, Rite Aid, one of the largest drugstore merchants in the United States, struggled under the weight of its huge debt, declining revenues, growing competition, and opioid litigation.
Rite Aid, which has been in operation since 1962 and currently has 45,000 employees in more than 2,000 locations in 17 states, will continue to operate during the bankruptcy. In fiscal year 2023, the firm made $24 billion on the backs of 200 million prescriptions filled.
For the fiscal year 2023, it lost $750 million and faced rising lawsuit expenses.
The federal government has accused Rite Aid of ignoring "red flags" while dispensing illegal narcotics, and the corporation is also facing 1,600 other opioid lawsuits from state and local governments, hospitals, and individuals.
Despite its claims of innocence, Rite Aid has stated that it intends to seek a "equitable" resolution of the opioid litigation it faces in Chapter 11.

Rite Aid has $4 billion in debt
Similar to Mallinckrodt and Endo International, it has filed for bankruptcy due to litigation alleging that their products contributed to the opioid crisis in the United States.
More than a million people have died from opioid overdoses in the United States since 1999, and the pharmaceutical industry, including drug wholesalers and pharmacy chains, has settled cases totaling more than $50 billion.
According to documents filed in the United States Bankruptcy Court for the District of New Jersey, Rite Aid has $4 billion in debt, $8.6 billion in total liabilities, and $7.65 billion in assets.
It will use a $3.45 billion bankruptcy loan from its current lenders to finance the restructuring.
MedImpact Healthcare Systems, a pharmaceutical benefit manager, has reportedly made a $575 million offer for the company's Elixir.
According to court documents, Rite Aid will try to get better prices for that division and is considering selling off all of its retail operations.
An early conflict arose after Rite Aid's bankruptcy filing with drug distributor McKesson (MCK.N), from which the pharmacy acquires 98% of its prescription pharmaceuticals. On Monday morning, Rite Aid filed suit against McKesson to avert the termination of its medicine supply deal due to the retailer's $700 million debt.
A household name in the United States
McKesson declined to comment on the matter beyond saying it is still shipping to Rite Aid despite the bankruptcy filing. Before filing for Chapter 11 bankruptcy, Rite Aid closed 200 outlets; it plans to close more.
After an interim period with Elizabeth Burr at the helm, the business has named Jeffrey Stein CEO and chief restructuring officer.
The Rite Aid pharmacy chain is a household name in the United States. Retail pharmacy, health and wellness products, prescription medications, over-the-counter medications, personal care items, cosmetic products, and general merchandise are only some of the products and services offered by the organisation.
Customers can fill prescriptions and talk to chemists in the drugstore at most Rite Aid locations. There is also a customer loyalty programme available, dubbed "Wellness+," that provides members with special pricing and other perks for their continued business.
Opioid Litigation in US
Opioid litigation in the United States refers to the numerous lawsuits and legal actions taken against pharmaceutical companies, healthcare providers, and others involved in the production, distribution, and prescription of opioid medications. These lawsuits have been filed by various states, municipalities, Native American tribes, and individuals, seeking to hold the responsible parties accountable for the opioid epidemic that has gripped the country.
Here are some key points related to opioid litigation in the USA:
Opioid Epidemic Background: The opioid epidemic in the United States has been characterized by a sharp increase in opioid-related overdoses and deaths. Prescription opioids, such as oxycodone and hydrocodone, as well as illicit opioids like heroin and synthetic opioids (e.g., fentanyl), have contributed to the crisis.
Lawsuits Against Pharmaceutical Companies: Many of these lawsuits target pharmaceutical companies, alleging that they downplayed the risks of addiction associated with prescription opioids and engaged in aggressive marketing and sales tactics that contributed to the opioid crisis. Companies such as Purdue Pharma (maker of OxyContin), Johnson & Johnson, and others have faced extensive legal action.
Multidistrict Litigation (MDL): The opioid lawsuits have been consolidated into a multidistrict litigation (MDL) in federal court. This MDL combines thousands of individual cases and allows for more efficient handling of the legal process.
Settlements and Bankruptcies: Several pharmaceutical companies have reached settlements with various states, municipalities, and other plaintiffs. Purdue Pharma filed for bankruptcy and proposed a settlement to resolve its liability in the opioid crisis. Part of these settlements includes funds for addressing the opioid crisis and providing resources for treatment and prevention.
State and Local Government Actions: Many states, counties, and cities have filed their own lawsuits against opioid manufacturers and distributors, seeking financial compensation for the costs of dealing with the opioid crisis, including healthcare expenses, law enforcement, and social services.
Native American Tribes: Some Native American tribes have also filed lawsuits against pharmaceutical companies, claiming that the opioid crisis disproportionately affected their communities.
Public Health Response: Alongside the litigation, efforts have been made to address the opioid crisis through public health initiatives, harm reduction strategies, and increased access to addiction treatment and prevention programs.