Signage Revolution: 4 Ways Pylon Signs are Redefining Business Impressions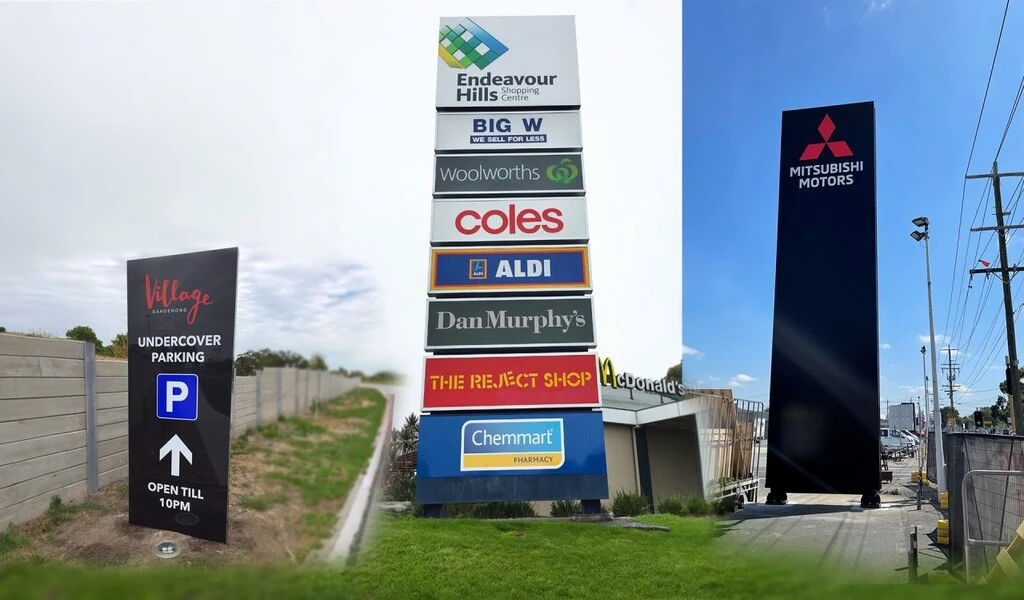 The realm of businesses just keeps getting more competitive, and advertising techniques are constantly evolving due to the rise in popularity of social media. However, it's also essential to focus on advertising off the internet, and one of the most effective ways of doing so is by utilizing pylon signage for your business.
Pylon signs are a one-time investment for your business but offer long-term benefits, and to learn about these various benefits, continue reading on ahead!
What Are Pylon Signs?
A pylon sign is a tall outdoor signage structure that requires either one or two poles for support.
Businesses usually utilize these soaring signs for advertisement purposes and may display the company's logo, name, or messages. Based on business preferences and location, either one or both sides of the structure can be used for promotional intents.
These signs are permanent fixtures and can be fully customized or updated at a later time.
Moreover, they can have various features instilled, such as LED lighting, backlit lighting, and fluorescent lamps. Having a lighting element within a pylon sign can ensure that it will be visible during nighttime, too; however, it is not a mandatory factor of such signages.
It is common for businesses on highways, shopping centers, malls, industrial areas, or busy streets to employ pylon signs to increase visibility and grab the attention of passersby.
What Are the Benefits of Pylon Signs for Businesses?
Pylon signs offer numerous benefits to businesses, and we'll take a moment to take a deep dive into each advantage so that companies can critically assess whether the benefits of pylon signs exceed the cost of getting them.
Cost- Effective Marketing
Being able to fully customize pylon signs also entails that companies can stay within their budget by adding or subtracting different elements. Moreover, pylon signs usually comprise low-cost materials, which allows for cost-efficient signage to be made.
Furthermore, pylon signs can be energy efficient, which means lower electricity costs, too- if you strategically employ energy-conserving LED lighting. Therefore, you get increased visibility but at a very affordable rate, hence proving pylon signs to be one of the most cost-efficient methods of advertising.
However, it is essential to note that pylon signs do have a one-time investment cost during the setup process. Still, it can be within your budget if you have a flexible signage-producing company at your service. Moreover, repair and maintenance costs will have to be taken into account; however, they can be meager costs if you have used high-quality materials for your signage that do not quickly wear or tear.
Increased Brand Recognition Through Fully Customized Signs
One of the most significant advantages of pylon signs is the ability of businesses to get them fully customized. This means that you can not only incorporate your brand logo, name, or colors, but you can also choose the font, size, graphics, and shapes to be displayed as well.
This guarantees that you will be able to emphasize your brand image and reinforce your brand identity to a large number of passersby. This, in turn, ensures that your brand recognition will rise, and you will be able to increase your credibility in the eyes of your potential customers.
24/7 Visibility and Enhanced Exposure
Because pylon signs are large and towering, they can be spotted from a great distance away, usually 200 yards or more. When businesses are located in high-traffic areas, where there are a lot of distractions or competition available, these signs emerge and grab the attention of a large number of potential customers.
Moreover, if they are fully customized, they portray the brand image of the company and, therefore, enhance recognition of the business. Not only that- but by conveying necessary information like new product details or special offers and promotions, you can grab the attention of impulse buyers and boost your sales!
Furthermore, if the business isn't already well-known, a well-designed pylon sign will make sure to make a statement whether it is in a congested area or a deserted one. However, it is essential to ensure that you do not overstimulate your sign and, therefore, drive away any potential customers.
Also, unlike billboard signs or other signs, pylon signage will not be easily removed or stolen. That's not all; it will not have to share your brand's advertisement and spotlight with other promotional content either and thus will significantly increase visibility!
Also, if your pylon sign has been adapted with LED lighting as well, it will ensure that your business is promoted 24/7 instead of simply during the day.
Long-Term Durability
The durability of pylon signs is one of its key benefits. It is essential to ensure that your business's pylon sign is indeed long-lasting; therefore, it is crucial to work with an experienced sign-making company that utilizes over-the-top materials for the robust construction of your sign.
These materials are usually non-rustic metals such as aluminum and have the translucent side imprinted on acrylic material or vinyl. The integration of such materials makes the sign resistant to harsh weather conditions and prevents the sign from fading over time.
However, it is vital to prevent the build-up of dust and dirt on the sign by regularly cleaning it to maximize its lifespan.
Conclusion
Now that you have effectively used a pylon sign to attract passersby into your shop or business- it's time you learn to continue promoting within the premises of your business!
One cost-effective way to do so is by utilizing banners to convey more detailed information about your brand or an upcoming launch or event.
Make sure to continue your unstoppable advertisement journey to pull more people into your brand's grasp!