Netflix CEO 'Reed Hastings' Steps Down Following The Company's Subscriber Growth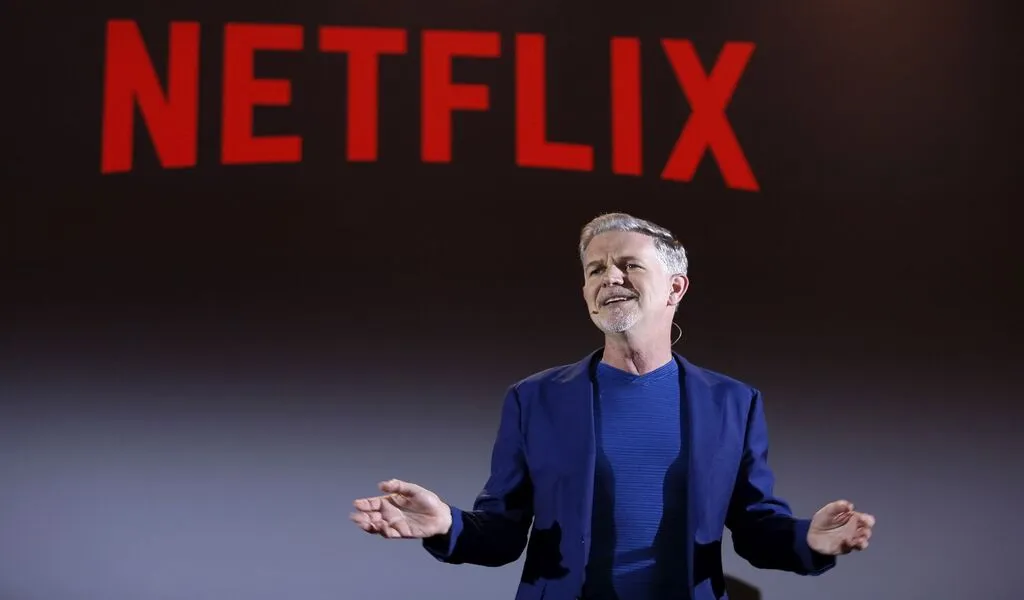 (CTN NEWS) – LOS ANGELES – Reed Hastings, a co-founder of Netflix Inc., announced on Thursday that he will stand down from his position as CEO and transfer control of the streaming service to Greg Peters, the company's COO, and Ted Sarandos, a longtime collaborator and co-CEO.
In after-hours trading, the company's shares, which had dropped roughly 38% in the previous year, increased 6.1% to $335.05 as the streaming video pioneer also revealed that it had gained more customers than anticipated at the end of the previous year.
As a result of losing customers in the first half of 2022, Netflix has been under pressure.
Hastings will serve as executive chairman and share the role of chief executive with Sarandos and Peters. The decision, which results from ten years of board succession planning, is effective immediately.
Peters and Sarandos received promotions in July 2020, which came at a difficult time for the business.
Given Covid and previous difficulties in our business, it was a baptism by fire, according to Hastings. But they've managed exceptionally well, so the board and I agree that my succession is now appropriate.
Hastings left as Netflix announced that it added 7.66 million subscribers in the fourth quarter, above Wall Street expectations of 4.57 million, thanks to the success of "Harry & Meghan" and "Wednesday" in the competition to draw viewers for streaming television.
However, earnings per share were only 12 cents, falling short of the 45 cents that Refinitiv's poll of analysts had predicted. Stream
Through March, Netflix predicted "moderate" subscription growth. With the aid of new revenue streams, it anticipated a 4% year-over-year growth in revenue during the term.
Walt Disney Co., Amazon.com Inc., and other companies that spend billions of dollars on producing TV series and movies for internet audiences are competitors who the firm must contend with as well as constrained consumer spending.
Customers stopped using Netflix in the first half of 2022. The second half saw a return to growth, but the rate of new client additions is still below that of recent years.
Last November, Netflix launched a less expensive, ad-supported option in 12 regions to jumpstart growth. Plans to cut down on password sharing have also been made public.
"A challenging year, 2022 had a rocky beginning but a promising end. We think we're on a good road to speeding up our revenue growth "In its quarterly letter to shareholders, Netflix stated.
At the end of December, the firm had 231 million subscribers worldwide.
The firm claimed that Wednesday, the third-most watched program in Netflix history, had a large audience. During the quarter, the murder mystery "Glass Onion" and the British royals documentary "Harry & Meghan" both enjoyed success.
From $607 million or $1.33 per share a year earlier, net income decreased to $55 million or 12 cents per share. Revenue increased by 1.9% to $7.85 billion, as predicted.
Hastings, 62, co-founded Netflix in 1997 as a DVD-by-mail company after becoming frustrated after returning an "Apollo 13" rental to the neighborhood Blockbuster video store and being charged a $40 late fee.
In 2007, the company transformed into a video streaming service that upended Hollywood and forced Netflix's media competitors to pour billions of dollars into their services.
Hastings created some of his problems when he decided to spin off the DVD division of the business into a separate entity called Qwikster. The company lost 800,000 users due to the 2011 move, and the price fell sharply.
When Netflix disclosed its first subscriber loss in more than ten years in April 2022, the executive had to negotiate another sharp stock decline.
This compelled Hastings to reevaluate previously forbidden growth-promoting ideas, such as an ad-supported service version.
RELATED CTN NEWS:
Indian Digital Payments App PhonePe Raises $350 Million at $12 Billion Valuation
Layoffs At Riot Games Reportedly Taking Place