Vietnam Grants Clemency to 2 Australians Sentence to Death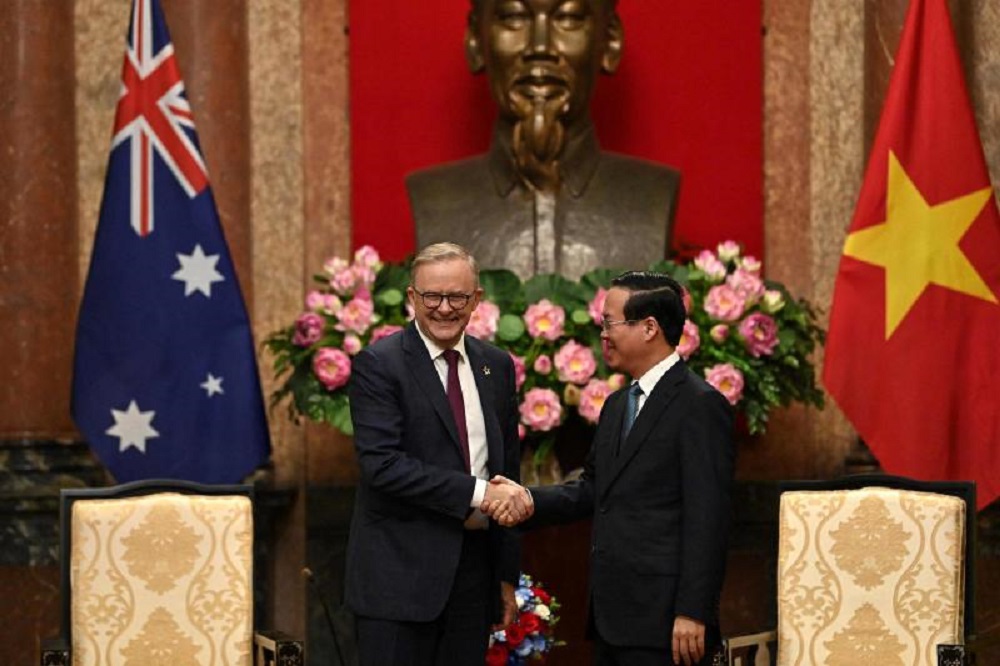 Australian Prime Minister Anthony Albanese said that two Australian citizen sentenced to death in Vietnam had been granted clemency as a result of improved diplomatic ties.
"Just yesterday, there was a significant breakthrough with the granting of clemency… "This is very welcome in Australia," Albanese told Australia's ABC News on Monday.
"We advocate on behalf of Australian citizens." And we are delighted that Vietnam has agreed to the proposal, for which we congratulate them," the prime minister stated.
He stated that he will not release the identities of those given pardon since they had desired privacy. The decision has been communicated to their families.
Albanese had visited Vietnam over the weekend, when he met with his colleague Pham Minh Chinh, and stated that the trip offered "an impetus for this outcome."
Australia has also submitted representations on behalf of 73-year-old Chau Van Kham, a Vietnamese-Australian man condemned to 12 years in prison in 2019 by a Vietnamese court on "terrorism" accusations.
"That's a different situation. We were hoping for an international prisoner transfer, and we're still hoping. "But we'll keep working on those issues," Albanese said.
Capital Punishment in Vietnam
Vietnam is notoriously secretive regarding its use of the death penalty. However, human rights advocates believe it is one of the world's largest executioners, and the largest in Southeast Asia. Previously classified government data made public and published in Vietnamese state media sources in 2017 revealed 429 executions between 2013 and 2016, putting the country just behind China and Iran in its usage of the death sentence.
According to a research released this week by Amnesty International, global executions have increased by 20% as nations relax Covid-19 rules. However, it did not include China or Vietnam, where executions are considered state secrets, as in prior years.
However, Amnesty International could confirm "partial disclosures" by Vietnamese authorities indicating a nearly 30% increase in the number of death sentences handed down between October 1, 2020 and July 31, 2021. It further stated that 11 execution facilities across the country have been "put to use" this year.
According to the organisation, there are over 1,000 people on death row in the country, including foreigners from Laos, Cambodia, Singapore, and Malaysia, as well as a 73-year-old Australian woman convicted of heroin trafficking.
The ruling Communist Party of Vietnam has long upheld and justified the use of the death sentence. The public security ministry approved deadly injections, according to state papers revealed in 2017.
"Data on the death penalty in Vietnam continues to be classified as a state secret," said Amnesty International's death penalty specialist Chiara Sangiorgio.
"[This] secrecy, as well as the fact that the country's media is tightly overseen or controlled by the state, has undoubtedly contributed to a lack of information and international attention on the subject."
"We have written to the authorities seeking information, as we do every year in preparation for our report for all countries that still use the death penalty." We did not receive a reply."
The great majority of Vietnamese death penalties are for drug offences, which accounted for 93 of the 119 death sentences handed out last year, according to Amnesty International.
Formerly influential business people convicted of corruption, embezzlement, and fraud are among those facing the death penalty. Nguyen Xuan Son, a former high-ranking official who once led a major Vietnamese bank, was condemned to death in 2017 for his role in a loan fraud involving millions of dollars. Others have also been convicted of state corruption.
Other people on death row have been found guilty of murder.
Last year, a Hanoi court affirmed the death sentences of two brothers, Le Dinh Cong and Le Dinh Chuc, both farmers, for their roles in the deaths of three police officers who were burned to death in their hamlet after violent battles.
Villagers blamed the violence on the authorities' efforts to construct a wall on farmland. Judges defended the death penalties, stating the brothers disobeyed the law and "showed no respect" for security personnel's lives.
Some may be surprised by Vietnam's alleged ascension to the top executioner in Southeast Asia, but rights groups warn that executions in the country are set to escalate in the coming years.
"Vietnam continues to execute people at an astonishing rate," said Ben Swanton, advocacy director of the 88 Project, a non-profit organisation in the nation that advocates for free speech and human rights.
"The Vietnamese Communist Party is aware that its use of the death penalty contradicts its narrative of the country as a peaceful and harmonious society, and that it has the potential to harm the country's international reputation."
Phil Robertson, Asia deputy director at Human Rights Watch, labelled Vietnam "one of the worst rights-abusing states" in Southeast Asia.
"In Vietnam, the death penalty is used to intimidate those who would break the law while also demonstrating the power of the ruling party," Robertson added. "This is a government that persecutes dissidents, tramples civil society, sentences and imprisons people after kangaroo court trials, and, as we now know, executes far more people than anyone else in [the region]."
When compared to neighbouring Singapore and Indonesia, which have made more headlines with their execution cases over the years, Robertson stated, "Vietnam's horrendous record of executions dwarfs that of any of its neighbours, but it is not surprising that the government has systematically implemented the death penalty and kept executions out of the public eye."