Thailand's Prime Minister Gives Chinese Tourists a VIP Welcome
On Monday, Prime Minister Srettha Thavisin personally received the first group of Chinese tourists to arrive in Bangkok since Thailand dropped visa requirements for Chinese people in an effort to bolster its vital tourism industry.
Puppeteers and traditional costumed dancers performed for the puzzled tourists who had flown in from Shanghai. Srettha was the subject of many tourists' selfies.
After inheriting a faltering economy, newly elected Srettha has made revitalising the tourism industry a top priority. The country is Southeast Asia's second largest economy and is recognised for its beautiful beaches and exciting nightlife.
Srettha is hoping that the visa-free travel will encourage more Chinese tourists to visit Thailand, which was formerly the country's most lucrative market.
The prime minister told reporters at Suvarnabhumi airport, "We are confident this policy will stimulate the economy," adding that the safety of tourists will be a top priority.
The visa waiver programme begins on September 25 and continues through February 1, 2019. More than 2.34 million Chinese tourists have arrived so far this year, but the government expects 2.88 million during that same five-month period.
Tourist Gu Siyi, 25, who was visiting Thailand for the first time with companions, said the visa waiver was helping to attract new visitors by making it simpler to enter the country.
More and more Chinese tourists are flocking to Thailand, he claimed, because the country is "indeed very convenient."
Thailand had a record 39.9 million visitors in 2019, with 11 million coming from China. These visitors spent a total of 1.91 trillion baht ($53.11 billion) before the epidemic hit.
The beaches and cuisine of Thailand are reportedly major draws for Chinese visitors.
"The fruits here are great, especially the durian," said Ye Weihe, 53, who also claimed to own property in the popular seaside resort of Pattaya.
This year, Thailand has already seen 19 million tourists.

Thailand's New Government Focuses on Foreign Visitors
Thailand has always been a favourite among those looking to take a vacation or move there permanently. Foreigners are flocking to Thailand as a growing number of international corporations set up shop there.
Cities and villages around Thailand, from the coast to the mountains, are sprouting expat communities to accommodate the growing numbers of foreign workers and retirees.
According to Colliers Thailand and the Employment Department, there were 156,596 foreigners in Thailand in the first quarter of 2023, with more than half of them residing in Bangkok.
In 2022, citizens of Japan, China, and India made up the top three, and recent news indicates that Chinese citizens are increasingly purchasing condos in Thailand.
The Thailand Tourism Authority (TAT) has designated the year 2024 as the Year of the Expat.
After the epidemic, there has been a change in the tourism industry towards longer stays, and businesses are looking for ways to capitalise on this.
TAT governor Thapanee Kiatphaibool has said that the agency is working on implementing long-awaited benefits for foreign residents of Thailand. These benefits will grant foreign residents of Thailand the same access to national parks and other attractions as Thai citizens.
Ms. Thapanee noted that as part of Thailand's Year of the Expats celebration, there would be advertising campaigns highlighting workations (locations that combine work and vacation) all over the country.
Koh Samui, Koh Phangan, and Koh Tao are popular destinations for digital nomads in the Surat Thani province of Thailand.

Island Hopping in Thailand
According to Ratchaporn Poolsawadee, president of the Tourism Association of Koh Samui, "the beautiful nature and local culture, as well as various types of accommodation at different price ranges," attract long-term visitors and remote workers.
He stated that between 10,000 and 15,000 digital nomads were residing on the three islands with tourist or other non-immigrant permits.
Mr. Ratchaporn believes digital nomads are a great way to boost the islands' economy because they tend to spend more money than locals and bring in customers during the off-season.
He said that the Russians and Europeans like the French made up the bulk of his market.
Many Russians fled to Thailand to escape the conflict in Ukraine, and they have stayed longer than usual because of the convenience of working from abroad. Mr. Ratchaporn identified freelancers and online business owners as part of this group.
With 702 condos worth 2.55 billion baht changing hands in the first half of 2023, Russians stood second nationally, according to data compiled by the Real Estate Information Centre (REIC).
Facilities such as apartments, cafes, and shared workplaces are mushrooming to meet the needs of those on long-stay and non-immigrant visas, he said.
Mr. Ratchaporn acknowledged, however, that some international offenders have made Samui their home base while their visas are still valid.
He claims this incident caused officials to step up security.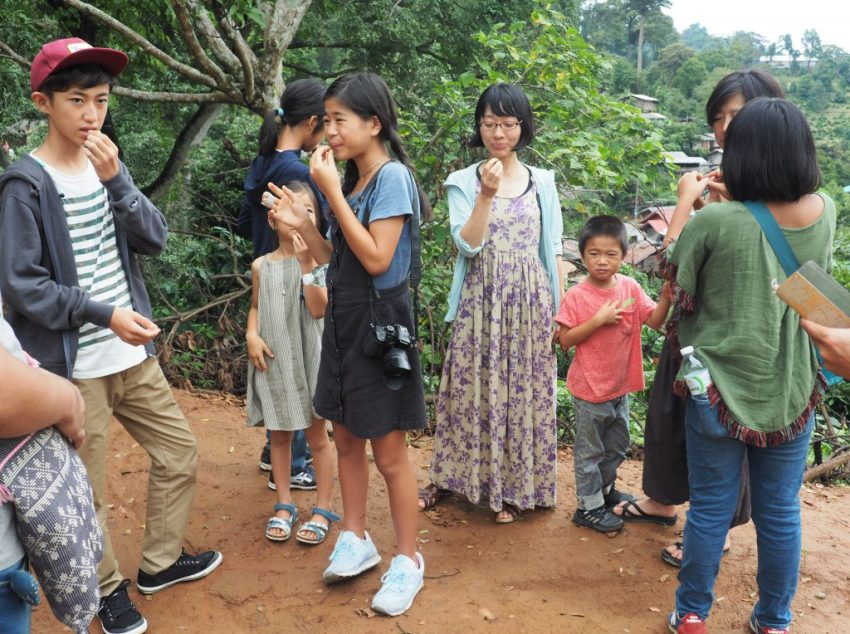 Japanese investing in Thailand
Hitoshi Sato, general director of TDC International, a real estate agency, said, "Thailand has long been a favourite investment destination for Japanese companies that produce auto parts, computers, and food products because of strong facilities built for these manufacturers."
The Board of Investment (BoI) reports that in 2022, Japanese applicants won 293 projects worth a combined 50.70 billion baht, more than any other country.
According to the BoI, there is still some interest from Japanese businesses in investing in Thailand.
To offset the disadvantages of slow economic growth and a weak yen, many companies have stopped relocating executives from Japan and have instead hired Thai nationals for managerial or comparable jobs since the outbreak, he said.
Mr. Sato predicted that the number of Japanese retirees and expatriates in Thailand will decrease if the weak yen persisted for another 5-10 years.
Meanwhile, he said, the number of Chinese expats in Thailand has increased in tandem with the rise in investment by Chinese enterprises there, particularly electric vehicle (EV) manufacturers and technology firms.
Industrial estates in Rayong province, which is a member of the Eastern Economic Corridor (EEC), have attracted primarily Chinese investors.
The REIC reported that in the first six months of 2023, the Chinese market accounted for 3,448 condo transfers worth a total of 16.9 billion baht.
After the pandemic was over, the EEC saw a rapid increase in investment and foreign residents, according to Krit Techasumma, managing director of Origin Nationwide, a developer specialising in condominiums outside of the Bangkok metropolitan area.
Electric vehicles, biofuels and biochemicals, and electronics are the top three industries, according to Mr. Krit.
Companies from Asia, especially Japan, China, and South Korea, are the EEC's most common source of new members.
Long-term leases of 1 to 5 years and shorter-term rentals of 3 to 6 months have both seen an uptick in demand as a result of investment and employee relocation.
Investment in new public facilities
Origin Nationwide rents out 70% of its Rayong and Si Racha buildings to non-Thais who work for enterprises in industrial parks, while selling the other 30% to Thai nationals. He projected that the rental yield for both the Notting Hill Rayong and the Hampton Sriracha would be around 5-6%.
Si Racha rental properties have an occupancy rate of 70-80%, whereas Rayong rental properties have an occupancy rate of 65-70%. "Though the global slowdown could impact the real estate segment, the housing segment in the EEC remains resilient," said Mr. Krit.
A 4.7% GDP estimate for the three EEC provinces is greater than the 4% GDP projection for the country as a whole.
He is confident about continued expansion thanks to the city's investment in new public facilities including the U-tapao airport, high-speed train link, and Laem Chabang Port.
Mr. Krit argued that the government should keep trying to entice overseas investors while also thinking about how to collect the necessary taxes.
He suggested that the EEC build additional attractions to entice more spending from expats and inbound tourists.
Chiang Mai has suffered in recent years as the PM2.5 air condition has worsened annually, damaging the city's reputation as a popular retirement destination for expats.
The province known as the "Rose of the North" has the worst air quality in the world this year.
A Japanese retiree named Sumitoshi Nishida, 72, who has resided in Chiang Mai for almost a decade, said that the pollution has hampered inbound travel for over a month.
Mr. Nishida is one of about eighty retirees from Japan who make up the Chiang Mai Longstay Life Club.
He added some visitors leave for their home nations for a couple of months till the air clears.
Mr. Nishida has stated that he thinks Chiang Mai is still the ideal location to live because of the low cost of living, pleasant weather, local culture and cuisine, and high standard of medical care and recreational opportunities available.
When compared to other Asian retirement plans, the minimum savings of 800,000 baht needed to apply for a retirement visa is reasonable, he added.
Mr. Nishida speculated that the number of Japanese retirees in Thailand would decline as a result of the increase in the retirement age in Japan to 70.
He thinks Thailand can profit from retirees who desire to travel for a short period of time (often one or two months).
According to Mr. Nishida, most Japanese retirees who visit Thailand do so permanently if their health permits.
He explained that this is because Japanese health insurance does not cover treatment abroad, prompting the patients to return home when their health deteriorates.
Mr Nishida, an expat retiree, expressed his hope that the government will address the high rate of traffic accidents in Chiang Mai by improving the city's roads, walkways and zebra crossings.