Huge Crowds Cheer Britons HRH Prince William in Singapore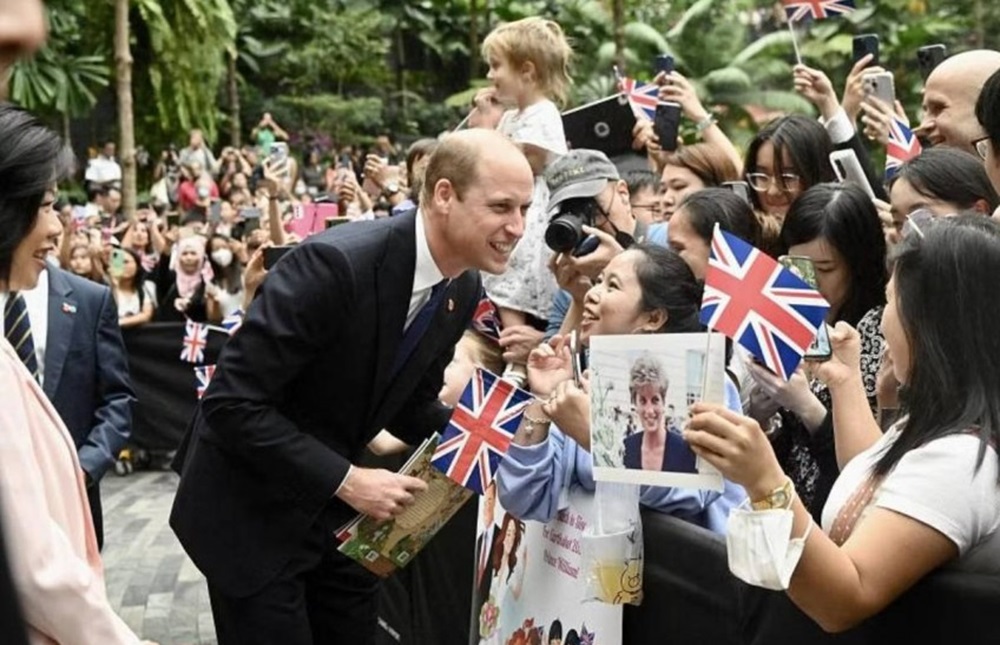 HRH Prince William arrived in Singapore on Sunday and visited Jewel Changi Airport before his work trip. The Prince of Wales, who landed at Changi Airport at about 5pm, visited the HSBC Rain Vortex, the indoor waterfall at Jewel, and met the public at the nearby indoor garden.
When Prince William reached Jewel around 5:30pm, gathered crowds started cheering. Ms Sim Ann, Senior Minister of State for Foreign Affairs and National Development, accompanied him.
As Ms Sim led him towards the waterfall, he could be heard saying: "It's enormous."
Hundreds gathered around the Rain Vortex to glimpse the 41-year-old heir to the British throne. Some came bearing gifts such as soft toys and cards.
Among them was author David Seow, 55, who brought photos of the late Diana, Princess of Wales, the mother of Prince William, who died in 1997. Mr Seow had taken the photos in London in 1992.
When Mr Seow said Prince William could keep one of the photos, the Prince said: "It's for me? Thank you very much."
Mr Seow later told The Straits Times he had been waiting for the Prince's arrival since noon to give him three children's books he had written about the royal family.
"I've been a supporter of the royal family since I was six. Prince William is doing a good job raising awareness about issues like mental health and the environment," he said.
Jewel chief executive James Fong later showed Prince William a tembusu tree planted at the Forest Valley in honor of his visit.
This is the first time a tree has been planted at Jewel to mark the visit of a foreign dignitary, said Mr Fong.
Software engineer Jose Ricardo, 35, said he was visiting the newly reopened Changi Airport Terminal 2 when he heard Prince William would drop by at Jewel. A supporter of the Prince's environmental advocacy, he waited more than an hour for the Prince's arrival.
"I told him he was very handsome and he smiled," said the Filipino, who has lived in Singapore for three years.
Prince William will be in Singapore until Wednesday.
On Tuesday, Prince William will attend the ceremony to award the 2023 Earthshot Prize, a global environmental prize he founded in 2020 aimed at driving change to mend the planet over this decade.
The Earthshot Prize will award a grant of £1 million (S$1.7 million) each to five winners for developing solutions to environmental problems.
Prince William said in a statement: "It's fantastic to be back in Singapore for this year's Earthshot Prize ceremony, after 11 years."
Co-hosting the ceremony, to be held at Theatre at Mediacorp, are American actor Sterling K. Brown and English actress Hannah Waddingham. Brown starred in the TV series The People v OJ Simpson: American Crime Story, while Waddingham was in the comedy series Ted Lasso.
Grammy-nominated artist Bebe Rexha will join the line-up of performers, including American band OneRepublic and British indie-pop band Bastille.
The winners will be announced by Australian actress Cate Blanchett, who is also an Earthshot Prize council member; Lana Condor, who starred in the romantic comedy To All The Boys I've Loved Before; Australian wildlife conservationist Robert Irwin; South African actress and humanitarian Nomzamo Mbatha; and Hong Kong actor Donnie Yen.
Prince William will make a speech to celebrate the work of this year's Earthshot Prize finalists.
During his visit, Prince William will call on President Tharman Shanmugaratnam and meet Prime Minister Lee Hsien Loong at the Istana.
This will be the Prince's second visit to Singapore, after his official trip here in 2012 with his wife Catherine, Princess of Wales.
This article was first published in The Straits Times.