Mahindra Tractors Empower Farmers with Reliable Performance and Innovation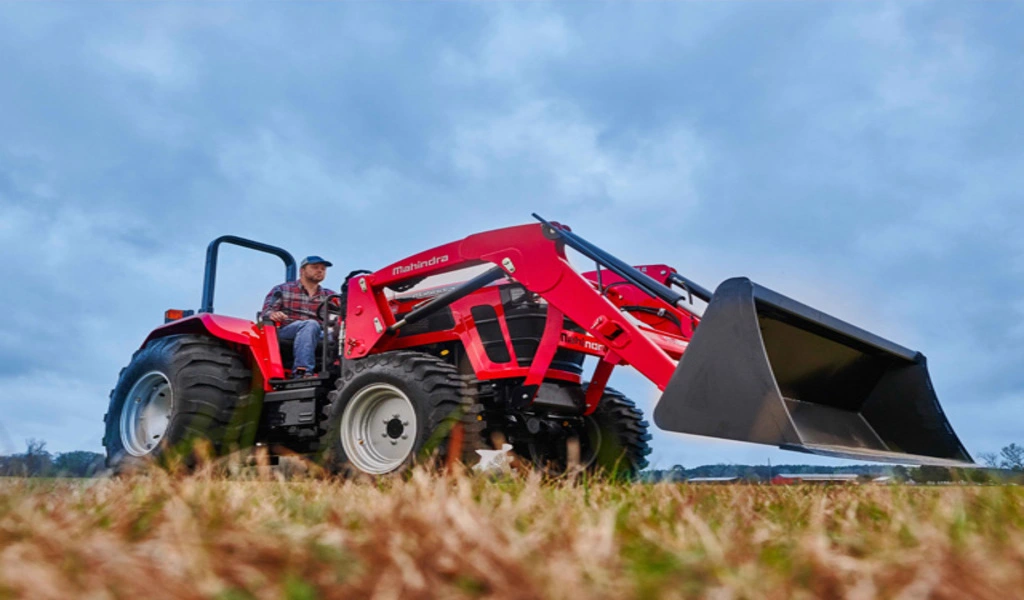 Mahindra Tractors – Agriculture plays a vital role in the global economy, providing sustenance for the growing population and contributing to economic development. In this dynamic industry, where productivity and efficiency are paramount, farmers need reliable and innovative tools to optimize their operations.
Mahindra Tractors is a leading manufacturer of agricultural tractors globally. With a legacy spanning several decades, Mahindra Tractors has established itself as a trusted brand known for its reliability, performance, and innovation. They offer a wide range of tractor models designed to meet the various needs of farmers, from small-scale farming to large-scale commercial agriculture.
Mahindra tractors are known for their robust build, powerful engines, versatility, and advanced technology, enabling farmers to optimize their productivity and efficiency. With a commitment to customer satisfaction and sustainable farming practices, Mahindra Tractors continues to empower farmers worldwide with reliable performance and cutting-edge solutions.
The Importance of Agriculture
Before exploring the specific attributes of Mahindra tractors, it is essential to understand the significance of agriculture in the global economy. Agriculture serves as the backbone of many nations, providing food security, generating employment, and contributing to GDP growth.
As the global population continues to expand, agricultural productivity must increase to meet the rising demand for food and other agricultural products. Farmers require reliable and efficient equipment to achieve optimal yields and reduce post-harvest losses, thereby ensuring food security and economic stability.
Mahindra Tractors: A Leader in the Agricultural Sector
Mahindra Tractors, recognized for its dedication to excellence, efficiency, and customer contentment, has become a significant contender within the agricultural machinery sector.
Having garnered a rich heritage over numerous decades, Mahindra Tractors has successfully established itself in numerous countries across the globe, earning a reputation as a reliable and pioneering brand. Their tractors are meticulously crafted to fulfil farmers' needs, boasting a diverse line-up of models tailored to suit different farming techniques and landscapes.
Mahindra Tractors: Affordability
The price of Mahindra tractors varies depending on several factors, including the model, specifications, features, and geographical location. Mahindra offers a wide range of tractors to cater to the diverse farmer's needs, from compact models suitable for small farms to heavy-duty tractors for large-scale agriculture.
In general, the Mahindra tractor price can vary to a large extent based on the model it offers, and to get an accurate and up-to-date price for a specific Mahindra tractor model, you can visit Tractorkarvan or check the official Mahindra website.
It's also advisable to consult with local dealers to understand any discounts, promotions, or financing options that may be available, as these can influence the final price of the tractor.
Mahindra offers a broad range of tractor models that are popular among farmers. Some of the popular Mahindra tractor models include Mahindra 475 DI, Mahindra 575 DI, Mahindra 265 DI, Mahindra 585 DI and various others. All these tractors have the most reasonable pricing in their segment, as the Mahindra tractor 265 price in India falls within the affordable range. This makes it easy for farmers to go with this model for their regular farming requirements.
Robust Build and Durability
Mahindra tractors are built to withstand the rigours of agricultural work. These machines are constructed with high-quality materials, ensuring durability even in challenging conditions. The robust build of Mahindra tractors enables them to endure heavy workloads and harsh terrains, providing farmers with long-lasting performance and peace of mind.
Powerful Engines for Enhanced Productivity
Mahindra tractors are equipped with powerful engines that deliver exceptional performance and increased productivity. The engines are designed to provide optimum power and torque, enabling farmers to efficiently handle demanding tasks such as ploughing, tilling, and hauling heavy loads.
The high horsepower and torque of Mahindra tractors make them suitable for a wide range of agricultural operations, from small-scale farming to large-scale commercial agriculture.
Versatility to Meet Diverse Farming Needs
Farmers have diverse requirements depending on the crops they cultivate and the nature of their farms. Mahindra tractors offer a wide range of models with varying features and specifications, ensuring that farmers can find a tractor that suits their specific needs.
Whether it's a compact tractor for small farms or a heavy-duty model for large-scale operations, Mahindra provides options that cater to the unique requirements of farmers across the globe.
Innovation
Mahindra tractors incorporate advanced technology to enable precision farming, a modern approach that maximizes productivity while minimizing resource consumption. Features like power-steering and precision spraying systems help farmers optimize their operations, reduce input wastage, and improve overall efficiency.
Precision farming techniques made possible by Mahindra tractors contribute to sustainable agriculture and ensure the long-term viability of farming practices.
Ergonomic Design for Operator Comfort
Recognizing the importance of operator comfort and safety, Mahindra tractors are designed with ergonomic features. The seats are spacious, providing a comfortable working environment for long hours in the field. The controls are intuitively placed, allowing operators to perform tasks with ease and minimize fatigue. By prioritizing the well-being of farmers, Mahindra tractors enhance productivity and ensure a pleasant working experience.
Environmentally Friendly Features
In an era of increasing environmental concerns, Mahindra Tractors strive to minimize the ecological footprint of farming activities. Many models are equipped with eco-friendly engines that comply with stringent emission norms, reducing air pollution.
Additionally, Mahindra tractors embrace energy-efficient technologies, such as improved fuel efficiency and reduced water consumption, promoting sustainable farming practices and conservation of natural resources.
Conclusion
Mahindra Tractors have earned a strong reputation as a reliable and innovative partner for farmers worldwide. Their commitment to providing reliable performance and cutting-edge technology has made them a trusted choice among agricultural communities.
Through their robust build, powerful engines, and versatile designs, Mahindra tractors enable farmers to tackle various farming tasks with ease. Due to these factors, Mahindra tractors are always in demand and are available for sale on many digital platforms like Tractorkarvan.
Tractorkarvan is a one-stop digital platform for all the information farmers need on tractors and farm equipment. It provides user-friendly features that help farmers in the process of finding, buying & selling tractors and financing tractors, farm implements, farm tyres, and harvesters.
On Tractorkarvan, farmers get detailed, well-researched, and curated information such as specifications, features, price & EMI, and authentic user reviews. Through its large on ground presence, Tractorkarvan assists Indian farmers to select, buy, and finance tractors with ease.
SEE ALSO: Minnesota Joins the Ranks: Recreational Marijuana Legalized For Adults 21 And Older