The Cost of Installing a Modern Composite Deck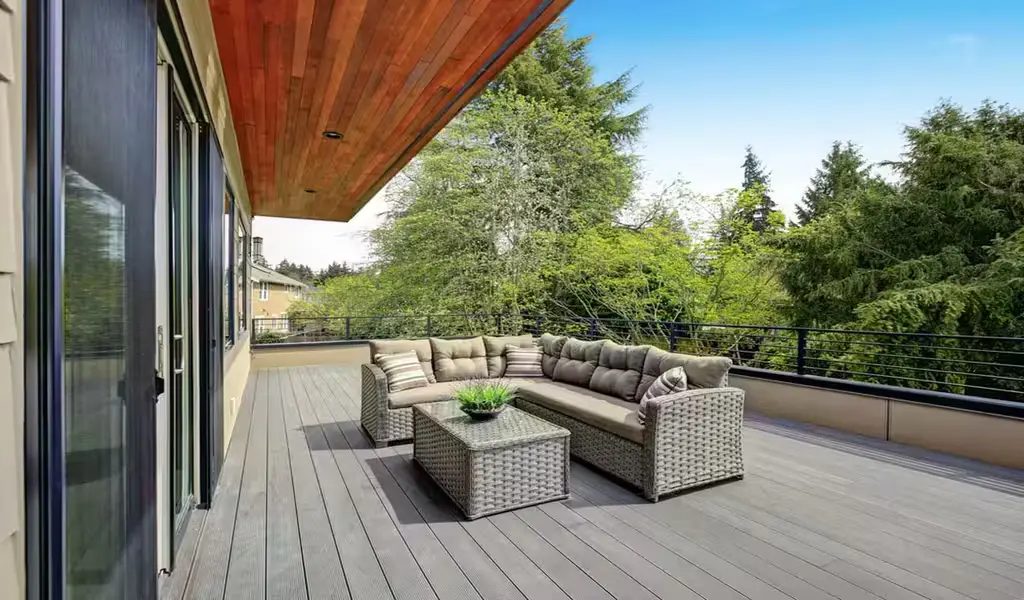 Outdoor decks have an indisputable place as an extension of your home life. Before constructing your outdoor flooring, everyone is concerned about the modern composite deck cost of the outdoor.
The typical deck cost for a homeowner is $2,200 for a 10×10 foot outdoor deck. A 14×20 foot deck costs $6,200 to build. A deck 20×20 feet long costs $8,800.
An outdoor deck costs roughly $22 per square foot to build. However, the cost of the deck is determined by the materials used, the size, and the level of construction. Additionally, there are choices such as built-in chairs or steps.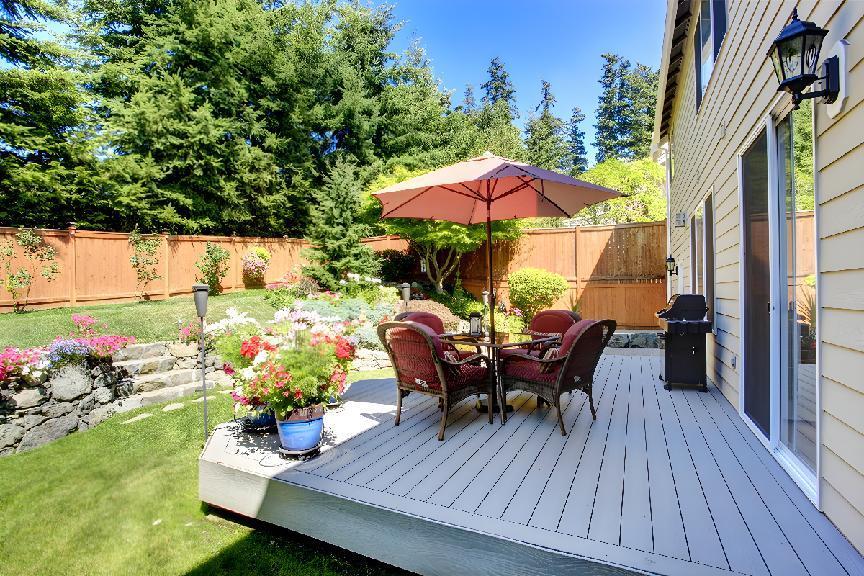 The average cost of a deck per square foot
The cost of constructing a deck is $22 per square foot. The average homeowner spends between $4,200 and $10,000. Decks constructed with low-priced materials cost $13 per square foot. Decks constructed with high-quality materials cost $32 per square foot.
In other words, deck materials have a significant impact on deck construction costs. The deck builder must select the best deck material for your situation. Furthermore, the cost of labor to manufacture the deck will influence the cost of the deck. Labor costs range from $8 and $20 per square foot, depending on the size of the outdoor deck, the materials used, the level of construction, the surrounding surroundings, and so on. Deck Construction Materials Costs
Pressure-treated timber, hardwood, and composite decking materials are the three most prevalent materials used to build outdoor decks in the United States. The statistics provided in the article are averages, and the specific price per square foot may vary based on where your outdoor living space is located.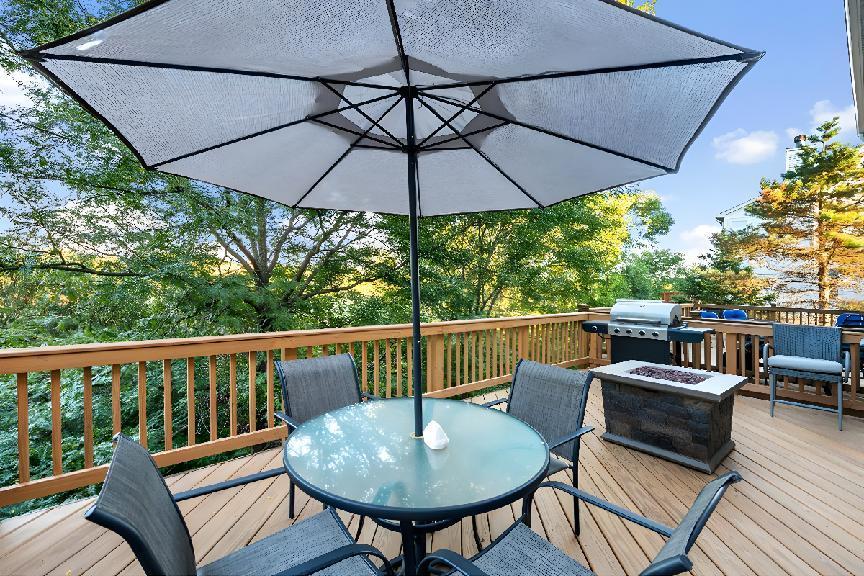 Wood that has been pressure-treated
The cost of pressure-treated wood decking is $6 per square foot. It's also the most popular and least expensive alternative. It meets people's essential needs while being resistant to mold, insects, and rot.
Advantages and disadvantages of pressure-treated lumber
It is often constructed of low-grade fir or pine. Which is prone to warping and cracking over time and hence necessitates a careful maintenance schedule.
It is less water-resistant, therefore metal fittings are utilized to construct the deck when exposed to damp or water. Galvanized nails and screws, fasteners, joists, and other metals can corrode. If repairs are conducted on a regular basis to ensure the deck's structural soundness.
If you choose to create your outdoor deck with these deck boards, you must maintain it on a regular basis, which includes sanding, sealing, and staining.
Wood Deck Prices
The supplies to build a deck using natural wood cost between $3 and $15 per square foot. Wood decks are attractive and popular, but they require extra upkeep, such as staining and sealing on a regular basis. The following are the most prevalent trim woods.
Cost of Cedar Wood
The material cost of cedar decking ranges from $4 to $8 per square foot, depending on the grade. Cedar is a naturally resistant softwood to weathering, insects, and rot. It does, however, require routine care like as sanding, sealing, and staining.
Advantages
Cedar is one of the less expensive materials used in deck construction.
Weathering, rotting, and wood-destroying insects such as termites are naturally resistant.
Cedar is simple to stain and seal, and it does not distort over time.
Disadvantages
Cedar decking is less durable than other hardwoods and more prone to scratches and dents.
Sanding, staining, and sealing are required on an annual basis.
Redwood Decking Prices
The most popular wood used in deck construction is redwood decking, which costs $7 per square foot. Again, constant maintenance is required to keep it running properly.
Advantages
Redwood is half the price of composite lumber.
Mahogany is ideal for staining or painting.
Mahogany is naturally pest and fire-resistant.
Redwood is strong and not readily bent.
Disadvantages
If a mahogany deck is not stained and sealed on a regular basis for upkeep. It can grow moldy and sun-damaged.
Composite Decking Price
Composite decking material costs between $10 and $15 per square foot. Which is typically slightly greater than the cost of wood flooring. Composite decking looks like real wood, has a surface that mimics natural wood grain, and can fulfill the demands of most individuals. The composite decking is produced from a combination of recycled plastic and wood fibers. Its use can also assist in decreasing plastic waste and protecting the environment.
Advantages of Composite Deck
Composite decks require extremely little upkeep.
Composite decking does not split or decay.
There are no chemicals in this product that can corrode metal fasteners.
Composite decking comes in a number of hues.
Composite materials do not require staining or sealing.
Some composites have the ability to be utilized as "hollow" planks, allowing wires or audio cables to pass through the core.
Disadvantages of Composite Deck
Because the product cannot be sanded, it does not restore its former sheen as easily as a wood deck.
The cost is slightly more than that of pressure-treated lumber.
The cost of constructing a deck staircase
If you need to install deck stairs, determine the cost of deck stairs based on the number of steps needed. A rough estimate of the cost of deck stairs is $40 per step. A few steps from the yard to the deck will create a pleasant transition. Depending on the size of your yard, one set may be enough, but you may want to add stairs on either side of the deck.
The pricing difference is determined by whether you want an open vertical space between each step or a closed space with matching risers. In addition, each set of steps utilized for support costs $50 in concrete.
Deck Railing Installation Cost
Depending on the materials used to build the deck, the typical deck cost to install deck railings is $20 per linear foot. Typically, the railing will not be on all four sides of the deck because one side will be parallel to the house.
Maintenance costs
Annual maintenance and repairs are essential when it comes to natural wood decking. With proper care, your wood deck can last 25 to 40 years before needing to be replaced. If your deck is not properly maintained, its lifespan can be shortened to 10 to 15 years.
Deck Staining Cost
Above all, the expense to sand, stain, and seal an outdoor deck ranges between $1 and $3 per square foot. If you simply need to fix a tiny area, you can buy a sealer and stain and finish the job yourself.
Stains – Available in opaque or semi-opaque acrylic latex, oil, or latex stains. For $30-$45 per gallon, you may cover up to 400 square feet of wood surface.
Clear or weatherproof wood treatments are available. It covers up to 400 square feet of wood surface and costs between $16 and $80 a gallon.
Deck sealing costs
Above all, a common wood sealer costs around $20 per gallon and is simple to apply yourself.
Wood Water Sealer – $16-$18 per gallon, covers 225 to 325 square feet of sanded lumber with an initial coat of 125 square feet of rough sawn lumber.
Wood Preservative – $24-$29 per gallon, covers 100 to 300 square feet.
SEE ALSO: 8 Reasons Why SEO is Essential for Thailand's Tourism Industry