Solar Generator – Solar Power Bank for Household Appliances
We live in a digital world where everything runs on technology and electrical power. And with the increasing demand for more power, solar energy solutions are becoming more and more useful. Companies like Jackery are stepping up to meet these demands with top-notch solutions.
A solar power bank is among the devices that make it possible for people to stay connected. Devices like mobile phones can use portable chargers for convenient charging anytime and anywhere. Simultaneously, household appliances can also have one high-end power bank for convenience and energy saving.
This guide will discuss how solar power banks can be used in such scenarios. The focus is on everyday home energy consumption.
The Working Principle of A Solar Generator
Understanding the working principle of solar power banks begins with the working principle of solar generators. These devices harness solar energy and convert it into usable AC energy.
A solar generator is just like a traditional generator in terms of applicability, only that it has batteries that can be charged instead of using fossil fuel. A solar power bank stores excess solar energy for later use.
Solar radiation, also called electromagnetic radiation, is the light emitted from the sun. The amount of radiation that reaches any particular spot on the earth's surface varies depending on the geography of that location.
Solar technologies like solar generators capture this radiation and convert it into energy that can run home appliances. This is the basis of their working principle.
Components
A complete solar power system has several components that enable it to work effectively. First, it features a set of AC+DC charging +AC and DC inverters. The battery inside the generator is charged when utility power is supplied.
Any interruption in the main power supply prompts the battery to output the stored DC power to the inverter, which converts to the AC power required to run home appliances. This ensures continuity of power supply to the connected devices.
Solar panels, mostly made from photovoltaic cells, capture the direct current from the sun. They are connected using cables and can generate energy effectively. Some powerful solar panels can capture energy even during cloudy weather conditions, although they will not be as powerful as in clear skies.
The Inverter
The DC power from the solar panels cannot work for home appliances and businesses. The inverter plays a pivotal role in transforming this energy into alternating current (AC) that can then be utilized. Advanced string inverter systems use small power optimizers at the back of the solar panel to monitor and control the panel and ensure maximum efficiency.
Batteries
Another crucial component of a solar generator is the battery. A solar charger power bank is used to store energy. Rechargeable lithium-ion batteries make the best of modern solar batteries. The performance and quality of the battery affect how much power the generator will deliver.
Modern batteries feature advanced technologies like battery management systems (BMS), which monitor battery performance. They integrate well with home smart systems to ensure a smooth transition between power sources. In addition, they ensure the safety of the batteries and the connected appliances.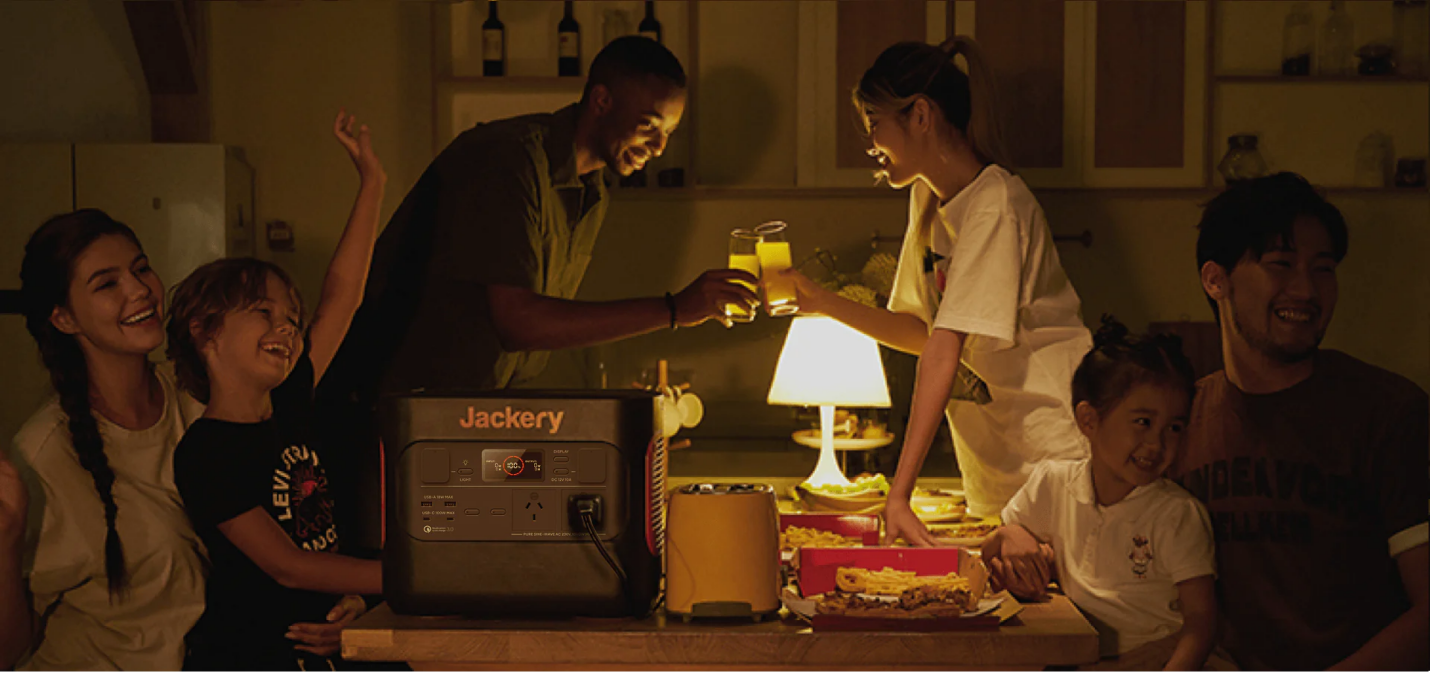 Electricity Switchboard
An electricity switchboard is crucial in a home solar power system setup. AC electricity passes through this component to various circuits and home appliances. It is known as Net metering, from where excess electricity is sent to the solar power bank for storage.
Differences Between a Solar Generator and Non-Solar Generator
A solar generator with a solar panel power bank differs from a non-solar generator. They may perform the same function, and some even look alike, but certain features bring out the difference and make a solar generator superior.
Here is an overview of the differences:
Differences in Working Principles
The main difference is in the working principles. A solar generator converts sunlight into direct current, which is then passed through an inverter that converts it to AC. A solar power bank can store solar energy from the sun and does not depend on grid electricity. Some batteries are not built for grid connectivity, which is why users must be cautious when looking for charging options.
Non-solar generators come in two main types: traditional home generators and portable power stations. The mobile power stations have batteries and work just like solar generators, only that they are charged directly using AC power via a wall-socket connection.
Traditional generators burn fossil fuels to produce electricity. Most offer automatic power backup solutions, which kick in immediately after an outage. They are good backup solutions but noisier and less eco-friendly.
Advantages of Solar Generators
Using a solar power bank in home appliances offers more benefits than non-solar generators.
Contribution to Renewable Energy
As the world leans more towards renewable energy, the campaigns to reduce fossil fuel usage are becoming more and more popular. Governments and major stakeholders are advocating for renewable energy as part of global sustainable development goals. Solar generators use energy from the sun, which is cleaner, reducing the carbon footprint. The generators are also quieter, making them ideal for all-day and night use at home.
Cost Effective
The initial fee for purchasing a solar generator is higher than that of non-solar generators. However, the long-term benefits are immense. It's no wonder about 30% of Australian homes[1] have invested in rooftop solar, the highest figure in the world. The battery system harnesses free sunlight, providing energy to use even at night without additional charges like fuel.
Quiet and Low Maintenance
Since they don't have any moving parts, solar generators are very quiet. In addition, the chances of breaking down are very minimal. This significantly reduces maintenance costs compared to gas generators.
Major Scenarios Where The Solar Generator Can Be Used
A solar generator is one of the best energy-efficiency investments for a homeowner. They can come in handy in the following scenarios:
Home Backup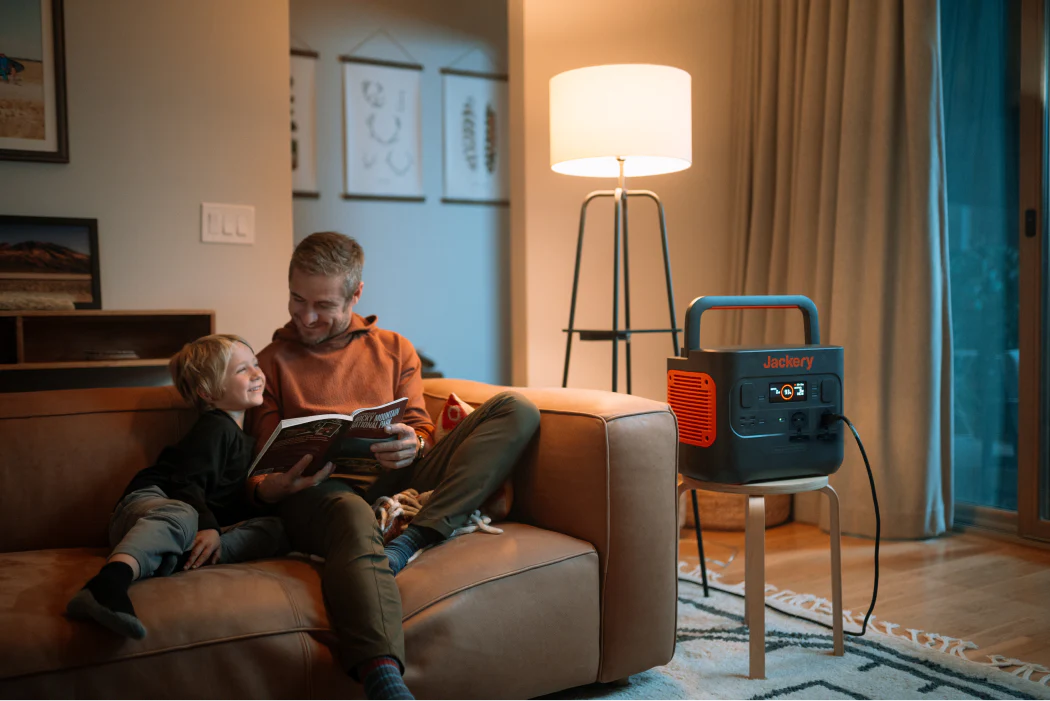 A solar power bank can be a home power backup system to run appliances during blackouts. One can use them to save energy costs when they don't need to correct grid electricity.
They can power:
Hand Drills: Power tools like hand drills are common in many homes. A solar generator can easily power it when one wants to make some holes in the wall for repairs or fixing appliances.
Refrigerator: Some food items must remain under freezing conditions. When power goes off, a solar generator can kick in to keep the machine running, saving the contents from potential damage.
Air conditioner: Missing an air conditioner during cold or hot periods can make a home inhabitable. A solar generator is an excellent backup solution for such situations.
In short, a solar generator is just like the traditional power source in the home, only it provides better performance. It's a quiet and efficient home energy backup system that will run normal appliances without any problems,
Outdoorsy
Solar power banks can be a great asset for camping enthusiasts and outdoor lovers. They provide enough power to run devices and equipment like:
Projectors: This can be handy when watching outdoor movies in the backyard.
Mini Cooler: A solar power bank can efficiently power a mini cooler, keeping the contents safe and cool.
Blender: A blender is handy when planning an outdoor picnic in the backyard. A solar generator will provide the required energy to run such items.
Coffee Maker: A solar generator is powerful enough to run a coffee maker, an electric grill, or a hot plate. These are appliances used at home daily and are required to improve life quality.
The best part about solar power generators is that they allow users to connect multiple appliances simultaneously. Top performers can handle more than eight appliances. They contain a port for each device, making them very useful.
How to Choose the Best Solar Generator For Home Appliances
There are several indicators one must consider when choosing a solar generator. These include the following.
Portability
A good solar generator is not only for indoor use. It should offer a combined application with outdoor activities conveniently. Therefore, portability is among the top features to consider. A small, powerful solar power bank with foldable handles is easier to carry, connect, and use than a bulky one.
Portability does not mean sacrificing capacity. It's all about finding a low-profile solution that's easy to carry when travelling and store when at home. Luckily, modern technological advancement allows for the creation of such devices.
Heat Dissipation and High-temperature Protection
Heat can be a huge threat for solar generators. As stated above, many of the modern generators come with lithium-ion batteries, which are quite sensitive to extreme heat.
During operation, it's common for the solar panel power bank to dissipate some heat. The problem is that there is too much heat. Therefore, selecting one that does not produce excess heat is crucial.
In addition, consider a solar panel power bank that has high-temperature protection. This will protect the battery from exploding and damaging your appliances. The shield uses special sensors to switch the device off automatically when the temperature exceeds normal levels.
Water and Dust Resistance of Solar Panels
A good system with a solar charger power bank should have water and dust resistance. Solar panels capture sunlight and, thus, must be kept outdoors. They are exposed to different weather conditions, including rain and dust, which can easily damage them.
High-quality solar panels are designed to withstand such conditions. They can be permanently set on the roof and only wiped when too much dust accumulates on top. Water and dust will not penetrate to damage the internal electrical components.
Ultra-long Standby
Efficiency is of uttermost importance when looking for a solar charger power bank. It is crucial to find a device that delivers ultra-long standby. That means investing in high-capacity solar generators.
Such a device will not disappoint during long periods of power outage. Use can count on them to provide the much-needed electricity to run the above home appliances. They are also a great long-term investment.
The Best Solar Generator for Home Power Backup – Jackery Solar Generator 1000 Pro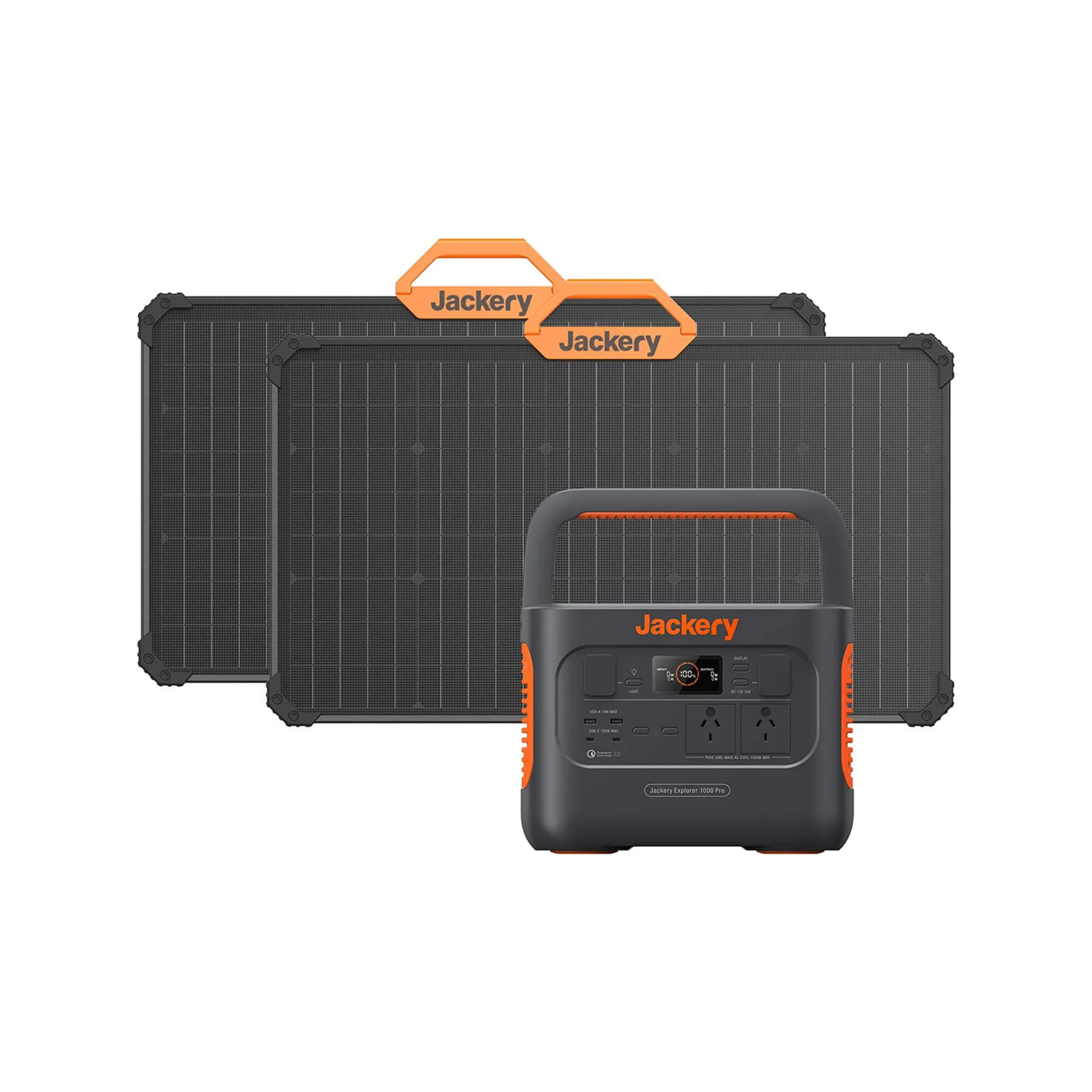 Finding the right solar generator can be quite overwhelming. There are so many solar generators and solutions on the market today. But some solar solutions always stand out from the rest – Jackery is one of them.
The Jackery Solar Generator 1000 Pro is an economically best choice for homeowners. It is powerful enough to meet the above needs thanks to the following features:
Lighter, Smaller, and Enjoyable
The Jackery Solar Generator 1000 Pro is one of the market's most portable solar power generators. It features a foldable handle for easy transportation and storage.
Those who want to save space at home or on the go will find this solar charger bank extremely handy. Moreover, it is packed with incredible features that will give users so much convenience. A good example is the innovative smart screen display screen that shows 18 functioning modes for easy home use.
All Round Safety
Heat dissipation and temperature protection are crucial considerations when looking for a safe solar generator. This is where Jackery Solar Generator 1000 Pro comes in.
Jackery Solar Generator 1000 Pro features a pure sine wave inverter that delivers stable power, protecting against equipment damage. In addition, it features a battery management system that monitors and communicates battery performance, keeping it safe and long-lasting. It will detect any abnormal changes in heat and take appropriate action, keeping the connected appliances safe.
Durable, Dust and Water-resistant Panels
The Jackery Explorer 1000 Pro is powered by SolarSaga panels. SolarSaga panels feature an ETFE-laminated case that is durable enough to extend its lifespan. They are IP65 water-resistant, offering protection from water splashing. However, this does not mean users can keep them under the rain or soak in water.
SolarSaga panels are dustproof, making them ideal even for areas with a lot of dust. Homeowners don't have to take them off the roof anytime there is some dust; just wipe it off and keep going. Campers will also enjoy such convenience.
Ultra-long Standby
The Jackery Solar Generator 1000 Pro can last for ten years with one usage per week application. Its battery has a low self-discharge rate that keeps it functional for 365 days from an 80% battery level.
The Jackery Solar Generator 1000 Pro is ideal for off-grid living and power outages. It will run all the home appliances for a long time, delivering the best return on investment in the long run.
Conclusion
A high-quality, durable, portable solar charger bank is an excellent home power backup system investment. And Jackery is one of the reliable providers of solar generators that have been making this a reality for homeowners. They have been on the market since 2012, growing into a top-selling solar generator brand recognized worldwide.
Users can now enjoy top-quality products. Reach out today if you want to know more about Jackery or order your home solar battery backup system.
References:
Solar PV and Batteries. Available at: https://www.energy.gov.au/households/solar-pv-and-batteries (Access: September 13, 2023)
SEE ALSO: Is Gold Still A Good Investment In 2023?: Shining Or Losing Its Luster?