How to Optimize Your Webcam for Content Creator: Tips for YouTubers
High-quality video content is essential in the age of YouTube, as visually appealing material engages viewers more effectively. Videos are 53 times more likely to secure a first-page Google ranking and generate 41% more clicks than text-only pages.
For making quality videos, webcams are important in content creation since they are the primary visual conduit. As a result, optimizing your webcam is critical for producing interesting and professional YouTube videos.
This article will show you how to optimize your webcam for content creation. Tips for YouTubers. Let's get started.
How to Select the Right Webcam
Many devices include a decent built-in webcam. However, they are extremely limited. You must select a webcam with a higher resolution, which implies clearer photos and a higher frame rate, which means that motions seem smoother on the screen.
In addition, the budget is also a critical factor to consider. The price of a webcam is largely related to the quality and frame rate it can provide. The CZUR Fancy S Pro webcam stands out because of its impressive 4K HD resolution, 60 fps frame rate, and low pricing.
It's a great option for YouTubers looking for a good blend of performance and cost-effectiveness in their content-generating setup.
How to Set Up the CZUR Fancy S Pro Camera
Many features in CZUR Fancy S Pro make it one of the best webcams for streaming. They can significantly enhance your streaming experience, but you must set up the camera correctly.
Follow the below method to set up your CZUR Fancy S Pro webcam.
Placement and Mounting Options
Choose a stable spot for your webcam. It can be installed on a desk, shelf, or tripod, then place it at eye level OR slightly above eye level and frame yourself in front of it so the audience sees you instead of your background.
Achieve Good Framing
With a lens rotation of 180°, a flexible multi-jointed arm with easily adjustable angles to fit your requirements, and telescopic height adjustments, the CZUR Fancy S Pro camera offers various framing possibilities.
You can also achieve good framing by making a simple background and minimizing the crowd. Ensure you're well-centered within the frame, with enough headroom and space around you.
Lightning Optimization
When it comes to video creation, aesthetics is everything. Without superb lighting, the output will be affected no matter how well the other aspects of the production are. Optimization would help to improve your lighting for the best video quality and result.
The main benefit of the CZUR Fancy S Pro is the ability to improve video quality with a 3-level fill light. With a 3-level adjustable fill light, you can obtain the optimal illumination on your 4K webcam. You can change the lighting by simply clicking the button.
The innovative capabilities of the CZUR Fancy S Pro camera efficiently decrease shadows and glare, offering a well-lit and professional image in footage by changing the lighting to suit your location and surroundings.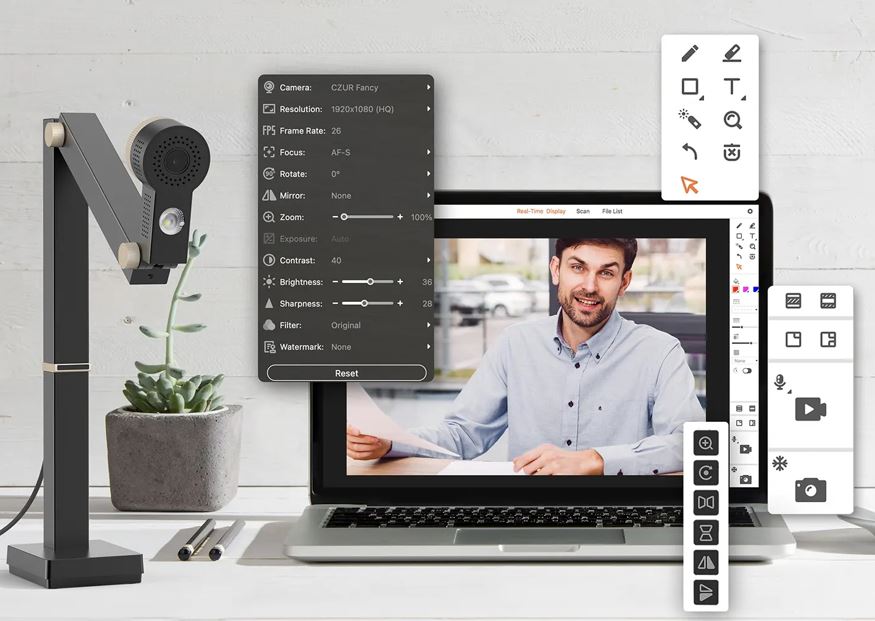 Adjusting CZUR Fancy S Pro Webcam Software Settings
The CZUR software is crucial for optimizing your webcam's performance. It offers various software functions such as photography, video recording, real-time picture annotation, marking aid, QR code scanning, and picture-in-picture.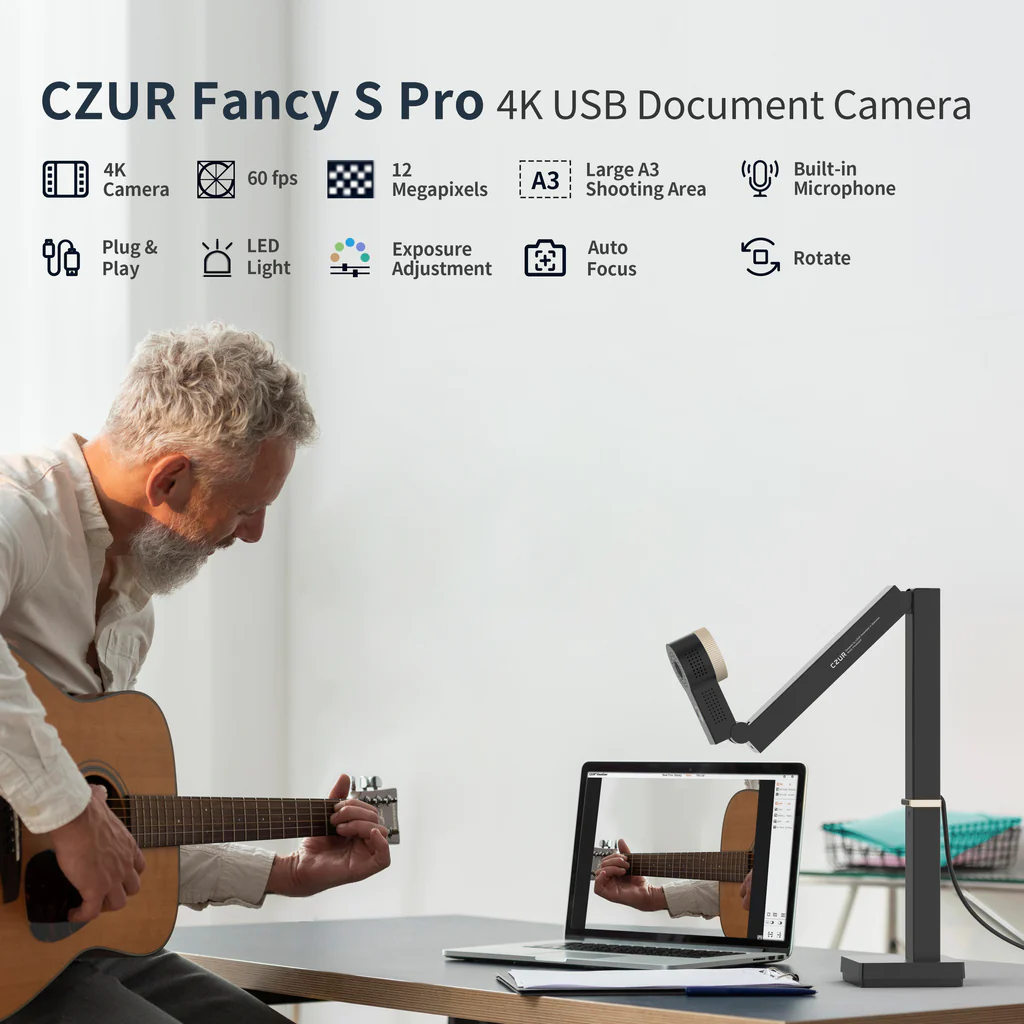 Follow these steps to set up the software:
Download the software from www.czur.com in the software section. You can use this software on Xp/Win 7/Win 8/Win 10/Win 11 and the macOS.
You can connect CZUR Fancy S Pro to your system by simply inserting the USB cable that comes with the webcam, and then your webcam will connect automatically. After connecting to the software, navigate to the 'Webcam' section in the left sidebar and click on 'Settings.
Save your preferred settings. You can adjust exposure, focus type, and camera light using the camera buttons.
You can also utilize mirror rotations for improved video shooting. Experiment with different angles to find the one that suits your setup best.
Fine-tune multiple light adjustments to eliminate glare. You can adjust brightness, contrast, and color settings to eliminate glare and create a clear, well-balanced image.
Customize the camera height according to your needs for optimal results. Experiment with different heights to find the one that best complements your style and content.
Use the three cameras on the CZUR Fancy S Pro for picture-in-picture capabilities, which allows you to blend numerous camera views into your film smoothly.
Lastly, you can use third-party software apps like Skype, Zoom, and others to improve your video meetings, streaming, and recording experiences, increasing its functionality beyond content production.
Tips to Improve Your YouTube Video Shooting
High-quality video will always gain viewers and give you the best results. Here are some tips to improve the shooting of your YouTube videos.
The CZUR Fancy S Pro includes an in-built microphone for clear and quick audio capturing. To improve audio quality, place the camera within a comfortable speaking distance.
Shooting Background and Environment:
Set up your chosen shooting environment using the CZUR Fancy S Pro's telescopic and adjustable features. Experiment with different backgrounds and settings to match the style of your content.
Pay attention to the composition of your video by ensuring proper framing and centering. The rotating function of the CZUR Fancy S Pro improves your ability to find the best framing, making it useful for producing attractive videos.
Experiment with various shooting approaches to make your films interesting. Use angles, zooms, and dynamic motions to add visual appeal to your material.
Recording and Editing Software:
Use the CZUR Fancy S Pro's recording and editing software. Analyze its capabilities to improve your videos, tweak settings, and obtain the right appearance and feel for your work.
Keep your channel's look and logo consistent. Integrate branding components into your videos to establish your YouTube channel's distinctive and professional identity.
Conclusion
Optimizing your YouTube content creation includes resolution, lighting, and audio quality considerations. The CZUR Fancy S Pro camera is an ideal choice for YouTubers because of its high-quality features.
You can also get a 10% discount using the code "FS." Invest in this camera to improve your YouTube videos and successfully engage your audience.