Rolling Ribs Brew Bar & BBQ: Where Bangkok and Memphis collide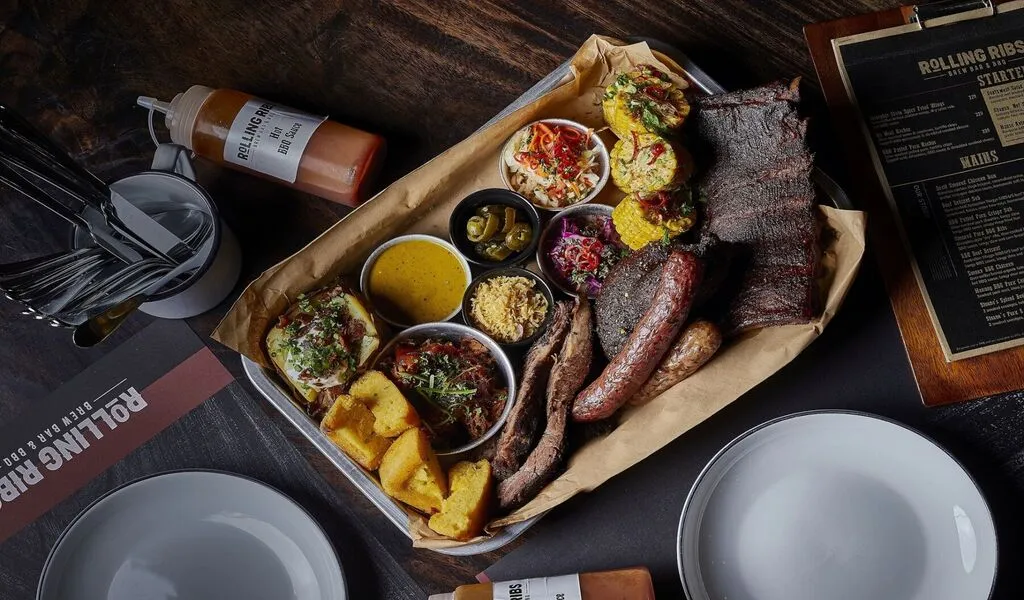 (CTN News) – Rolling Ribs Brew Bar & BBQ brings a distinctly American flair to Bangkok's fine dining scene by delivering the meaty flavors of Memphis to Silom. A delightful find within Le Méridien's dining offerings, these succulent ribs are cooked to such a tender crisp that they practically melt off the bone. In the center of Bangkok, it's a refuge for adventurous eaters eager to try something new and for Americans yearning for a little taste of home.
A variety of meals that are sure to make you swoon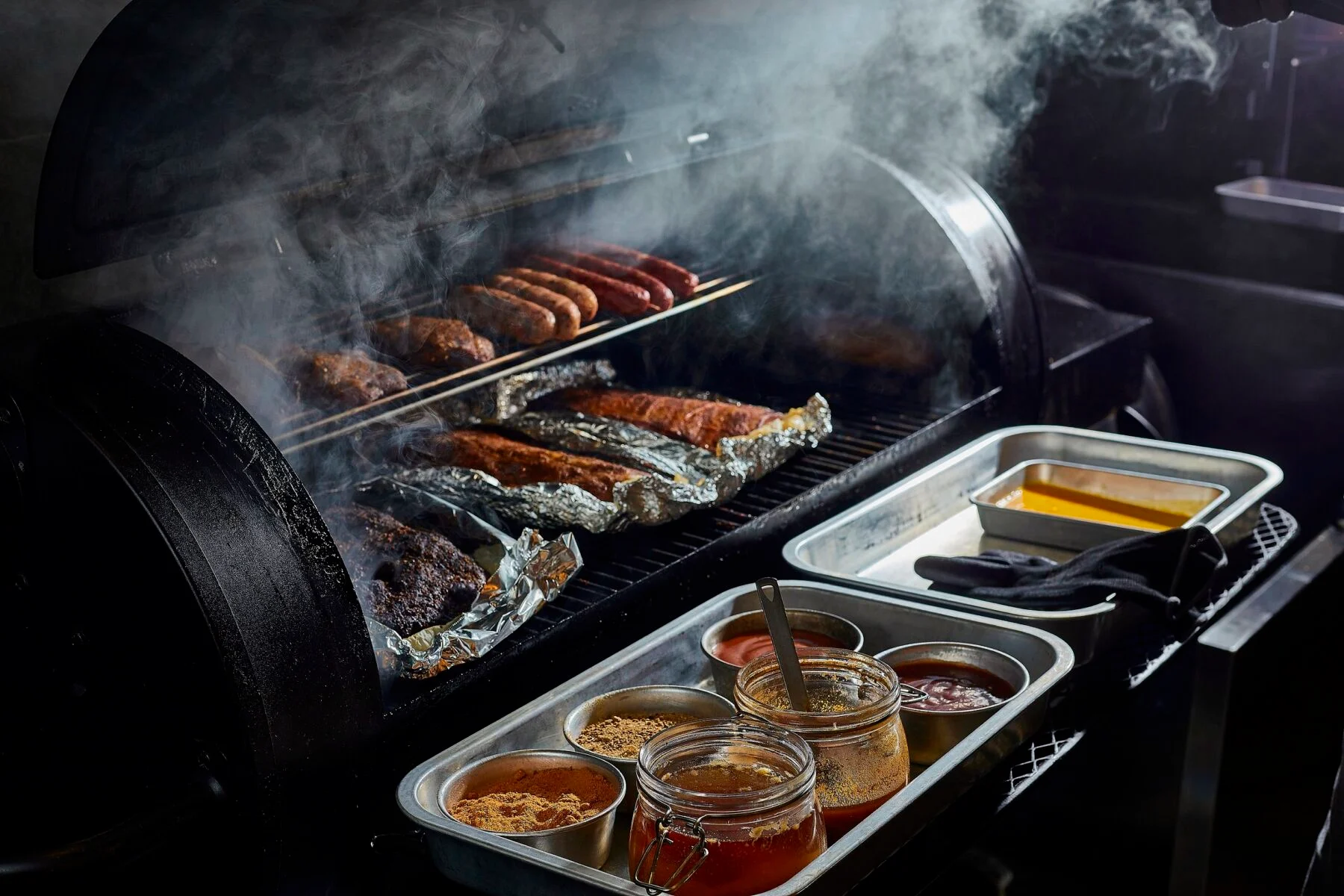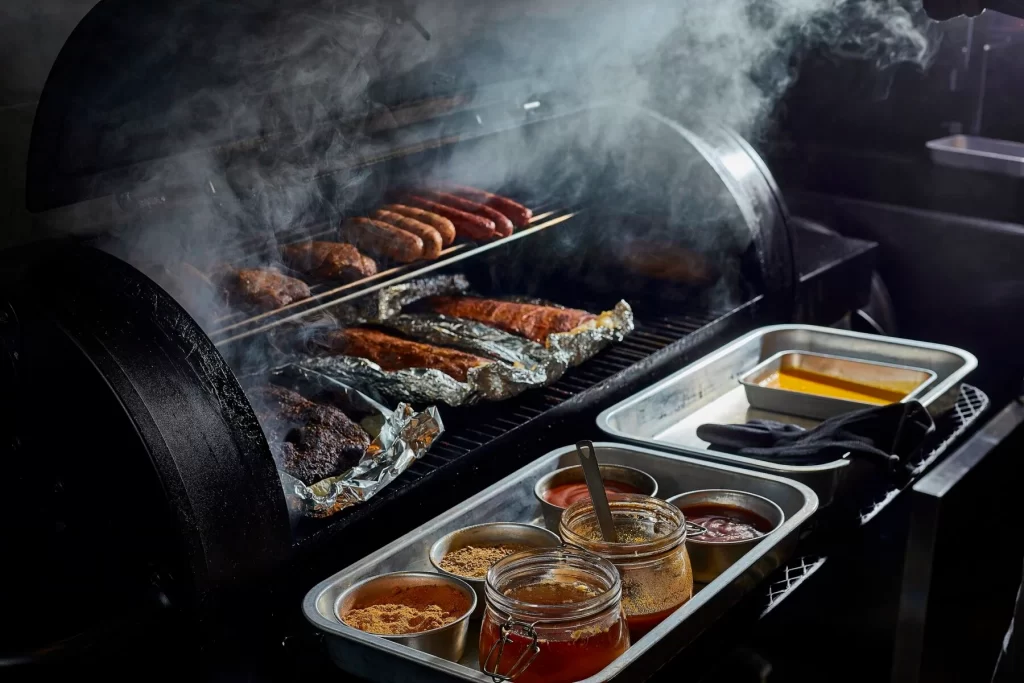 The menu of Rolling Ribs Brew Bar & BBQ features American Memphis-style barbecue, which is well-known for its unique dry rubs and slow-smoke methods all over the world. The restaurant showcases an incredible array of meals while faithfully recreating the original recipes from Bangkok.
Delicious, fall-off-the-bone meats
The Smoked Glazed Pork Spareribs, which are smoked for a full day, are the highlight of their menu! This long slow-cooking and smoking process produces a visually appealing caramelized outside with a delightful crunch, and the inside stays moist and succulent. Prepare for a taste explosion with each bite as these are drenched in Rolling Rib's housemade sauce.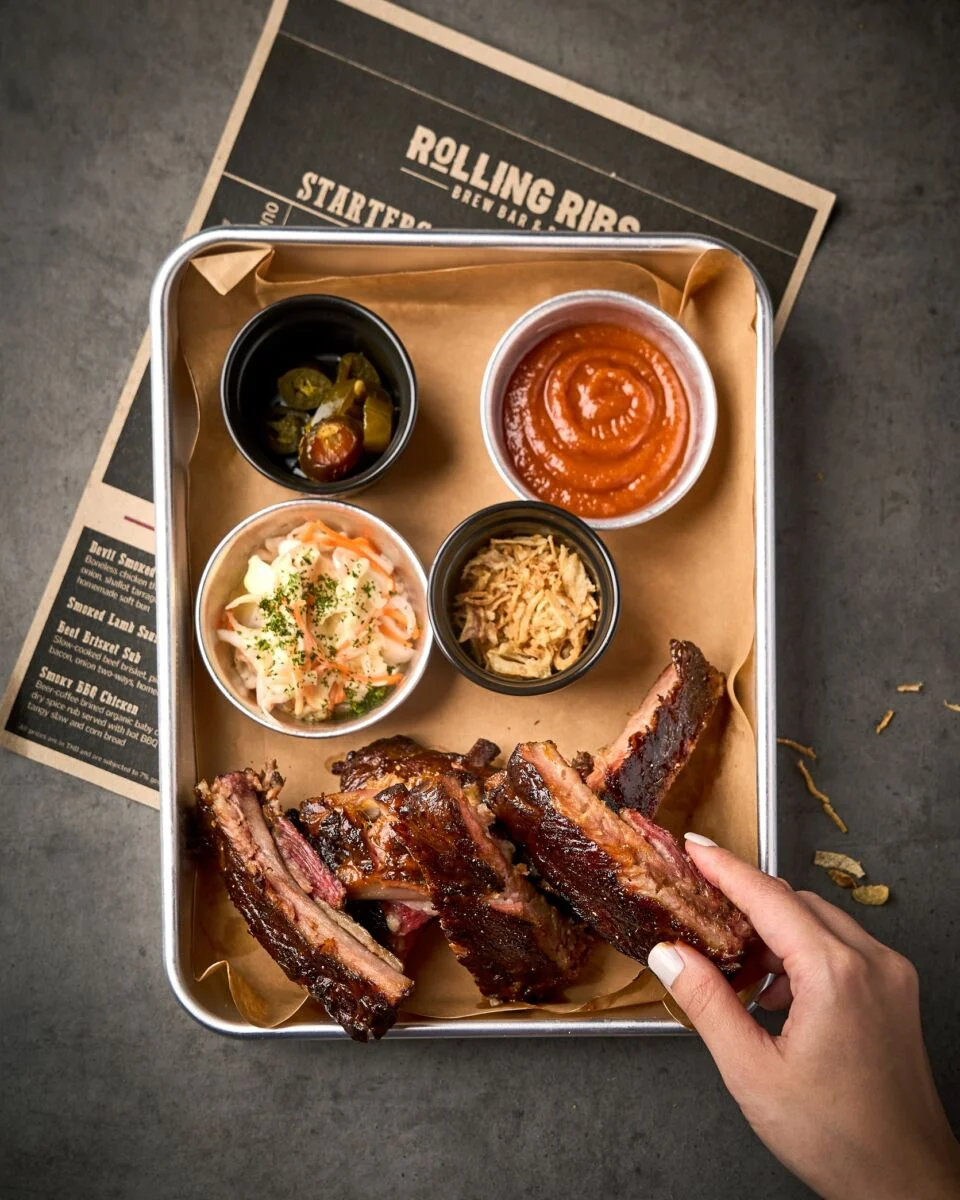 Would you like to sample their trademark cuisine even if you're not a fan of pork? Fear not—the restaurant also serves a delicious assortment of beef and chicken. Consider their Smoky Barbecued Chicken. This dish is just as wonderful and is made with equal care. The chicken is brined in a mixture of water, salt, beetroot, coffee, and a spicy dry rub a la Memphis. It is then smoked over hickory wood and liberally covered in the restaurant's special sauce. Anticipate a dish of succulent, luscious, and perfectly moist smokey chicken.
This quaint restaurant in Silom, Bangkok tempts customers with a range of side dishes, salads, and sausages that can easily turn a meal into a feast in addition to their outstanding cuisine. Meals like BBQ Pulled Pork Nachos and Memphis-style Spiced Chicken Wings are quickly becoming known as must-tries; they go well with any main course.
We accept vegetarians!
Rolling Ribs Brew Bar & BBQ welcomes vegetarians while being a center for BBQ meats. By providing an equally excellent range to pick from, they leave no one behind. Their homemade potato fries served with cheese dip or their zesty Memphis-style coleslaw paired with cornbread are thoughtfully prepared to accommodate vegetarians, making for a delightful meal for everybody.
The delightful end
Every great meal deserves an equally great ending, and Rolling Ribs provides a variety of housemade desserts for a delicious dine-in experience. Their banana parfait, which combines peanut butter cheesecake with caramelized banana, gives Bangkok's Silom district a taste of American diner-style sweet delight.
A wide assortment of drinks to finish your meal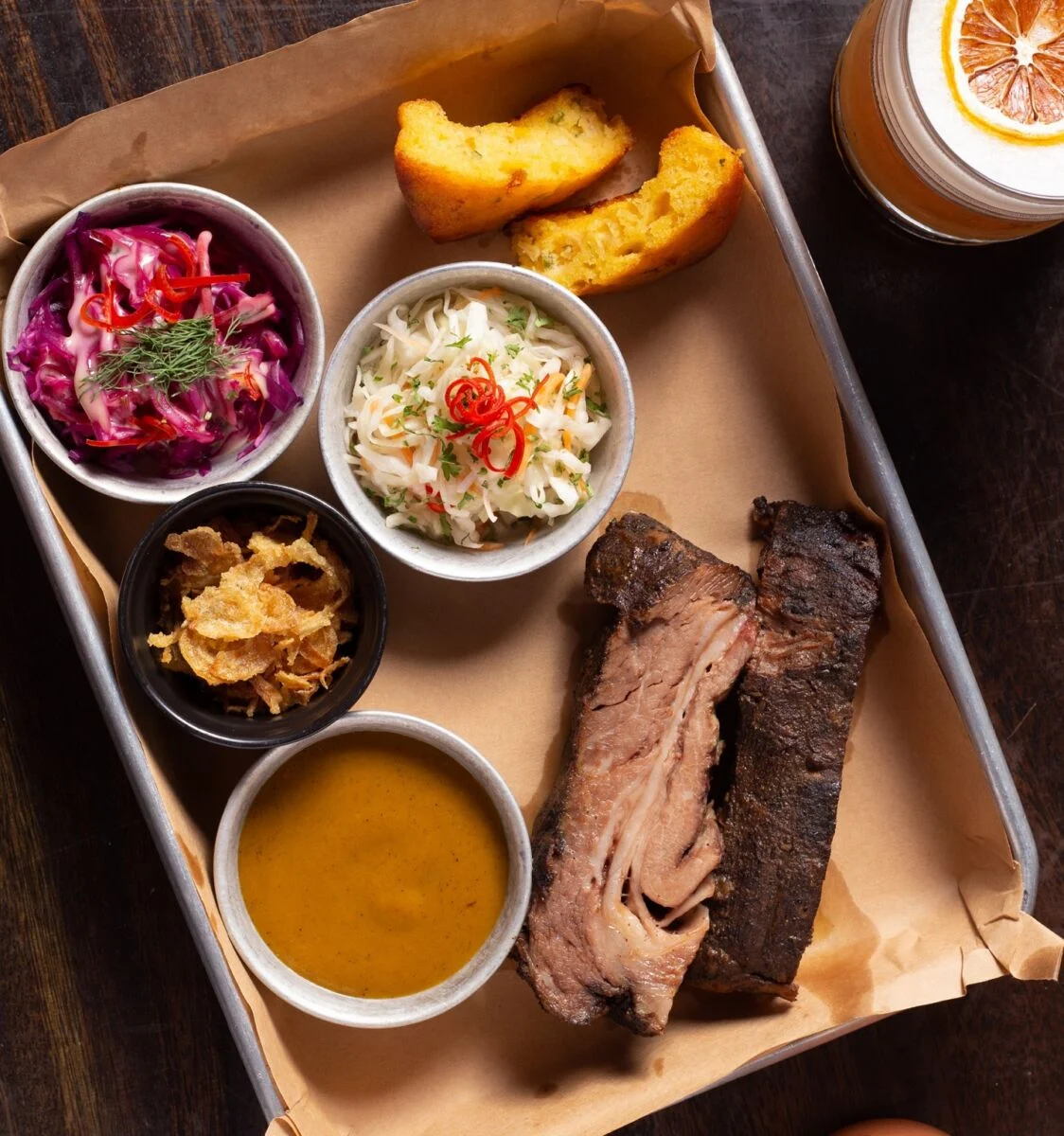 The beverage that you have with your meal at Rolling Ribs Brew Bar & BBQ is a crucial component of the overall experience that you have there. They quench your thirst with the same consideration and care as your appetite, offering a wide range of refreshing drinks from unique cocktails to whiskies chosen from around the world, and a choice of international and local craft beers.
Modern and rustic with a motivating atmosphere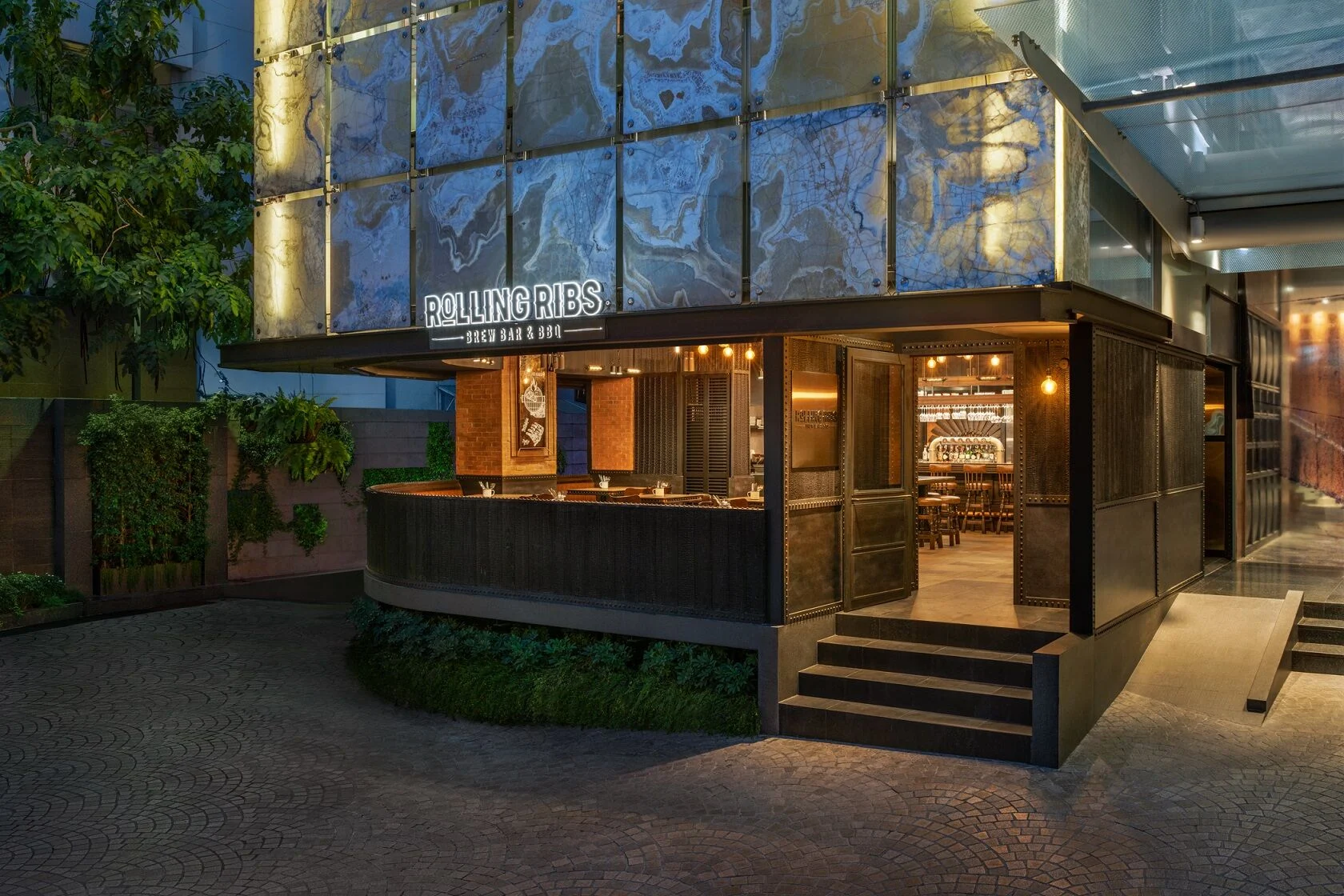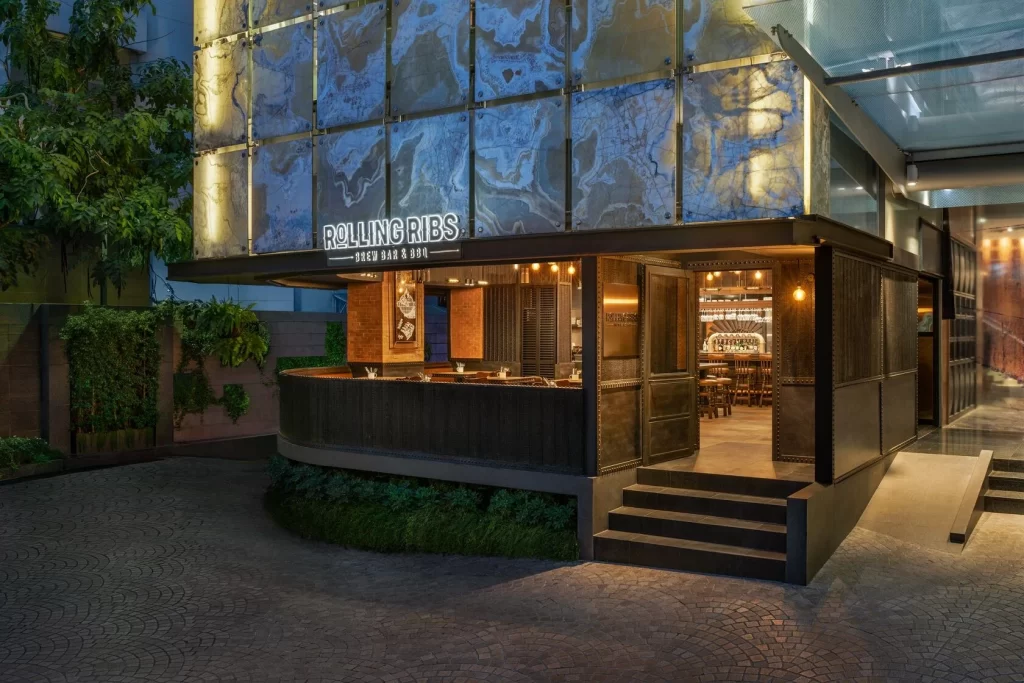 Entering Rolling Ribs Brew Bar & BBQ in Silom is enjoyable for the eyes as well as the palate. Under a canopy of creatively positioned ceiling fans, this boutique-style restaurant in Bangkok is created with an inventive fusion of vivid red bricks, sleek black steel, and rustic wooden tables. The semi-open design and the soothing rock and blues background music provide a well-balanced combination of street-side flair and interior comfort. As a result, it offers a more comprehensive dining experience.
Ideally situated in Silom
Due to its location inside the Le Méridien Bangkok in Silom, Rolling Ribs Brew Bar & BBQ is easily accessible to both locals and visitors. It's open daily from 17:00 to 23:00 and is ideal for late-night snacks or early-evening dinners. The vast menu of BBQ and craft beers at Rolling Ribs is ready to satisfy your cravings, whether you're searching for a place to relax after work or something new to try in the bustling city nightlife.
So, get together with your friends and discover the delights of American barbecue in the center of Thailand. Nothing compares to savoring bite after bite of smoked meats, drinking beers, and laughing with excellent company, after all.
Remember to follow Rolling Ribs Brew Bar & BBQ on Facebook and Instagram to be up to speed on the newest updates.
Address: Le Méridien Bangkok, 40, 5 Thanon Surawong, Khwaeng Si Phraya, Bang Rak, Bangkok 10500, Thailand – Click here to Google Maps
Related CTN News:
Thailand is getting ready to return laborers to Israel after the conflict