Tips to Help Your Family Eat Better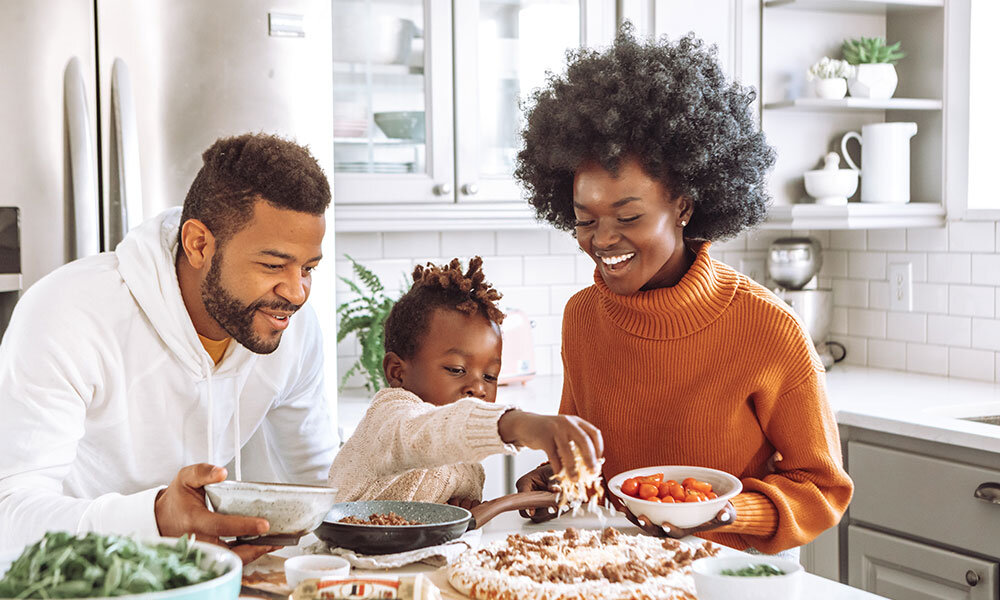 Eating healthy is easier said than done. And when you're trying to get your family to eat better, the challenge is more formidable than ever. Even if your spouse and you are committed to eating healthy, your children may not be on board. Or there may be older people in the family who need a special diet recommended by the doctor.
Eventually, you find yourself cooking five different dinners for the five members of your family. That's when your resolve falters. And you go back to packaged foods and quick dinners that fit your busy schedule. Fortunately, it doesn't have to be that way.
With some planning and flexibility, you can ensure a healthy, home-cooked meal for your family every evening. This article will describe ten practical, healthy eating tips to get your entire family to eat healthy together.
Ten Tips to Help Your Family Eat Better
Trying New Fruits and Vegetables Can Be Fun – Take your children along for grocery shopping and ask them to pick out a new fruit or vegetable that they want to try. Talk about the different ways to eat fresh fruit or vegetables, ask for their help to prepare the food and eat it together! Choosing which fruit or vegetable to eat makes children feel like they are in control and gets them excited to eat it.
Choose Wholegrains for Your Family – When shopping for breads or biscuits, choose products made from whole grains. You can check the ingredients to ensure your family gets wholegrain products. If you enjoy baking, experiment with baking bread and cakes with whole grains and serving them instead of store-bought bakery products.
Regulate the Consumption of Fats in Your Family's Diet – Good fats comprise unsaturated fats in non-tropical liquid vegetable oils such as olive, sunflower, or sesame. Use more of these oils in your cooking than butter or shortening, rich in saturated or trans fats. You can also serve oily fish like mackerel, salmon, or trout to increase the quantity of omega-3 fatty acids in your family's diet. Plan to serve fish at least twice a week for a healthy diet.
Nutrition Labels are Important – When grocery shopping, we often forget to read the nutrition labels on our products. Some labels also have nutrition tips about combining the product with other food items or for healthy seasoning options. A quick scan of nutrition labels before buying something can clarify if that food product is good or bad for our health.
Home Cooking – Cooking at home may solve all your nutritional problems. When you cook at home, you control the quantity and quality of ingredients in your food. You can ensure that only well-cooked and healthy food reaches your dinner table. If you are working full-time with no support for household chores, it is understandable that you don't have time to cook. In such cases, investing in gadgets like a roti or tortilla maker is advisable. They cook fresh bread for you and your family using your chosen ingredients.
Pack Your Own Lunches – It can be difficult to be committed to eating healthy when your office lunch menu is full of tempting options. Please pack a lunch box from home and carry it to ensure you have a nutritious meal when you need it the most. Schoolchildren should also bring a lunch box and healthy snacks from home.
Choice of Cooking Techniques – Cooking techniques can also make a big difference to the nutritional content of your food. For example, frying your food can reduce nutrients and increase the caloric content. Bake, steam, or poach your food instead of frying it.
Prep Your Meals Beforehand – Set aside an hour or two every weekend to prep some meals for the week. Preparing grains, vegetables, dips, and proteins can save precious time on weekdays when you have less time to cook and need quick options.
Mealtimes Should be Free of Screens and Increase Outdoor Activities – Encourage your children to eat at the dinner table without distractions like mobile phones and television. Also, ensure that everyone in the family gets some exercise to build up a healthy appetite.
Follow a Mealtime Schedule – Follow a schedule for all meals to ensure everyone gets healthy, home-cooked meals when hungry. Family eating time can be a harmonious experience. Regular mealtimes are good for regulating digestion and metabolism.
A family that eats together stays together. It may take some effort initially, but if everyone helps, the whole family can live healthier and fitter lives. Stay positive through the journey and encourage each other without pressurizing. Your family will soon fall into the habit of healthy eating and look forward to the fresh and healthy meals you make for them.