Watch: NASA Wants to Fly this Nuclear Dragonfly Drone on Saturn's Moon Titan
(CTN News) – NASA's Dragonfly rotorcraft is currently undergoing comprehensive testing in preparation for its ambitious mission to explore Titan, Saturn's largest moon. The testing is vital to ensure the rotorcraft's ability to withstand the unique environmental conditions on Titan.
Mission Objective: Unveiling Titan's Mysteries
Dragonfly's primary objective is to unravel the complex chemistry of Titan, shedding light on the potential origins of life within our solar system.
Equipped with cameras, sensors, and samplers, this car-sized aerial drone will investigate areas on Titan known to contain organic materials. Of particular interest are regions where these materials may have come into contact with liquid water beneath the moon's icy surface in the past.
To traverse Titan's nitrogen-rich atmosphere, Dragonfly is designed with four dual-coaxial rotors. Ensuring that these rotors can perform optimally under the moon's challenging conditions is a top priority for the Dragonfly team.
Numerous tests have been conducted at NASA's Langley Research Center in Hampton, Virginia, including operating the drone's rotors in a wind tunnel capable of simulating the atmospheric conditions on Titan.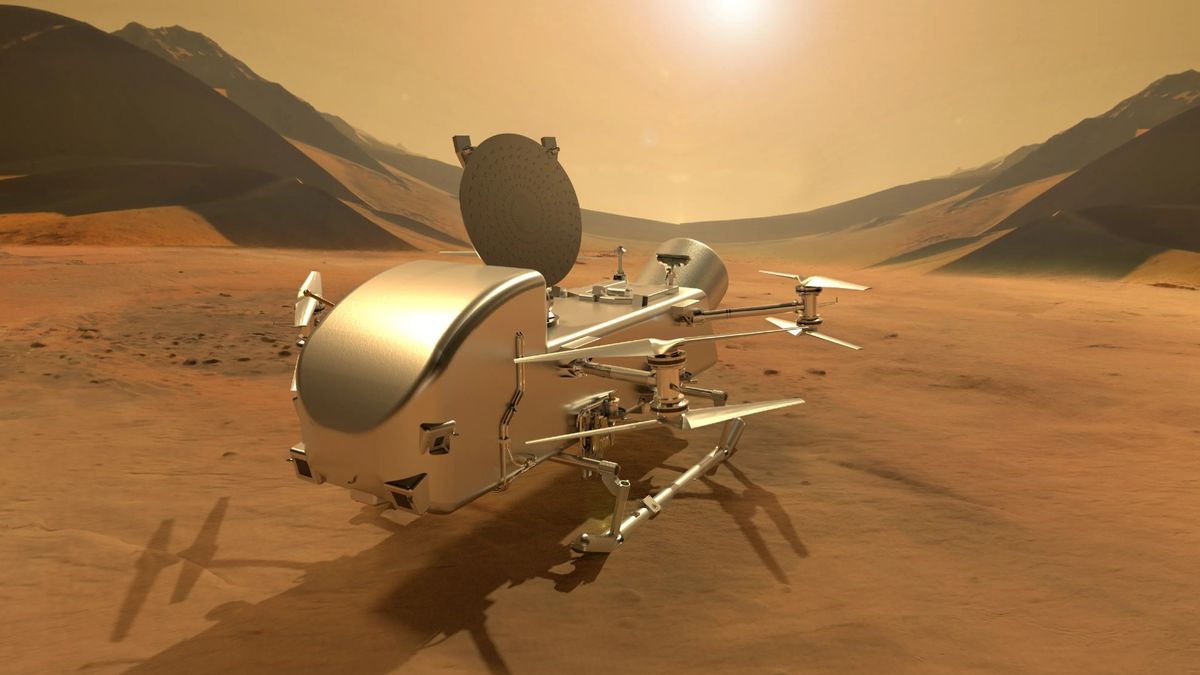 Rigorous Testing Process
The Dragonfly testing process has been divided into four campaigns, with two taking place in a 14-by-22-foot subsonic tunnel and the other two in a 16-foot Transonic Dynamics Tunnel (TDT).
The subsonic tunnel is used to validate fluid dynamic models developed by mission scientists, while the TDT's variable-density heavy gas capability simulates atmospheric conditions that Dragonfly is likely to encounter on Titan.
The most recent testing, conducted in June, involved a half-scale Dragonfly model and included hundreds of test runs. According to Bernadine Juliano, APL's test lead for the project, these tests covered a wide range of wind speeds, rotor speeds, and flight angles to assess the vehicle's aerodynamic performance.
Over 700 total runs were completed, generating more than 4,000 individual data points. This data will significantly boost confidence in simulation models on Earth before they are extrapolated to Titan conditions.
Data Analysis and Collaboration
The analysis of this wealth of data is a collaborative effort involving specialists from various institutions, including the University of Central Florida and NASA Ames Research Center in Silicon Valley.
Rick Heisler from APL, who oversaw the TDT test campaigns, emphasized the value of these tests in understanding Dragonfly's rotor performance in Titan's unique atmosphere. The heavy gas environment in the TDT replicates conditions on Titan closely, allowing for a more accurate assessment of rotor performance.
The Significance of Dragonfly's Mission
As the pieces of the Dragonfly mission come together, the team is increasingly aware of the historic nature of their task. Ken Hibbard, Dragonfly mission systems engineer at Johns Hopkins Applied Physics Laboratory, highlighted the importance of this mission, saying, "With Dragonfly, we're turning science fiction into exploration fact."
The team is enthusiastic about every step taken towards sending this revolutionary rotorcraft across the skies and surface of Titan, bringing us closer to uncovering the mysteries of this fascinating moon.
The testing and preparations for Dragonfly's mission mark a significant milestone in our quest to explore the depths of our solar system and uncover the secrets of potential life beyond Earth.