Genshin Impact 4.1 Release Date, Banners, Events, New Bosses & Enemies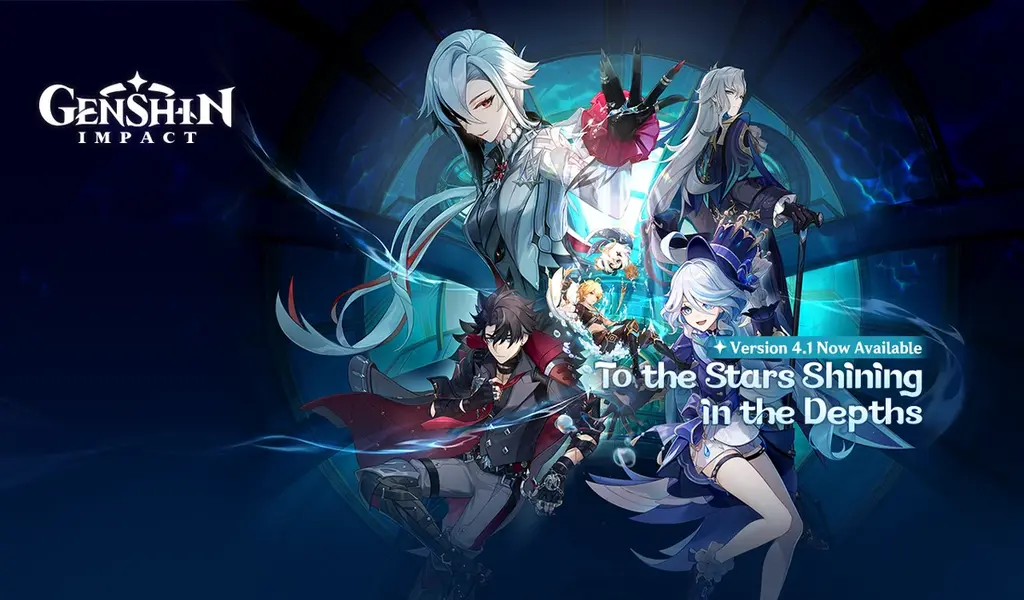 (CTN NEWS) – Genshin Impact 4.1 is set to launch on Wednesday, September 27, 2023, at 4 a.m. (BST), following the game's regular maintenance schedule.
However, due to time zone differences, players in the United States will experience the release on Tuesday, September 26, 2023.
The Phase 1 Banners for version 4.1 will be available from Wednesday, September 27, 2023, to Tuesday, October 17, 2023.
Anticipated for the Phase 2 banners, they are expected to be unveiled on Tuesday, October 17, 2023, and conclude on Tuesday, November 7, 2023.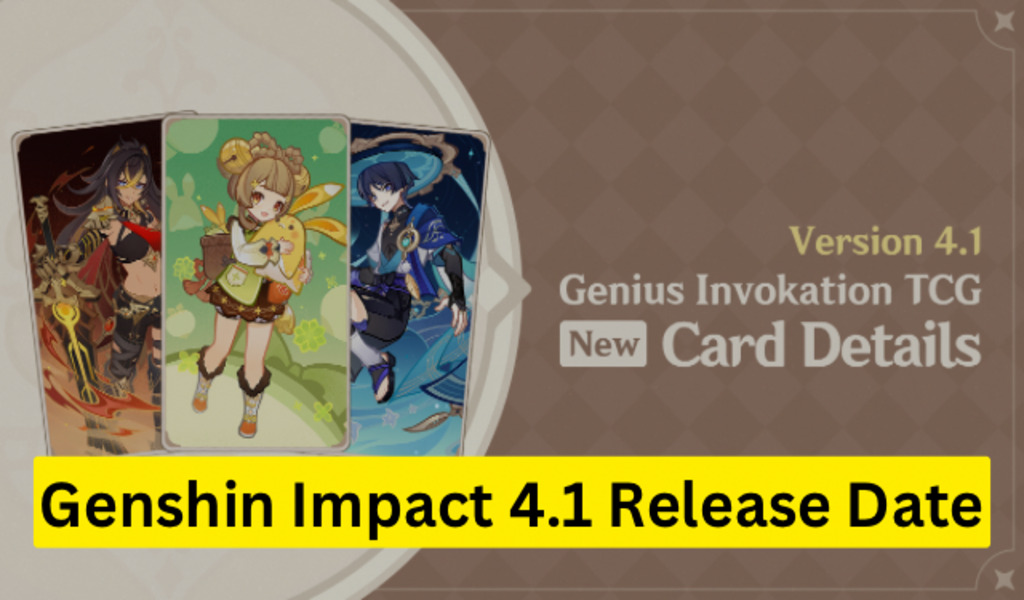 The highly anticipated Genshin Impact version 4.1, known as the Fontaine Act, is just around the corner. A live broadcast previewing the new content will be available in a few days.
The impending release date for Genshin Impact 4.1 must be incredibly tempting for you, as it's only a few weeks away.
To help you plan your gaming sessions effectively, we've provided a Genshin Impact 4.1 release countdown timer here.
The Genshin Impact 4.1 release date is set for September 27 at 11:00 AM (UTC-4).
In the first phase of Genshin Impact 4.1, which includes a limited character rerun and the introduction of a new five-star Fontaine character, players can expect exciting content.
You can check our Genshin Impact 4.1 banners post to learn more about the weapons and characters that will be featured during the event.
We've already converted the time to various time zones, so you don't need to worry about it. Just mark your calendar for the big release!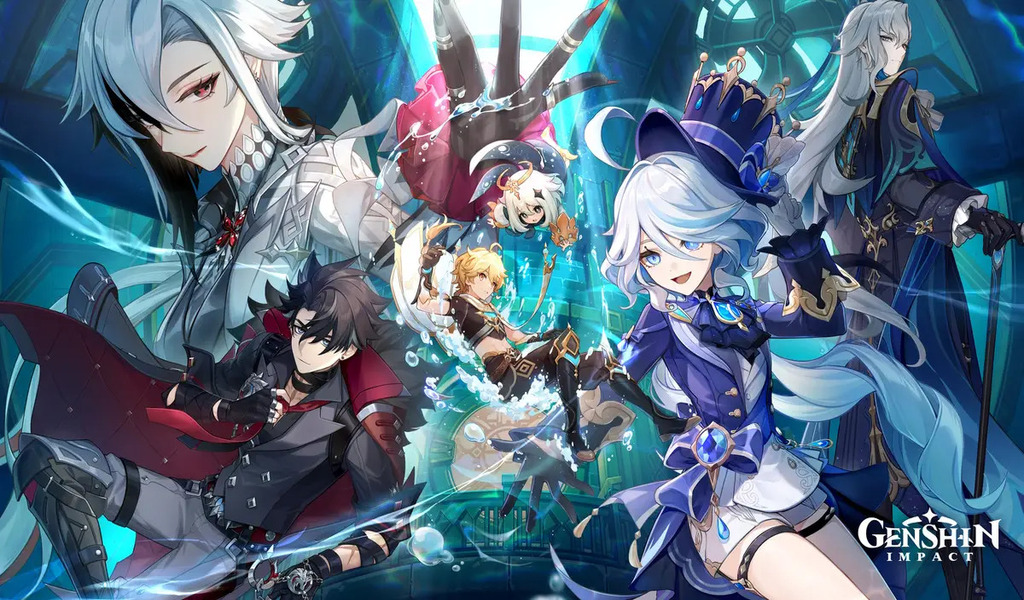 Genshin Impact 4.1 Banners
In the 4.1 Banners of Genshin Impact, the 5-star characters Neuvillette and Wriothesley are the first to make appearances in two different Banner stages.
Phase 1 of the 4.1 Banner schedule features the new Hydro 5-star character Neuvillette in his "Decree of the Deeps" Banner, while the returning Pyro 5-star character Hu Tao is featured in her "Moment of Bloom" Banner.
It's an exciting lineup for players to look forward to!
In Genshin Impact's 4.1 update, Phase 1 Banners will follow their usual schedule, running concurrently and becoming available on Wednesday, September 27, until Tuesday, October 17.
Phase 2 of the 4.1 Banner schedule includes the "Tempestuous Destiny" Banner featuring Cryo 5-star character Wriothesley and the "Ballad in Goblets" Banner featuring Anemo 5-star character Venti.
These Phase 2 Banners are expected to commence on Tuesday, October 17, and conclude on Tuesday, November 7, just one day before the anticipated release date of the 4.2 update.
Exciting times for Genshin Impact players!
For iOS users, updating to Genshin Impact version 4.1 is as simple as going to the App Store and selecting 'Update' once the complete update becomes available.
Android users can update the game by launching it and following the on-screen instructions, or by opening Google Play and choosing 'Update.'
If you play Genshin Impact on a PC and want to pre-install a portion of version 4.1, you can do so by updating the Genshin Impact Launcher.
After the launcher update, you'll see a 'Game Pre-Installation' button appear to the left of the 'Launch' button. Click on 'Game Pre-Installation' to initiate the resource download.
This way, you can get a head start on the update and dive into the new content more quickly once it's officially released.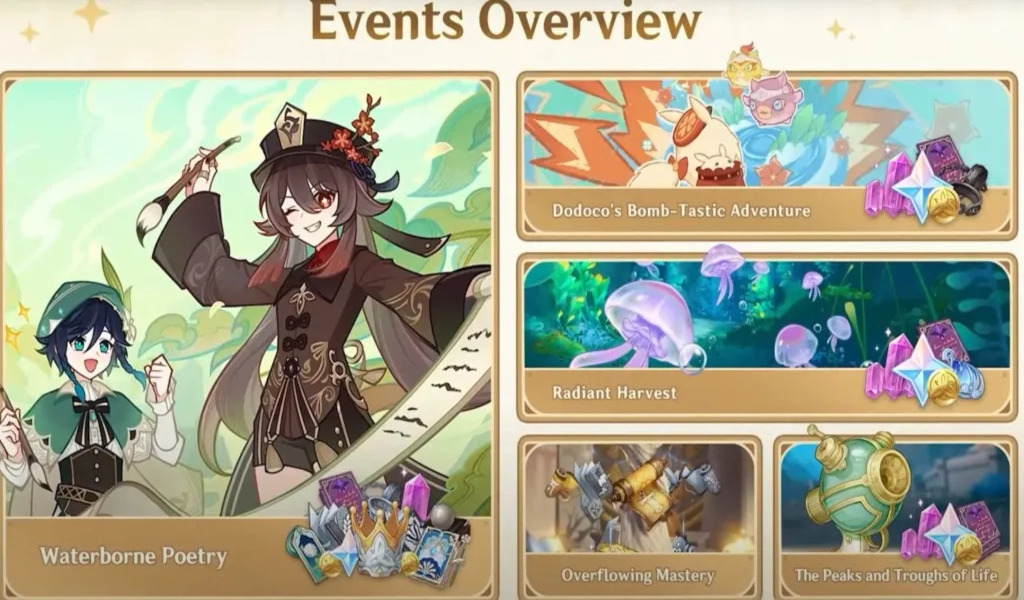 Genshin Impact 4.1 Events
The Genshin Impact 4.1 update brings a variety of new content and features, including:
The Archon Questline by Fontaine, Acts III and IV
New Fontaine area – including the Fortress of Meropide
Neuvillette and Wriothesley story quests
Two new world bosses
New enemies
Anniversary mailbox rewards and login event (beginning September 28)
Overflowing Mastery
Reduced time and difficulty of Ascension Quests
Adventure Encounters: Encounter Points are rewarded in return for Commission incentives.
The introduction of the Millennial Pearl Seahorse and Experimental Field Generator as new bosses in Genshin Impact 4.1 is exciting news for players.
These bosses not only add new challenges to the game but also offer the opportunity to obtain valuable resources for character development and progression.
The Millennial Pearl Seahorse sounds like a unique and intriguing boss encounter, possibly related to aquatic or oceanic themes, considering the mention of "seahorse."
Players will likely need to strategize and adapt their combat tactics to defeat this boss and reap the rewards.
The Experimental Field Generator, on the other hand, seems to be a formidable enemy with the ability to manipulate gravity and unleash powerful AoE attacks.
This enemy's mechanics will likely require players to be agile and precise in their movements to avoid getting stunned by gravity-altering attacks.
As Genshin Impact continues to expand its roster of bosses and enemies, players can look forward to engaging battles and uncovering the secrets of these new adversaries.
It's essential to prepare well, both in terms of character strength and strategy, to conquer these challenges and make the most of the resources they provide.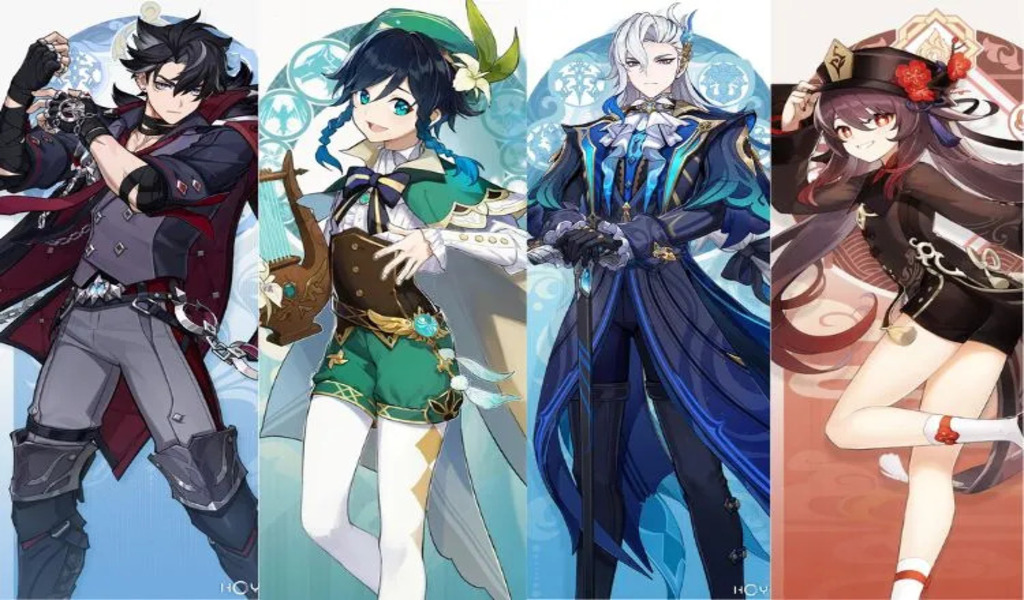 There will be two new playable characters in Version 4.1:
Wriothesley:
Vision: Cryo
Weapon: Catalyst
Elemental Skill: Rebuke Vaulting Fist
Neuvillette:
Vision: Hydro
Weapon: Catalyst
Elemental Skill: Sourcewater Droplet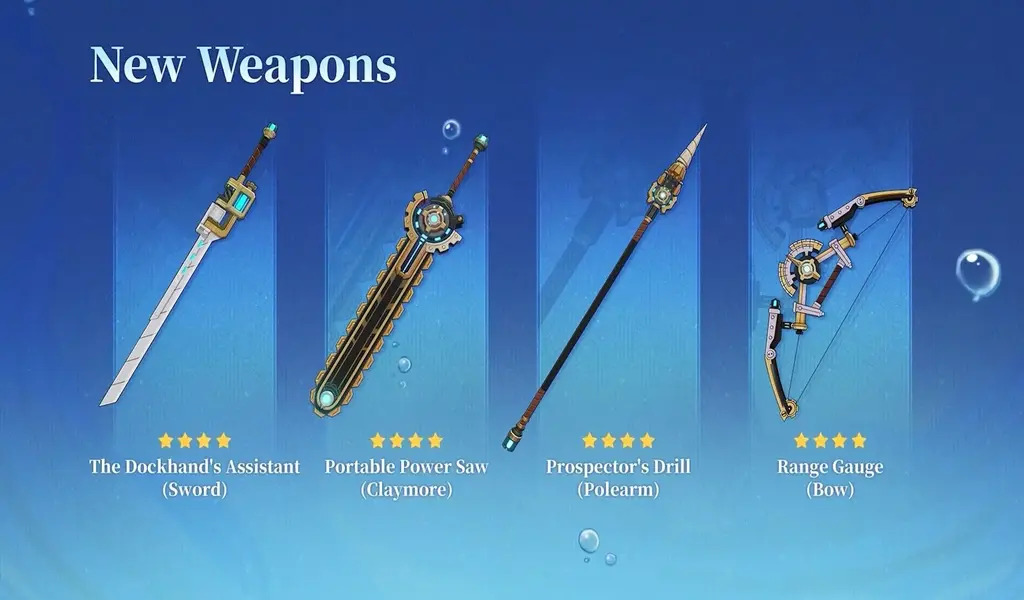 Genshin Impact 4.1 New Weapons
The following new weapons will be added in Version 4.1:
Tome of Eternal Flow (Catalyst)
Cashflow Supervision (Catalyst)
The Dockhand's Assistant (Sword)
Portable Power Saw (Claymore)
Prospector's Drill (Polearm)
Range Gauge (Bow)
Genshin Impact 4.1 live stream
For those who missed the official Genshin Impact 4.1 webcast held on September 15, 2023, the good news is that you can still catch up on all the exciting information about the upcoming 4.1 update.
The webcast likely provided valuable insights into the new content, characters, and features that players can expect in this highly anticipated update.
To rewatch the webcast and stay informed about the latest developments in Genshin Impact 4.1, you can visit the game's official YouTube channel.
This is a great way to get a closer look at what's in store and prepare for the exciting adventures that await in version 4.1.
Genshin Impact 4.1 new environments
It seems like you're providing information about different locations or areas in a game or fictional setting.
If you have any specific questions or if there's anything else you'd like to know or discuss about these locations, please feel free to ask, and I'd be happy to assist you further!
MORE RELATED NEWS:
Epic Games Store Free Games Next Week Until 5th October
Call of Duty: Modern Warfare 2 and Warzone 2 Season 6 Update Patch Notes
Call of Duty: Modern Warfare 2 and Warzone 2 Season 6 Update Patch Notes