8 Dubai Desert Safari Myths Busted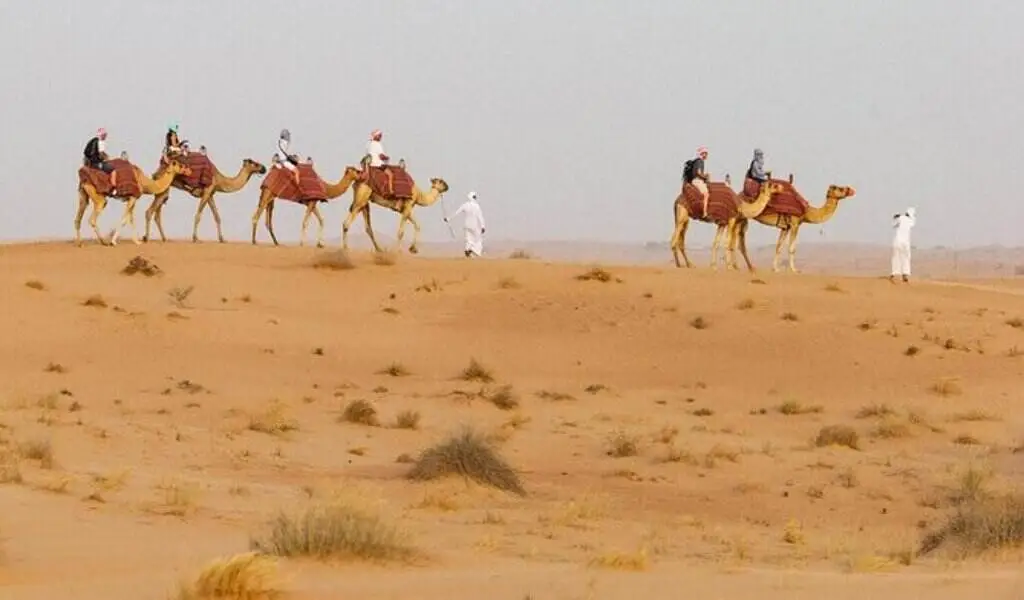 Dubai desert safari is a journey that everyone needs to experience. Desert fauna, golden sand, a glimpse of sunset, and quad biking, everything gives you an unforgettable experience. But did you know desert safari in Dubai also holds so many myths?
Some people think that they never return from the desert if they get lost. Though, it was merely a myth buzzing around. Likewise, there are so many myths that are timely busted out about Dubai desert safari.
Few of these myths we've listed here. Let's have a look.
1. Camel Ride Is Only for Small Distance
The foremost myth about the Dubai desert safari is that the camel ride is only into the circle, and that too for a small distance. Unfortunately, it is not true because a camel ride can belong only if you're doing it in the daytime. In the nighttime, it would be for a certain distance.
They aren't able to see clearly in the dark, so it will be riskier to go for a camel ride at night. The camel may get spooked, trip, and also runaways. The only solution to this, avoid night safari or camel rides in the nighttime.
2. If Your Vehicle Gets Stuck, It Won't Be Easy to Get It Out.
Desert safari in Dubai is incomplete without vehicle ride or quad biking. However, there are myths about the vehicles; it's not easy to get out of the sand if the vehicle gets stuck. So, if you get stuck between the sand, your adventure journey will be ruined.
The fact is the desert safari vehicles are made with heavy-duty tires and other stuff. Hence, these vehicles do not sink easily into the sand. However, in case the vehicle gets stuck, your guide and local tribes know well how to get rid of the situation.
3. Desert Safari in Dubai Is Unfinished Without Dune Bashing
Desert Safari means getting close to mother nature. Many people often say that desert safari in Dubai is unfinished without dune bashing. You may have seen dune bashing in Bollywood and Hollywood movies. But that doesn't mean that desert safari is incomplete without going for dune bashing.
There are some reasons to avoid dune bashing; the foremost thing is dune bashing is hazardous for the environment. This is also riskier for the health of the traveler, especially kids. Even the travel guides also avoid dune bashing.
4. Every Desert Safari in Dubai Is Similar
This is one of the common myths that all the desert safari in Dubai is the same. It's a myth because the safari organizer teams organize different kinds of safari such as budget safari, luxurious safari, and medium safari. The desert safari will be based on the budget.
Hence, the individual can select the best desert safari packages to enjoy. Desert safari is all about excitement and adventure. You get royalty treatment in each desert safari, so this is merely a myth that desert safari is similar.
5. Tanoura and Belly Dancing Both Are Traditional UAE Folk Dances
Tanoura and Belly dancing is most crucial and raises your adrenaline while on a desert safari. However, there is a myth that these two are the traditional folk dance of the UAE.
Though they may resemble Emirati culture, these are not traditional folk dances of the UAE. The belly dancing and Tanoura are organized for the tourists to show the ancestral culture and historical values. These are for the guest's enjoyment.
6. We See So Many Animals During Desert Safari
The Dubai desert conservation reserve created strict guidelines about the natural habitat. The travellers don't disturb the natural habitat and wild animals; otherwise, they get penalties. However, again there is a myth that you get to see so many animals during desert safari.
This may or may not be true because it all depends on the season and few places. During the journey, you may see the animals at the same time; you may not be able to see animals at all. Moreover, there are some hot spots also where you can see the animals all the time.
7. Desert Safari in Dubai Remain Crowded
The seventh common myth about the desert safari in Dubai is that it remains crowded. This is a myth because, during peak season, the desert safari in Dubai remains crowded. In the offseason, the standard Dubar desert safari organizes ensure that you have a smooth journey and never face the crowd.
8. Desert Safari in Dubai is Expensive
It is also a myth that desert safari in Dubai is expensive. However, the standard desert safari packages for five to six hours can cost you around 350-700 dirham. Some may have luxurious safari packages to enjoy the desert safari at the extreme.
Bottom Line
Desert safari in Dubai is a mesmerizing experience on its own. These are some of the myths that are associated with the desert safari. Some are merely a myth, while some are true. So, when you are planning your trip to Dubai, do focus on these myths to avoid disappointment.