Princess Cinderella, a Walt Disney animated movie major character, is popular and fascinates many kids, most especially little girls who want to be like her. In fact, she is very popular among little girls who are so inspired by the beautiful princess and her interesting story.
Thus, we have taken out time to share 10 gift ideas that will warm the hearts of Princess Cinderella lovers and fans. We have provided enough details for each unique gift listed in this enlightening article.
We can predict that after you take out time to thoroughly read through this post, you will be loaded with other extraordinary ideas and you will make a good choice.
Below are 10 gift ideas for princess Cinderella fans.
1. Cinderella Coloring Book
Princess Cinderella, without exaggeration, is one of the greatest animated Disney classic movies. The movie was released in 1950. Cinderella is known and adored by many girls and even boys who love playing Prince charming.
As a result, Cinderella fans will love to continue the magic of this timeless classic at home or at school.  Every princess and prince will want to engage in colouring with Disney's Cinderella colouring pages. This colouring book stands out from the rest with its quality designs, fully curated HD graphics, lots of drawings for colouring and the large book size that gives so much fun while colouring. It doesn't contain inappropriate scenes or images.
Cinderella, one of Disney's best-loved princesses colouring pages is one the most sought after colouring pages subjects. These fun and educative colouring pages images are themed on the Disney classic film "Cinderella".
Aside from the main character, Cinderella, there are other characters such as Apart from the main character, the Fairy Godmother, Prince Charming as well as the mice and birds Cinderella befriended.
Personally, I would love to suggest this colouring page as a perfect gift for girls and boys due to its educational nature. This will make the Prince and prince smile as they colour in.
2. Cinderella Drawing book/ Kits ( Style me up! Sketchbook)
The Cinderella sketchbook will enable both princes and princesses to explore their drawing skills. The Style me up sketchbook book is a popular one. It contains 25 sketch pages, 16 colouring pencils, 1 stencil 50+ stickers design guide to be used when engaged in drawing activities. You can also visit drawing123.com website, which contains some guides for kids to learn how to draw a beautiful Princess Cinderella.
This sketchbook enables fans to trace, colour and decorate to reveal the inner artist in them. From the Prince's Ball to Cinderella images on the pages of the sketchbook, the Cinderella Collection theme is a perfect fit to draw out the artist in everyone. The detailed stencils, stickers and sketching pages will excite everyone. This is a perfect gift for fans who love art.
3. Cinderella Dress-up accessories
Just imagine how cute she will look with Cinderella Dress-up accessories.  From the dress to the tiara, to the shoes and other beautiful accessories that will make her shine at any event. Cinderella's dress will make her the main attraction of the event which may be a  wedding, birthday party, or Halloween costume party. There is no thinking if a Princess Cinderella to be will reject this dress-up accessories gift. It would be her favourite gift as a girl who grew up watching the classics. She will look in the mirror and see herself as a real-life Cinderella.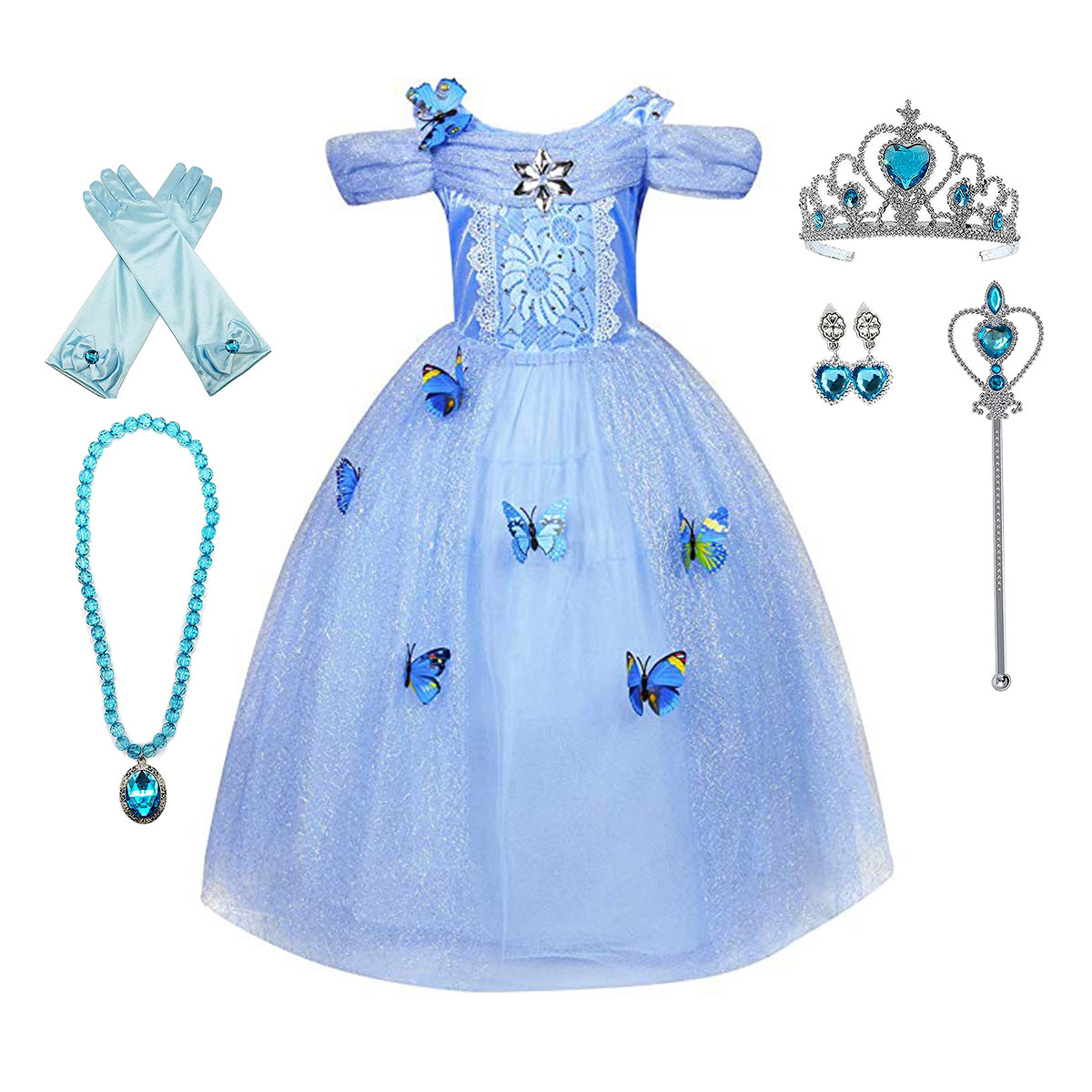 After she already has a dress like the one discussed above. She can use these accessories to compliment the dress to become a cute little princess. This accessory set is a pair of gloves, a Tiara, Clip Earrings, a wand, and a beautiful necklace to have the complete look of the princess Cinderella. A Tiara is one that any girl would love to wear for special events. It sets her apart from others and will fulfil her dream of looking like a real princess. The plastic combs will easily fit her head.
For her feet, one cannot forget about the mere object on which the whole story of Cinderella revolved around. The story told us that it was her shoes that got her prince. Cinderella shoes are available for little girls to envision their own charming real-life stories. They aren't made of glass-like Cinderella's but made of plastic so that they don't get broken. The shoes will make one of the best Cinderella gifts for her. All these accessories combined make it one of the cutest Cinderella gifts for girls.
4. Pumpkin Carriage Pendant
This is a great gift for the super fan of Cinderella. This isn't the big carriage shown in the movie but an adorable Carriage pendant that girls will love. The fairy godmother presented the pendant to princess Cinderella and little girls will love this around their necks.
5. Bibbidi Bobbidi Boozed glass
This might sound funny but it is a fun gift for Cinderella's fans. The words were said by the Fairy godmother in the movie. Before applying the magic, she uttered, "Bibbidi Bobbidi Boo!". This isn't a magic wand but a wine glass that has these words printed on it. This is a unique and funny Cinderella gift made in the USA. The words are properly inscribed in the glass so as not to fade away.
6. Cinderella Quote T-shirt
This is a T-shirt with a lively vibe to share with the Cinderella fan. It is a perfect gift to inspire fans as it has a powerful motivational theme that reads, " Have Courage and Be Kind". This was the popular line said in the movie by Cinderella's mother.
There is no doubt that the T-shirt can boost one's day and with good vibes. It comes in different colours to help you select your favourite colour. This lightweight cotton Tee is a perfect gift for both males and females.
7. LEGO Cinderella Building Kit
This is a Cinderella gift to bring the creativity out of fans ' creativity. This 350 piece LEGO kit has all the characters and objects that reflect the little world of Cinderella in the movie. It has the popular Pumpkin carriage, the house, and the action figures of Cinderella and fairy godmother and some characters.
This LEGO kit is perfect for role-playing games to make friends with other kids and a great gift idea.
8. Cinderella School Backpack
Does your little girl not love going to school? Here is an interesting gift that will make her fall in love with the school. This special Cinderella backpack will keep her company in school times since she adores the cute princess.  This is a wonderful gift for little girls.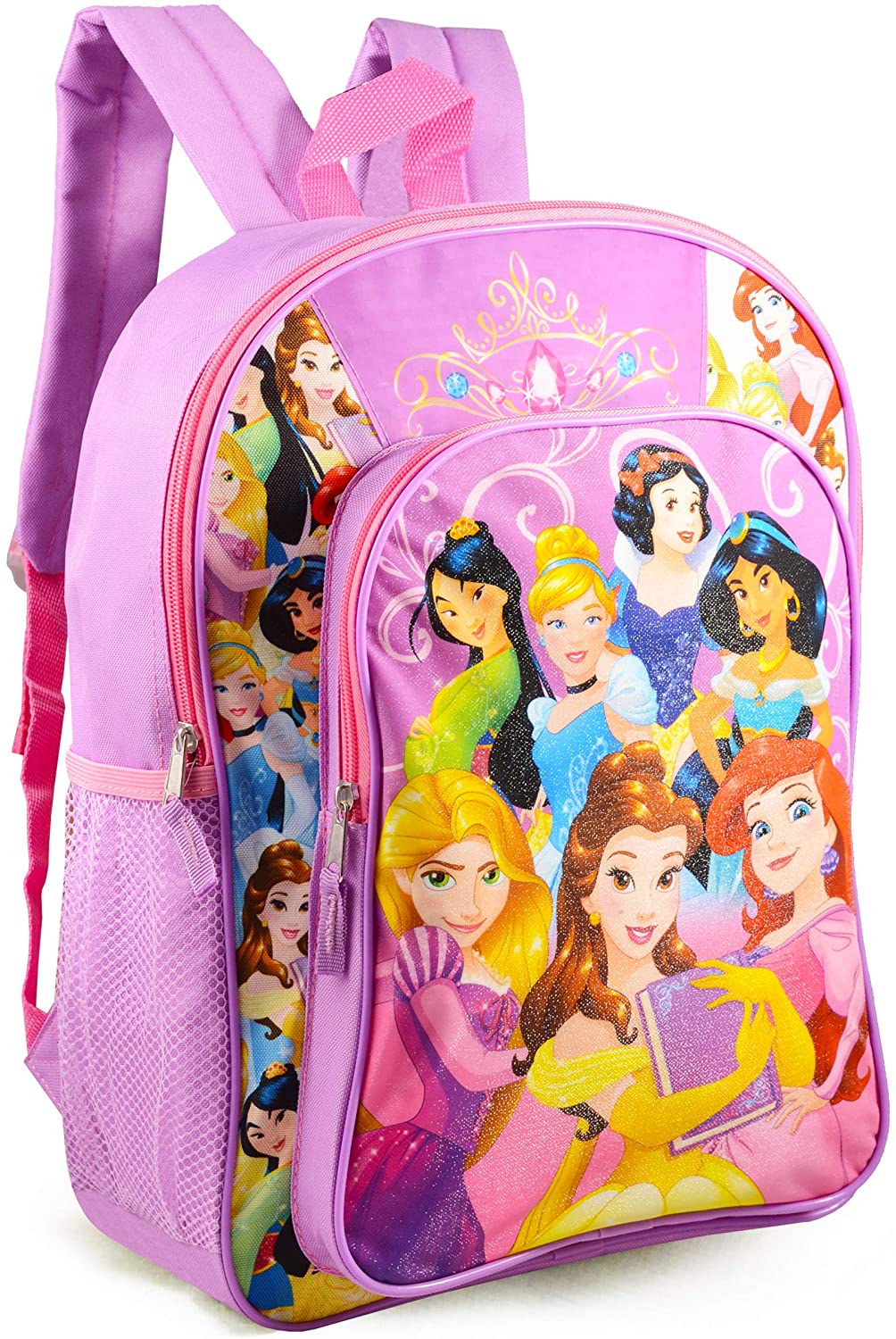 9. Jaq, Suzy, and Gus Plush Set
Jaq, Suzy, and Gus are the mice from the Cinderella movies. They were known to help Cinderella when her stepmother maltreated her as a servant.  You may not love mice around you but this plush set of mice is adorable. Little girls would love to play with them and the set will ensure that she doesn't have any bad dreams of monsters hiding under her bed. Therefore,  Disney's exclusive plush set will make a nice gift for girls. See more details
10. Cinderella Teacup Figurine
They were cute mice that used to help Cinderella in the movies. Little kids loved the mice as they made the story more fun and interesting.
A teacup figurine of Jaq and Gus will make a perfect gift for Cinderella's fans. These figurines will make great additions to their collectables.
In a nutshell, I believe that you have many choices to select from as you read this article. Have courage and be kind with your gifts!
Enjoy!
Also Check: