Healthy Recipes For Weight Loss: Benefits & Full Day Meal Plan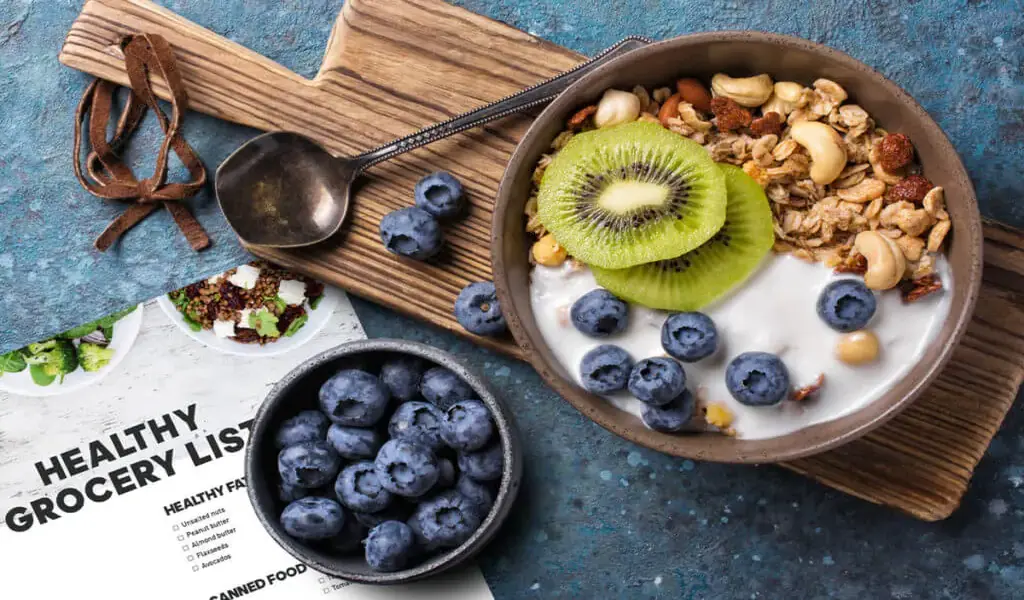 Healthy Recipes For Weight Loss – Embarking on a weight loss journey can be arduous, yet it need not be dull and unappetizing. Surprisingly, wholesome meals can be as delicious as they are nourishing.
This article aims to highlight a few easy-to-follow and fulfilling healthy recipes for weight loss.
The Benefits

of Eating Healthy

Before exploring the recipes, let's take a moment to discuss the benefits of consuming healthy foods. Following a well-rounded diet that is abundant in essential nutrients provides numerous benefits, such as:
Weight loss
Reduced risk of chronic diseases such as diabetes, heart disease, and cancer
Improved mental health and cognitive function
Increased energy and vitality
Better digestion and gut health
Healthy Recipes For Weight Loss: Full Day Meal Plan
Breakfast
Recipes
It's commonly believed that breakfast is crucial for a successful day, and this notion holds weight. As your first meal, it establishes the pace for the rest of your day, making it imperative to start off on a positive note.
Provided below are some nutritious breakfast recipe ideas that will set you on track for a successful weight loss journey:
1. Avocado Toast with Egg
Ingredients:
1 slice whole-grain bread
1/2 avocado
1 egg
Salt and pepper
Instructions:
Toast the bread and mash the avocado on top.
Fry the egg to your liking and place it on top of the avocado toast.
Season with salt and pepper to taste.
2. Greek
Yogurt Parfait
Ingredients:
1 cup plain Greek yogurt
1/2 cup mixed berries
1/4 cup granola
Instructions:
Layer the yogurt, berries, and granola in a bowl or

mason

jar.
Repeat until all ingredients are used up.
Serve immediately or store in the fridge for later.
Lunch
Recipes
It's common to resort to fast food or dining out for lunch, but a little planning can yield a satisfying and nutritious midday meal. These lunch suggestions are worth exploring:
1. Quinoa Salad
Ingredients:
1 cup cooked quinoa
1/2 cup cherry tomatoes, halved
1/2 cup cucumber, diced
1/4 cup red onion, diced
1/4 cup feta cheese, crumbled
2 tablespoons olive oil
1 tablespoon red wine vinegar
Salt and pepper
Instructions:
Combine the quinoa, tomatoes, cucumber, red onion, and feta cheese in a large bowl.
In a separate bowl, whisk together the olive oil, red wine vinegar, salt, and pepper.
Drizzle the dressing over the salad and toss to combine.
2. Grilled Chicken Salad
Ingredients:
4 oz. grilled chicken breast, sliced
2 cups mixed greens
1/2 cup cherry tomatoes, halved
1/2 avocado, diced
2 tablespoons balsamic vinaigrette
Instructions:
Arrange the mixed greens on a plate.
Top with the grilled chicken, cherry tomatoes, and avocado.
Drizzle with balsamic vinaigrette.
Dinner Recipes
The dinner meal usually comprises the heartiest course, and it's typically when we tend to overindulge.
Nonetheless, utilizing these nutritious dinner recipes lets you relish a flavorful and fulfilling dinner while staying committed to your weight reduction aspirations.
1. Baked Salmon with Roasted Vegetables
Ingredients:
4 oz. salmon fillet
1 cup mixed vegetables (such as broccoli, cauliflower, and
Carrots, chopped
Brussels sprouts, halved
Olive oil
Salt and pepper
Lemon wedges
Instructions:
Preheat the oven to 400°F (200°C).
Arrange the chopped vegetables on a baking sheet and drizzle with olive oil, salt, and pepper.
Roast in the oven for 15-20 minutes or until the vegetables are tender and slightly caramelized.
Place the salmon fillet on the same baking sheet and season with salt, pepper, and a drizzle of olive oil.
Bake for an additional 12-15 minutes or until the salmon is cooked through.
Serve with lemon wedges on the side.
2. Turkey Chili
Ingredients:
1 lb. ground turkey
1 onion, chopped
3 garlic cloves, minced
1 red bell pepper, chopped
1 green bell pepper, chopped
1 can kidney beans, drained and rinsed
1 can diced tomatoes
2 tablespoons chili powder
1 teaspoon cumin
Salt and pepper
Cilantro, chopped (optional)
Instructions:
In a large pot, sauté the ground turkey, onion, garlic, and bell peppers until the turkey is browned and the vegetables are tender.
Add the kidney beans, diced tomatoes, chili powder, cumin, salt, and pepper.
Bring to a simmer and let cook for 20-25 minutes.
Serve hot and garnish with chopped cilantro if desired.
Snack Recipes
Incorporating snacks into your daily diet is crucial to maintaining optimal health. Snacking on nutritious options between meals can curb hunger and promote overall satisfaction.
Consider trying the following healthy snack suggestions:
1. Apple Slices with Almond Butter
Ingredients:
1 apple, sliced
2 tablespoons almond butter
Instructions:
Spread the almond butter on the apple slices.
Enjoy immediately.
2. Hummus and Veggie Sticks
Ingredients:
1/4 cup hummus
Carrot sticks, cucumber slices, bell pepper strips, or any other vegetables of your choice
Instructions:
Dip the vegetables in the hummus and enjoy.
Conclusion
Healthy eating need not be tedious or insipid. You can relish delectable and wholesome meals while accomplishing your weight loss objectives by infusing these nourishing recipes in your diet.
Ensure a balanced and nutrient-rich diet and maintain hydration while exercising regularly.
RELATED CTN NEWS: