The Ultimate Guide to Create a 5-Year Plan Presentation For Your Career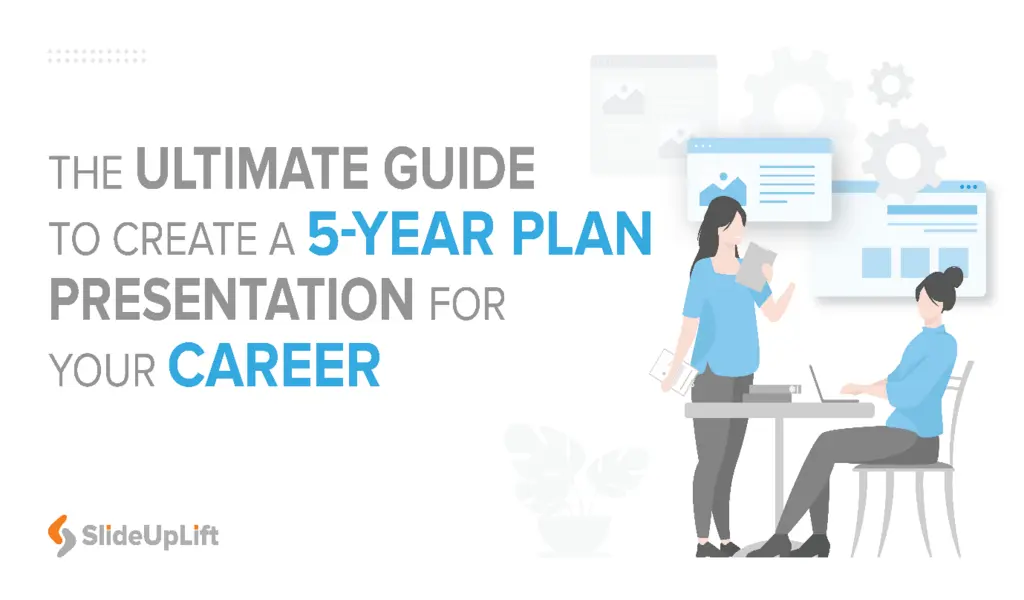 Setting your focus on future objectives that will enhance your road to success in your career is an important step in professional growth. As a result, there are several planning methods, ranging from amateurish ways such as putting down your thoughts in a diary to embarking on a well-planned roadmap.
In this blog, we will explore the 5-year plan presentation model, regarded as one of the best models for career development planning, and provide you with a step-by-step approach for creating your own 5-year plan presentation.
You can create an impressive 5-year plan presentation in just 5 mins with the help of PowerPoint templates and by SlideUpLift! They also have a collection of PowerPoint themes to help you save time in building one.
What is a 5-year plan?
A five-year plan is a list of personal or professional objectives that you wish to attain during the following five years. It often contains goals with precise dates and measures.
Timeline templates are a great choice for creating a short term goal plan.
This short-term plan gives you specific targets to strive toward and allows you to create smaller goals that will help you reach the bigger goals on your five-year plan.
How to create a 5-year plan presentation for your career?
The following are the fundamental stages you should understand to develop your five-year plan presentation:
1. Think About what you want for your life
Begin by just assessing your life goals for the next five years. Analyze what will make you feel better in the future and give you a sense of success in a thoughtful and private manner.
One method to think about what you want is to note down all of the career-related objectives you believe you may like to achieve during the next five years, irrespective of what they are.
Consider as many alternatives as you can at this point since you will be able to filter them down later.
Another method to think about what you want out of life is to write down everything that inspires and motivates you.
2. Mention your skills and experience
The second stage is to think about what you already understand and have done. Remember that there is a distinction between what you understand and have encountered, what you are doing now, and what you desire to accomplish.
You might be in the process of changing careers. If this is the case, what you're doing now may be quite different from what you intend to accomplish.
However, you may have the information, abilities, and experience to proceed on that new path.
If you don't yet, your five-year plan might help you clarify the measures you need to take to achieve your ultimate objective.
3. Determine your transferable skills
This phase is especially critical if you want to make a job change. Examine your existing inventory of experience, knowledge, and talents.
Consider which of those talents are applicable to the profession you actually want to have. You may wish to consult with a trusted colleague or family member to learn more about the abilities on your list that are adaptable.
4. Discover your career goal
The next stage is to analyze your aim. Conduct internet research to learn about the job you eventually want to hold as well as the educational criteria and skill demands for the career.
You could also want to check into career-related social media sites, where you can browse the profiles of individuals in jobs comparable to the one you desire in five years. Look for trends in those profiles, and keep track of where those people were in their jobs five years ago.
You may even explore directly contacting those individuals and asking if you can write them an email with concerns or, even better, sit down for an informative interview and discuss their career path.
Most individuals are eager to provide information about what they do and how they arrived at where they are now.
Speaking with them in person provides you with a unique chance to understand what they might have done differently to get to where they are now.
5. Refine your goals
The next stage is to refine your objectives depending on what you learned from studying about the professional route and investigating the goals you aspire to reach.
Use the SMART goal-setting process in this stage to ensure your objectives are precise, measurable, achievable, reasonable, and time-bound.
6. Note down the steps
You must identify what is most essential to you in this stage so that you can devote the bulk of your efforts to those objectives.
Identify the particular objectives that are most important over the next five years so that you can concentrate on your work to accomplish them.
If you have a lot of objectives on your list, attempting to do too much within that time frame might make them more difficult to achieve.
Once you've determined the most critical objective or goals, begin preparing a list of the measures you'll need to do to attain those goals.
Determine the steps you must do on a monthly, quarterly, or yearly basis to achieve your objectives in five years.
You can more readily monitor your progress if you determine the actions you need to take and write down what you need to accomplish each month to achieve your objectives.
7. Be ready for changes
Remember that you are still growing and evolving into the person you will be in five years. Within five years, you may find a new interest and decide to change careers.
There's a good chance you'll make adjustments to your five-year plan at some time. Remember that it is ultimately up to you to determine what constitutes success.
If you don't prefer to work to work on PowerPoint, you can make use of SlideUpLift's enormous Google Slides templates collection for Google Slides.
Wrapping It Up
Creating your 5-year plan presentation will not be a fast task, but it will be well worth your time.
Not only are you limiting your work prospects to what aligns with your personality characteristics and interests, but you should also see this as an opportunity to investigate areas you believe have been overlooked in your career growth.
This approach will offer you a foundation for creating a 5-year plan presentation based on your criteria, so it's time to get started on your goals and dreams.
Related CTN News:
A Fake Crypto App Defrauded Investors Of $42 Million, Says FBI
How to Sell A House Without A Realtor in Georgia
One Medical To Be Acquired By Amazon For $3.9 Billion