Franchise Owners Expanding Thailand's US$11.6 Billion Food and Beverage Market
Despite political and economic uncertainty in Thailand, the food and beverage firms Central Restaurants Group, PTT Oil and Retail Business Plc, and KT Restaurant, which manages the Santa Fe steak brand, plan to expand in the second half of this year.
Central Restaurants Group (CRG) president Nath Vongphanich told the media that the firm will invest 600-700 million baht to open new restaurants in the second half of the year, excluding merger and acquisition projects.
This growth will focus on food companies that have formed commercial agreements, such as Salad Factory, Shinkanzen Sushi, Nak-la Mookata, and potential brands such as KFC, Auntie Anne's, Pepper Lunch, and Somtum Nua.
In addition, CRG is in talks to buy a shabu and yakiniku restaurant operator to add these types of cuisine to its portfolio, and it is considering growing internationally through joint ventures and greenfield investments, particularly in Vietnam, where Central Group has a significant presence.
"Tourism serves as a growth engine for the food business, and the company is more concerned about the stability of the Covid-19 situation than political factors," said Mr Nath. "Because food is a daily necessity, politics has a relatively minor impact on the food industry." However, the corporation will continue to be careful in its investment decisions."
Despite consumers' lower purchasing power as a result of different responsibilities such as utility bills and family debt, Mr Nath stated that CRG attempts to soothe their pain points by providing value-for-money meals and promotional offers.
Mr Nath stated that the overall market sentiment in the food business was relatively good in the first five months of this year, despite the fact that tourism in important destinations such as Chiang Mai, Phuket, and Pattaya has not yet returned to pre-covid levels.
Sombat Hongpaitoon, CEO of KT Restaurant Co, which operates Santa Fe restaurants, said his company is rebranding to give Santa Fe a more modern look next year.
This rebranding campaign is the first substantial change to the restaurant's appearance in a decade, and it is motivated by rising competitiveness in the 400-billion-baht food business, which is being driven by the introduction of new restaurants.
"We have adjusted our expansion plans in response to the disruption caused by the shabu sukiyaki segment." "This year, we've decided to open only eight new restaurants, down from 20 last year," Mr Sombat explained.
Mr Sombat was particularly concerned about projected employee cost rises of 10-20% under the incoming government, as promised by the election-winning parties. As a result, the company has installed some robots at its restaurant in Future Park Rangsit and intends to spread their use to other branches if they improve operating efficiency.
There are currently 120 Santa Fe restaurants open across the country. Three new Santa Fe restaurants opened in the first half of this year, with another five set to open in the second half.
In order to broaden its consumer base, the company has introduced the "Santa Fe Easy" grab-and-go concept, which includes steak and burger menus. This new strategy caters to a younger generation of consumers, complementing the old Santa Fe concept, which caters to families. Currently, there are ten Santa Fe Easy locations strategically located in universities, hospitals and petrol stations.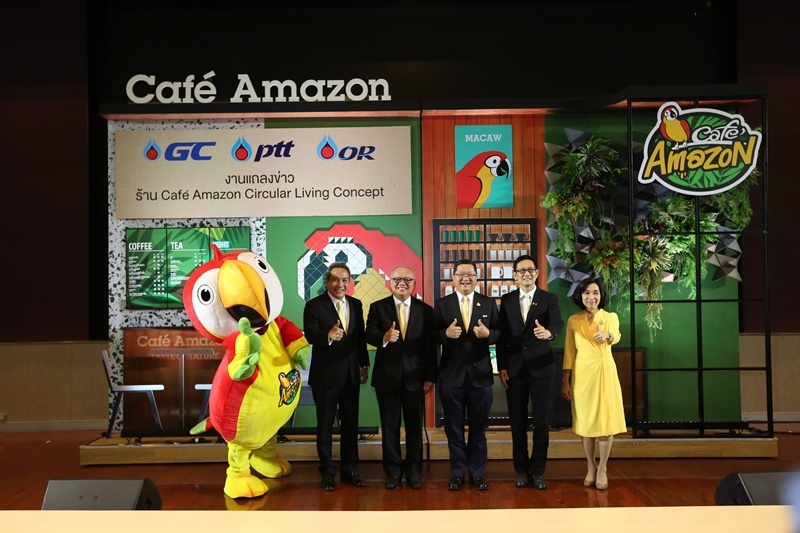 PTT Oil and Retail Business Plc, a part of the state-owned oil conglomerate PTT Plc, on the other hand, has ambitious ambitions to open 400 Cafe Amazon sites in the second half of this year, with 85% in domestic locations and the other 15% worldwide.
According to Suchat Ramarch, president of PTT Oil and Retail Business, the new Cafe Amazon locations would be both franchised and stand-alone, occupying 40-50 square metres.
Currently, revenue from coffee and retail enterprises has increased significantly, accounting for 65-70% of overall revenue at their petrol stations, up from 50% previously. To keep this momentum going, the company intends to expand its retail space to accommodate more tenants and franchisees.
Aside from the café growth, the company is broadening its portfolio by introducing canned coffee goods for sale at 7-Eleven convenience shops, which it aims to sell over 8 million of this year.
PTT Oil and Retail Business presently operates over 4,000 Cafe Amazon branches in Thailand and 11 other countries.
"Our expansion plans will remain on track regardless of the political landscape or the prime minister in power," Mr Suchat added.
Thailand's Government Savings Bank Adopts ESG Scoring for Lending