Protests Erupt Across the U.S. Amid Internet Shutdown in India and Manhunt for Activist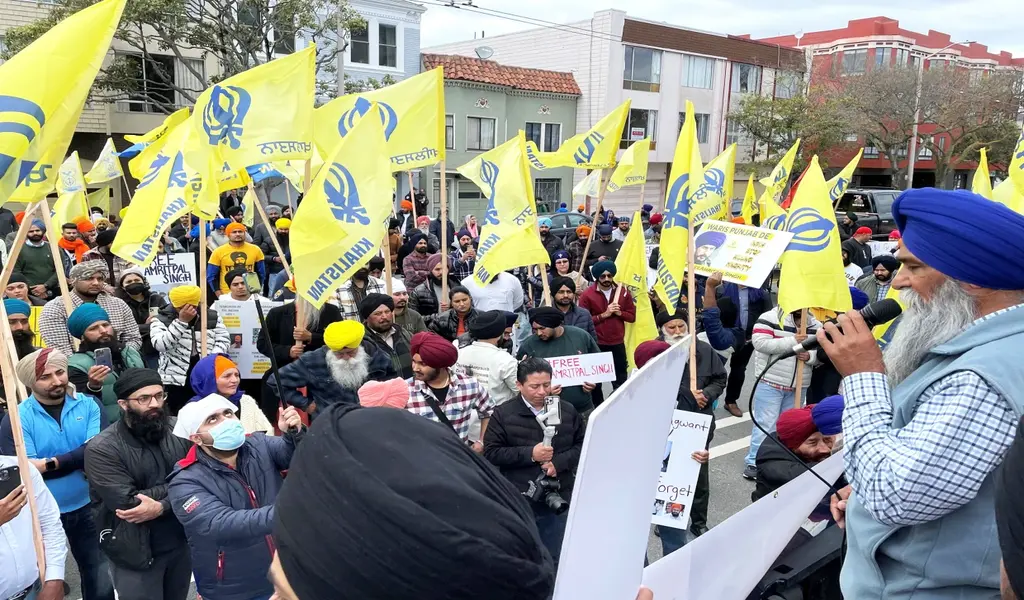 (CTN News) – The search for Sikh activist Amritpal Singh in India has sparked protests in major cities worldwide, including Los Angeles and New York.
The protests mirror civil disturbances in India's Punjab state, where demonstrations broke out on Sunday in many towns, including Ajnala and Mohali, and resulted in the government cutting off internet service to 27 million people.
Protests in US and India Over Search for Sikh Activist
Supporters of the Sikh separatist movement to form a nation named "Khalistan," meaning "the land of Khalsa," demonstrated outside Indian embassies and consulates in the United States, waving flags and chanting. Protests of a similar nature have occurred in the United Kingdom, Australia, and Canada.
There is a wide range of causes that have Sikh activists congregating. They rapidly planned rallies in places like Chicago and Sacramento, California, to bring attention to India's opaque rule of law, its history of human rights atrocities, and the search for and likely arrest of Singh.
Singh is a public face for several movements. In a short time, he rose to prominence in India for his outspoken stance against drugs, care for Punjab's water crisis, and criticism of the government.
Inspector General Sukhchain Singh Gill of the Punjab Police and Indian media report that the search for him continues. "creating disharmony among classes, attempt to murder, attacking cops and preventing them from carrying out their duties," Gill told The Times of India.
Today on March 19, a vigorous protest was held in front of the Indian Consulate in New York City against the aggression, demonization and inhuman treatment of the Sikhs by the fascist Indian state under draconian laws & to show solidarity with Bhai Amritpal Singh… pic.twitter.com/b9XOZHmpKc

— Pardeep singh ਪਰਦੀਪ ਸਿੰਘ (@khalsapardeep) March 20, 2023
Sikh Youth Alliance of California organizer Kunarveer Singh believes the diaspora must take action.
If "no one else is going to speak up for us," he said, "then you have to do it yourself." "There is no information blackout. So if they can't do it there (in India), we certainly will.
He said the protesters' opposition to India's treatment of religious minorities was not limited to their fury over Amritpal Singh.
These demonstrations represent the best efforts of those of us living in exile. On the ground, he said, "all Sikhs in the diaspora can protest and make sure the Western Hemisphere knows that India is not a democracy even though it calls itself one."
According to Kunarveer Singh, protesters would keep marching until Amritpal Singh was released. There are many Sikhs with the surname Singh, and the ones included here are not necessarily related.
It is no surprise that the activist is so well-liked, according to Harpreet Singh, a Sikh expert on South Asian cultures and languages and a chaplain at Harvard University.
"Many of the people who have been implicated in the drug epidemic have been part of the Indian government," he claimed, referring to the drug crisis in Punjab.
Harvard professor Singh commented that he is not shocked by the Indian government's reaction to Amritpal Singh's prominence because religious minorities are frequent targets in India, especially in light of the persistent development of Hindu nationalism.
India's transformation into a Hindu nationalist state has a deep historical foundation. He explained that the persecution of Sikhs now stems from their desire for religious freedom in India, a country where Hinduism is the majority religion.
Neither the Indian Embassy nor the Punjabi provincial police responded to demands for comment.
Internet Shutdowns and Protests in Response to Search for Sikh Activist
According to Namrata Maheshwari, the Asia Pacific policy counsel at Access Now, a non-profit internet advocacy organization, internet services were first interrupted in Punjab on Saturday and extended over three days.
The Times of India reports that the suspension has been extended in several regions and will last till Friday afternoon.
For the last five years, India has led the globe in internet shutdowns, with at least 84 in 2022 alone, according to a new analysis by Access Now.
According to the organization, a shutdown is an attempt to "exert control over the flow of information" by targeting "a specific population or within a location."
According to Maheshwari, the Indian government routinely employs such blackouts, but this is one of the largest the group has ever seen.
She argued that the internet shutdown ran against the values of India, which is often regarded as the world's greatest democracy.
"The internet is a crucial medium for exercising the freedom of expression," she added. "The ability to exchange information, verify it, and communicate freely is essential to journalism and political engagement."
India's Internet Shutdowns Come Under Scrutiny Amid Search for Sikh Activist
The ability to report accurately and in real-time without internet connectivity is next to impossible. It's antithetical to democratic principles since it muzzles debate and criticism.
In India, users cannot access the Twitter accounts of Rupi Kaur, United Sikhs, and Canadian MP Jagmeet Singh, among other famous Sikh people and organizations.
Recent events have, for many Sikhs, brought back memories of 1984, when the Indian military destroyed the Golden Temple complex, sparking anti-Sikh riots that ultimately led to the death of Prime Minister India Gandhi by her Sikh bodyguards.
Human Rights Watch reports that following her murder, mobs of non-Sikhs kidnapped, murdered, and raped thousands of Sikhs. The Congress Party typically provoked these riots.
Related CTN News: