North Korea Confirmed Testing Long-Range Cruise Missiles Off Its Eastern Coast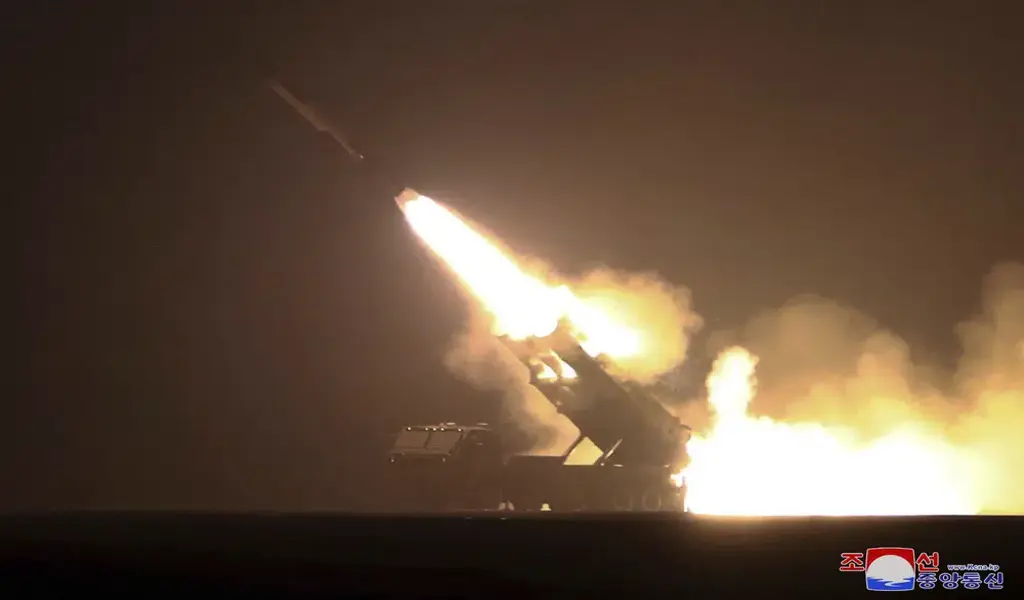 (CTN NEWS) – SEOUL – North Korea confirmed on Friday that it had tested long-range cruise missiles off its eastern coast the day before, continuing a troubling trend of provocative weapon displays as its adversaries intensify military drills.
The missiles' dependability and the unit's capacity for quick action were being tested during the launches, according to North Korean official media, which were later confirmed by the military of South Korea.
The rockets happened as the United States and South Korea practiced responding to nuclear threats from North Korea in Washington.
The four missiles flew for nearly three hours after being launched from the northeastern coast, drawing oval and figure-eight patterns above the water.
And demonstrating their ability to reach targets up to 2,000 kilometers (1,240 miles) away, according to Pyongyang's official Korean Central News Agency.
North Korea Long-Range Cruise Missiles Tests
The Joint Chiefs of Staff of South Korea stated, without going into further detail, that the North Korean flight information did not match what U.S. and South Korean intelligence assets had detected. It stated that the allies were still reviewing the launches.
Speaking on behalf of Seoul's Unification Ministry, which oversees inter-Korean relations, Lee Hyojung criticized North Korea for intensifying its testing activities in spite of indications of rising economic isolation and food shortages.
In September 2021, North Korea conducted its first long-range cruise missile test, and it has suggested that nuclear warheads are being built for the missiles.
It also conducted ICBM and short-range missile tests on Saturday and Monday to show that it is capable of carrying out nuclear attacks on both South Korea and the US mainland.
North Korea claimed that its short-range rocket launches on Monday were in retaliation for the United States sending B-1B bombers to the area on Sunday in a show of force after the North conducted an ICBM test.
North Korea promised an "unprecedentedly" harsh response to a series of military drills that Seoul and Washington had scheduled before the ICBM launch.
North Korea Working On Solid-fuel ICBMs
Although the allies claim their drills are defensive in nature, North Korea has characterized them as a practice for a prospective invasion.
A rising number of North Korean weapons, including cruise missiles, are made to be agile in flight to get through defenses.
North Korea has been speeding up the development of short-range solid-fuel ballistic missiles that target South Korea, particularly ones that fly on low trajectories that are theoretically more difficult to intercept, since the failure of talks with the United States in 2019.
North Korea is also working on developing solid-fuel ICBMs, which may be more mobile on vehicles and fire more quickly than the North's current liquid-fuel ICBMs, making it harder for adversaries to track launches and mount defenses against them.
With almost 70 ballistic missiles fired, including intercontinental ballistic missiles (ICBMs) capable of reaching the U.S. mainland, North Korea just finished a record-breaking year for weaponry displays. 
Also, it carried out what it called simulated nuclear attacks on targets in South Korea and the United States.
Soth Korea Declared N.Korea As 'enemy'
With a call for an "exponential rise" in nuclear warheads, mass manufacture of battlefield tactical nuclear weapons aimed at the "enemy" South Korea, and the development of more powerful ICBMs, leader Kim Jong Un stepped up his nuclear offensive for 2023.
The potential of North Korea utilizing nuclear weapons was the topic of a simulation on Wednesday at the Pentagon, according to the U.S. Department of Defense and the Defense Ministry of South Korea.
The allies talked about how to react to any nuclear use by North Korea by displaying their "strong response capabilities and resolve to respond appropriately."
The American delegation at the meeting emphasized the 2022 Nuclear Posture Review of the Biden administration, which declares that any nuclear strike by North Korea against the US or its allies and partners "would result at the end of that regime."
It made reference to a legally required document outlining American nuclear policy and strategy for the ensuing five to ten years.
A briefing on the function of Ohio-class nuclear-powered ballistic missile submarines was provided to the delegations from the United States and South Korea during their visit to Naval Submarine Station Kings Bay in Georgia.
North Korea Increasing Threats
Such forces, according to US officials stationed at the site, are essential for providing prolonged deterrence to allies, which refers to a promise to defend them with all of the nation's military resources, including nuclear ones.
Kwon Jong Gun, a senior member of the North Korean Foreign Ministry, condemned the simulated exercise and visit by the allies to the submarine facility in Georgia and referred to them as an expansion of anti-Pyongyang hostility.
In his remarks, Kwon also expressed his displeasure with the emergency meeting the U.N. Security Council called this week to examine recent North Korean launches.
The United States and its allies pushed the Security Council to denounce the North's illegal missile actions during the meeting on Monday, while China and Russia accused Washington of inflaming tensions by speeding up its military drills against Pyongyang.
Kwon used the initials of North Korea's official name, the Democratic People's Republic of Korea, saying,
"The U.S. should bear in mind that if it persists in its hostile and provocative practices against the DPRK despite the latter's repeated protest and warning, it can be regarded as a declaration of war against the DPRK."
South Korea has been requesting firmer guarantees from the United States that it will act fast and aggressively to defend its partner from a nuclear assault as a result of the North's increasing threats.
North Korea Ready For More Tests
"The United States will continue to cooperate with (South Korea) to guarantee an effective combination of assets, concepts, deployments, exercises, and tailored choices to deter and, if necessary, respond to coercion and aggression by (North Korea)," the Department of Defense said in a statement.
The Unification Ministry in Seoul also said that it would resume radiation exposure assessments for North Korean escapees who had resided close to the North's northern nuclear testing site since its first explosion in 2006.
Nine people were found to have anomalies in earlier examinations on 40 escapees, however, no definitive relationship to radiation exposure was established.
The Transitional Justice Working Group, based in Seoul, had pushed South Korea to resume such tests, claiming that radiation might have been dispersed through groundwater and precipitation.
North Korea is most certainly getting ready to perform its seventh test at the Punggye-ri location, which would be it's first since 2017. This is according to U.S. and South Korean sources.
The government intends to offer tests to any of the 881 individuals who lived in the North Korean territory after 2006 and request them, according to Lee, the ministry's spokesperson.
RELATED CTN NEWS:
India's Economic Growth Slows Further, Projected to lose Momentum Amidst Interest Rate Hikes