The Ultimate Guide to Plunge Bras
Finding the correct bra may be a game-changer when it comes to lingerie. Among the myriad of options available, one style that stands out for its versatility and appeal is the plunge bra. Plunge bras are a must-have in every woman's wardrobe, offering a unique combination of support, comfort, and a flattering neckline.
In this ultimate guide, we'll delve into everything you need to know about plunge bras, from finding the perfect fit to different styles, materials, and care tips.
Finding The Perfect Fit
The key to enjoying the full benefits of a plunge bra lies in finding the perfect fit. A well-fitting plunge bra not only enhances your appearance but also ensures comfort throughout the day. Here's how to get the fit just right:
Measure Accurately: Start by measuring your band size. Wrap a measuring tape snugly around your ribcage, just below your bust. Make sure it's parallel to the ground and not too tight. The number you get is your band size. When looking for the perfect fit and style of plunge bras in Australia, it's essential to find a reputable ELomi Bras stockist in Australia to ensure you have access to a wide selection of quality lingerie options.
Determine Your Cup Size: To determine your cup size, wrap a measuring tape over the widest region of your bust, keeping it taut but not tight. To establish your cup size, measure around the largest part of your bust, keeping the tape pleasantly taut but not tight. Your cup size will be determined by subtracting this measurement from your band size. Use the standard cup size chart (A, B, C, D, DD, etc.) for reference.
Try Before You Buy: Since different brands and styles can have slight variations in sizing, it's essential to try on plunge bras before purchasing. Focus on how the band fits around your ribcage and ensure the underwire lies flat against your ribcage without digging in.
Adjustable Straps: Look for plunge bras with adjustable straps. This function allows you to tailor the fit to your specific body type and wardrobe requirements.
Hook Settings: Most plunge bras come with multiple hook settings on the band, allowing you to tighten or loosen as needed. Start with the loosest setting so you can tighten it as the bra stretches over time.
Different Styles Of Plunge Bras
Plunge bras come in various styles to suit different outfits and occasions:
Classic Plunge: This is the standard plunge bra style, offering a deep V-neckline that works well with low-cut tops and dresses. It provides excellent support and shaping.
Push-Up Plunge: If you're looking for some extra lift and cleavage, the push-up plunge bra is the way to go. It features padding at the bottom of the cups to push the breasts upward and inward.
Convertible Plunge: Perfect for versatile styling, the convertible plunge bra comes with detachable straps that can be adjusted to wear in various ways, such as halter, crisscross, or strapless.
Lace And Embellished Plunge: For a touch of elegance, consider a lace or embellished plunge bra. These feature intricate lacework, embroidery, or decorative elements that add a touch of glamour to your lingerie collection.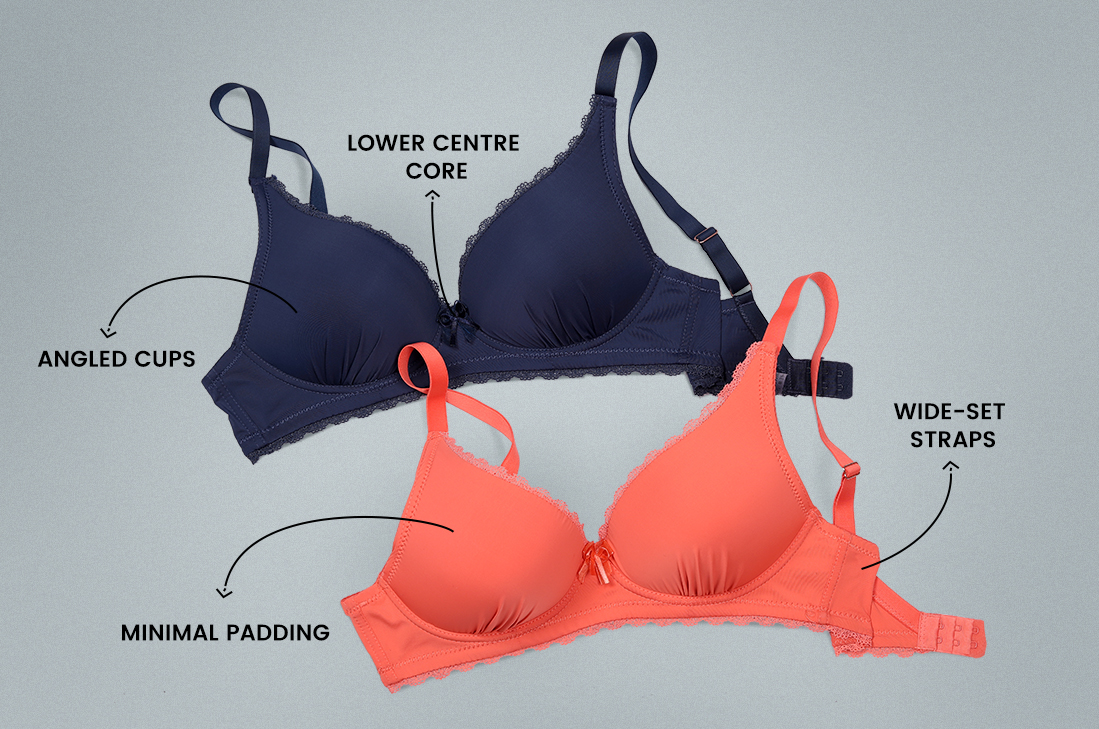 Material And Design
The material and design of your plunge bra play a significant role in both comfort and aesthetics. Here are some common materials and design features to consider:
Fabric: Opt for plunge bras made from breathable and comfortable materials like cotton, microfiber, or modal for everyday wear. For special occasions, satin, silk, or lace can add a luxurious feel.
Underwire: Most plunge bras come with an underwire for added support and shaping. Ensure that the underwire is cushioned or lined to prevent discomfort.
Seamless Cups: Seamless cups are ideal for wearing under tight-fitting clothing as they eliminate visible lines and provide a smooth silhouette.
Adjustable Straps: Look for wide and adjustable straps that distribute weight evenly and prevent digging into your shoulders.
Back Closure: A hook-and-eye back closure is standard in most plunge bras. Ensure it's well-made and doesn't cause irritation.

Wardrobe Essentials
Plunge bras are versatile additions to your lingerie collection, and they can be considered wardrobe essentials for several reasons:
Low-Cut Outfits: Plunge bras are a saviour when you want to wear low-cut tops or dresses. They offer support and shaping without compromising on style.
Everyday Comfort: Many plunge bras are made with comfort in mind, making them appropriate for everyday use. Their combination of style and practicality ensures you feel confident all day long.
Special Occasions: The push-up plunge bra is perfect for special occasions or when you want to add some extra oomph to your outfit.
Versatile Styling: Convertible plunge bras are incredibly versatile, allowing you to adapt them to various outfits and necklines.
Plunge Bras Care And Maintenance

To ensure your plunge bras last and maintain their shape and support, proper care and maintenance are essential:
Hand Wash: Hand-washing your plunge bras with a mild detergent is the gentlest way to clean them. Fabric softeners should be avoided since they can harm elastic fibres.
Air Dry: Never use a dryer to dry your plunge bras, as heat can weaken the elastic and damage the delicate fabrics. Instead, place them flat on a clean towel to dry.
Storage: Store your plunge bras in a way that protects their shape. Consider using lingerie bags to prevent tangling and snagging.
Rotate Bras: To extend the lifespan of your plunge bras, rotate them so you're not wearing the same one every day.