Printed Sarees: Beauty in Imagination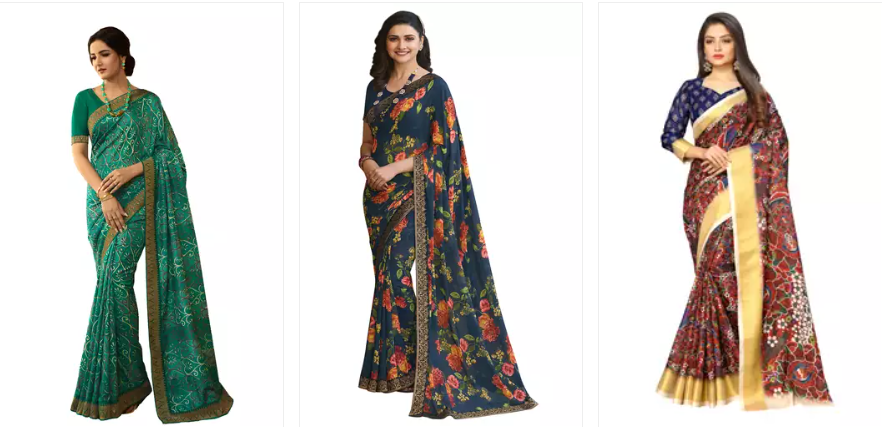 Ever since print technology has been introduced to fashion, the fashion trends have reached new heights. Geometric patterns, paintings, and so much more can be printed on any kind of fabric you want. The sky is literally the limit when it comes to printed fashion. Sarees haven't been immune to the introduction of printed designs either.
You can print traditional designs on traditional fabric like cotton and silk in unique way. While using traditional textiles and themes, printed sarees have provided a distinctive method to incorporate contemporary designs.
This means printed sarees may be the way to make sarees the ultimate Indian outfit once again. So, before you go shopping for the best printed sarees on Mirraw, let's learn more about printed sarees.
About Printed Sarees
Printed sarees are a popular and handy choice in the saree world. These sarees are characterized by their vibrant colors, intricate patterns, and visually appealing prints. Printed sarees are available in infinity designs advantage of printed saree is it can print using latest machine so that can print traditional designs in very little time. Printed sarees available in latest designs and latest world heritage sites trending designs.
One of the advantages of printed sarees is comfortable to wear as a daily wear. You cannot wear silk sarees or designer saree as a daily wear. Printed saree can made with any type of fabrics like cotton, chiffon, net, linen and silk each fabric suitable for different occasion and climates.

Printed sarees can be styled in various ways depending on the occasion. For a casual look, they can be paired with a simple blouse and minimal accessories. On the other hand, for festive or formal events, they can be accessorized with statement jewelry, embellished blouses, and complementing accessories.
The charm of printed sarees lies in their versatility, affordability, and ability to showcase unique patterns and designs. Printed sarees can be worn on all festivals and parties. Print saree are very comfort style, and elegance, making them a popular choice among women of all ages.
Different Techniques of Printing for Sarees
Printing techniques obviously play a significant role in creating the intricate patterns and designs on sarees. Here are some different techniques commonly used for printing sarees:
Block Printing: Block printing is a traditional technique that involves carving intricate designs onto wooden blocks. These blocks are then dipped in dye and stamped onto the fabric, creating a repetitive pattern. Each block has different design and multiple blocks are used to create beautiful pattern. Block printing is known for its organic and rustic appeal.
Screen Printing: Screen printing involves the use of a mesh screen, where the desired design is transferred onto the fabric. Ink is pushed through the open areas of the screen using a squeegee, allowing the design to be printed on the fabric. This technique is widely used for creating detailed and multi-colored designs with precision.
Digital Printing: Digital printing is a modern technique that involves printing the design directly onto the fabric using specialized printers. Advantage of digital printing is you can print whatever design you want in very little time.
Hand-Painting: Hand-painting is a labor-intensive technique where skilled artisans paint the designs directly onto the fabric using brushes or pens. This technique is time consuming but allows for intricate detailing and a personalized touch. Hand-painted sarees often showcase exclusive artwork and can be customized based on individual preferences.
Tie and Dye: Tie and dye, also known as Bandhani or Bandhni, is a technique where sections of the fabric are tied tightly with thread or rubber bands, and then dyed in vibrant colors. When the threads are removed, the tied areas remain uncolored, creating unique patterns. This technique is famous in Indian states like Rajasthan and Gujarat adds a vibrant and playful element to sarees.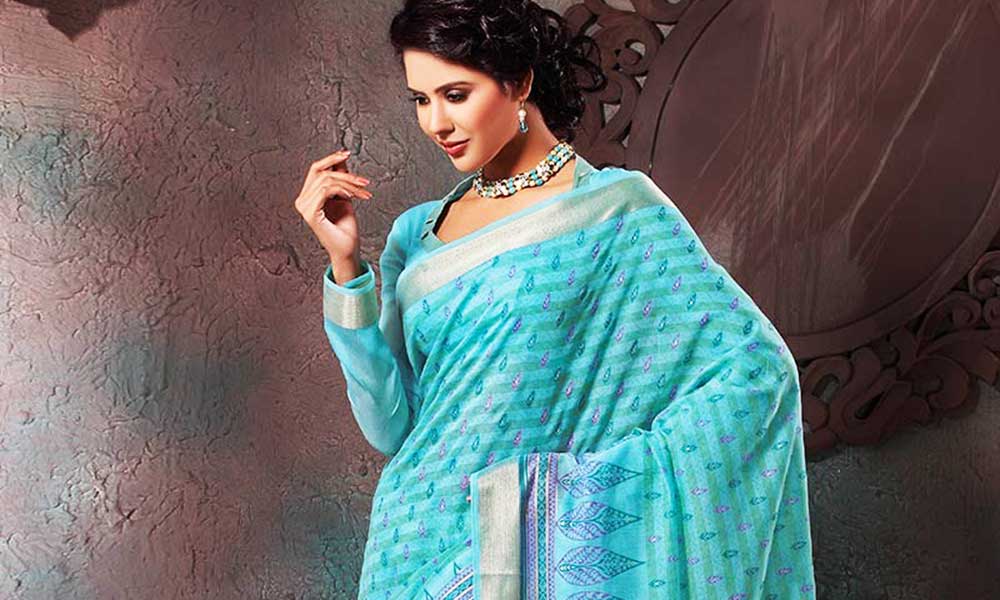 How To Ensure Your Printed Sarees Are Long-Lasting
Quality of Dyes: High-quality dyes and pigments should be used in the printing process to ensure colorfastness and resistance to fading.
Proper Fixation: Adequate fixation of dyes onto the fabric is crucial to prevent color bleeding and fading. In thisThe use of appropriate heat setting or curing methods during the printing process helps in enhancing the durability of the print.
Fabric Selection: Choosing fabrics that have good dye absorption and retention properties can contribute to long-lasting printing designs. Fabrics like cotton, silk, and blended materials are often preferred for their ability to hold the colors well.
Finishing Techniques: Applying suitable finishing treatments, such as washing, steaming, or ironing, after the printing process helps to enhance the color fastness and overall durability of the print.
Proper Care: Following proper care instructions while washing and storing the printed sarees is essential. Hand washing or gentle machine washing with mild detergents, avoiding direct sunlight during drying, and storing the sarees in a cool, dry place can help maintain the longevity of the printing designs.
Printed Saree Designs for Models
Printed saree designs for models encompass a wide range of styles to cater to diverse fashion preferences. Bold and vibrant prints, such as abstract patterns, floral motifs, geometric designs, and fusion of cultural elements, are often chosen to make a striking statement on the runway.
Models showcase sarees with intricate details, unique color combinations, and innovative printing techniques to create a visually captivating look. The designs may range from contemporary and edgy to traditional and elegant, allowing models to exude confidence and charm while showcasing the versatility and beauty of printed sarees on the fashion runway. So, a printed saree just might be the perfect option for a showstopper.