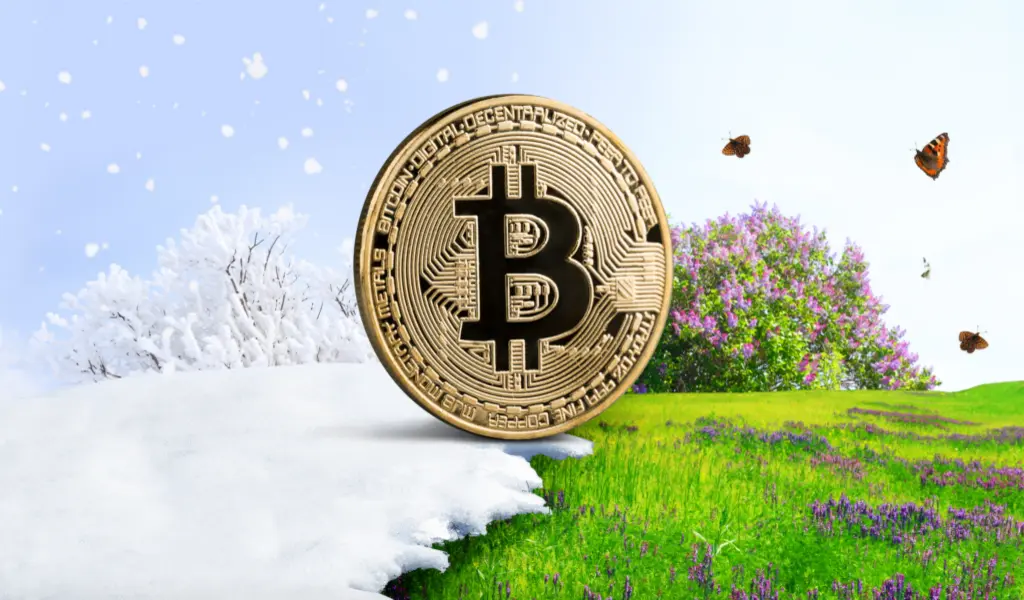 Introduction
Crypto Winter: The cryptocurrency market has been volatile in recent years, and has been marked with sharp price movements in both directions.
With the end of the bull season which ended abruptly in October 2021 when Bitcoin reached its all-time high at $69000, the market has since then experienced some corrections that turned into a full blown bear season in 2022.
This correction, which lasted till year end, had given rise to what is popularly known today as the "Crypto Winter," which saw many cryptocurrencies lose a significant portion of their value, while the market remained stagnant.
However, with the resurgence of the Bitcoin and other Cryptocurrencies during the Q1 of 2023, many have now concluded that the crypto winter is over and now another opportunity to buy Ethereum (ETH) and other promising cryptos.
In this article, we have examined the market performance so far this year, to help us draw conclusions on whether the crypto winter is now over.
What is crypto winter?
Crypto winter refers to a prolonged period of time when the cryptocurrency market experiences a significant downturn, characterized by a decline in the value of cryptocurrencies and a decrease in trading volumes.
The term "winter" is used to convey the idea of a harsh and cold period, similar to the seasonal winter experienced in many parts of the world.
Is the Crypto Winter Over?
The crypto market has seen great relief during the first quarter of 2023. With Bitcoin regaining over 90% of its value this year from the previous year's low created in December 2022 at $15465 by rising to a new high at $31000 in April 2013. Many now see this as a good reason to believe that the crypto winter is over.
Moving forward, going by the new influx of capital into the crypto market this year which has brought the crypto market above $1.2 trillion in April, some analysts now capitalize on this to suggest that we are now entering a new phase in the market, known as the "Crypto Spring." which is the direct opposite of crypto winter.
There are several factors that have contributed to this resurgence in the Crypto market in 2023.
First and foremost, is the renewed interest in cryptocurrencies from institutional investors. Large financial institutions, such as JPMorgan and Goldman Sachs, have continued to offer their clients exposure to cryptocurrencies, which has helped to legitimize the industry and attract new investors.
In addition, the development of new blockchain technologies and the growth of decentralized finance (DeFi) has also contributed to the market's recent success.
DeFi platforms allow users to access financial services without the need for intermediaries, such as banks, which has helped to reduce costs and increase efficiency in the financial system.
Despite these positive developments, there are some who have remained skeptical that the crypto winter is now over in 2023.
These skeptics cite the unpredictable nature of the crypto market and the fact that the Fed has not yet resolved to discontinue with the protracted interest rate hikes as an important reason to be cautious while investing in Cryptocurrency.
The market no doubt is prone to volatility, and prices can fluctuate rapidly in both directions. Which means it is possible to experience yet another massive decline this year.
Conclusion
While there are certainly positive signs that the Crypto Winter is over and that we are entering a new phase in the market, it is important for investors to approach the industry with caution.
While the potential rewards can be significant, there are still risks associated with investing in cryptocurrencies, and investors should carefully consider their risk tolerance before making any investment decisions.
Related CTN News:
Is Bitcoin A Good Investment? Benefits And Risks Of Investing In Bitcoin
Cryptocurrency Scams: How To Spot Them And Protect Your Money?
What Is A Wash Sale And How Does It Impact Your Investments?