A Walking Safari in Mana Pools National Park: An Authentic African Safari Experience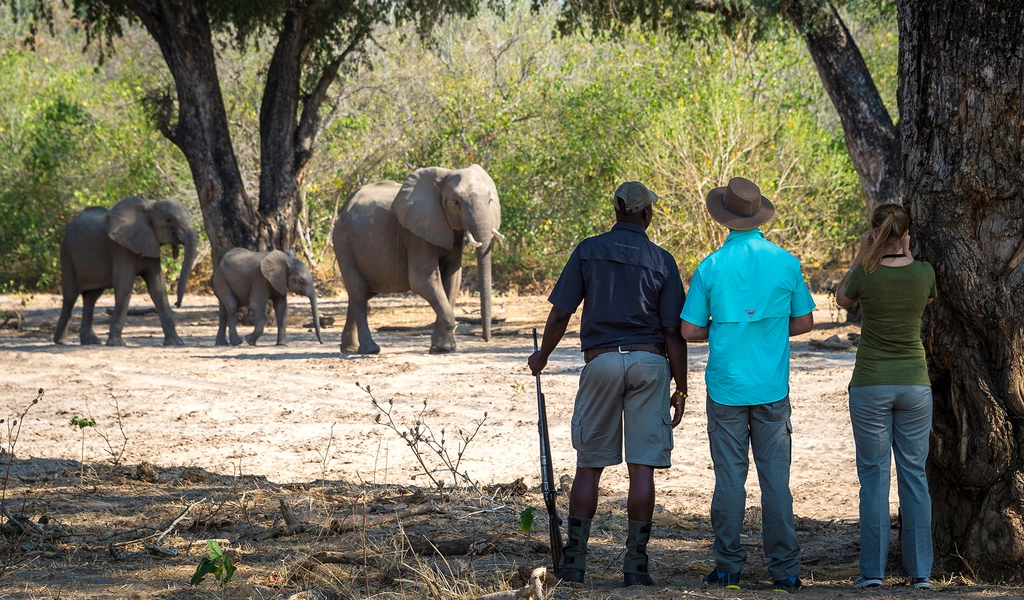 The African continent is often associated with safaris, where one gets the opportunity to witness the rich diversity of its flora and fauna from the comfort of a 4×4 vehicle.
But for those yearning for a more intimate and raw experience of the wild, a walking safari in Mana Pools National Park is the answer. Let's delve into this unique African safari experience that promises unmatched memories.
Mana Pools: A UNESCO World Heritage Site
Located in the northernmost region of Zimbabwe, Mana Pools National Park is a UNESCO World Heritage Site. Stretching over 2,196 square kilometers, this park offers a pristine wilderness setting. The name "Mana" translates to "four" in the local Shona language, representing the four large permanent pools formed by the meandering Zambezi River.
A Different Kind of African Safari
While the conventional African safari experience typically involves viewing wildlife from a vehicle, Mana Pools offers something distinctive. Here, one has the privilege of walking amidst the wilderness, feeling the ground beneath their feet, listening to the subtle sounds of the bush, and experiencing the African terrain in its purest form.
Why Choose a Walking Safari in Mana Pools?
Close Encounters with Wildlife: Walking safaris allow tourists to see wildlife from a different perspective. Whether it's the elegance of an antelope grazing or the majestic sight of an elephant in its natural habitat, the close encounters can be surreal. However, always remember to maintain a safe distance and have an experienced guide by your side.
Skilled and Knowledgeable Guides: The guides in Mana Pools are among the best in Africa. They possess a wealth of knowledge about the local ecosystem and are trained to ensure visitors' safety. Their stories and insights enhance the overall African safari experience.
In-depth Understanding of the Ecosystem: A walking safari is not just about viewing big game. It's about appreciating the smaller details – tracking animal footprints, identifying bird calls, and understanding the interdependency within the ecosystem.
Conservation Efforts: Mana Pools is renowned for its commitment to conservation. By choosing to experience this park, you're indirectly contributing to the efforts to preserve Africa's unique biodiversity.
Incredible Photography Opportunities: With the Zambezi River as a backdrop, the lighting, and the unspoiled landscapes, Mana Pools is a photographer's dream. A walking safari gives you the flexibility to stop and capture moments as they unfold.
Tips for a Successful Walking Safari in Mana Pools
Dress Appropriately: Wear neutral-colored clothing to blend into the surroundings. Sturdy walking shoes are a must.
Stay Hydrated: Carry enough water, especially during the hotter months.
Follow the Guide's Instructions: For safety reasons, always heed the advice and instructions of your guide.
Respect the Wildlife: This is their home, and we are the visitors. Always maintain a safe distance and avoid making loud noises.
Pack Light: Carry only essentials like binoculars, a camera, sunscreen, and a hat.
Which Camps Offer Walking Safaris in Mana Pools National Park
Here are some of the camps in Mana Pools National Park that historically have been known for their walking safaris:
Zambezi Expeditions: This camp combines luxury with the thrill of being right in the heart of wildlife territory. Their guided walking safaris bring you close to the ground and offer a genuine experience of the African wilderness.
Nyamatusi Camp: One of the newer camps in the park, Nyamatusi focuses on a holistic wilderness experience. Their walking safaris are led by professional guides who are adept at tracking and explaining the intricate nuances of the bush.
Vundu Camp: Run by one of the most experienced guides in the area, Nick Murray, Vundu Camp offers exciting walking safaris that let you encounter elephants, lions, and wild dogs, among other wildlife.
Kanga Camp: Located beside the remote Kanga Pan, this camp offers a unique safari experience. Besides game drives, they also organize walking safaris, allowing you to explore the area's diverse habitats on foot.
Ruckomechi Camp: Positioned on the western boundary of Mana Pools, Ruckomechi provides a beautiful setting for walking safaris, with views of the Zambezi River and the distant escarpment.
Little Vundu: This is a smaller, more intimate version of Vundu Camp. It also offers walking safaris, ensuring guests have up-close encounters with nature and wildlife.
Stretch Ferreira Safaris: Goliath Camp by Stretch Ferreira Safaris has a long-standing reputation in Mana Pools. Stretch Ferreira, the legendary guide, has decades of experience, making walking safaris with him a highlight for many visitors.
Zambezi Lifestyles: This mobile camp is all about the essence of a safari adventure. With walking safaris being one of their central activities, you can expect a combination of adventure and learning.
While walking safaris are the main draw for many visiting Mana Pools, it's essential to remember that these activities should be undertaken with utmost respect for the wildlife and the environment. Always ensure you're accompanied by experienced and licensed guides, who can not only enhance your experience but also ensure safety.
If you're considering a visit, it would be wise to get in touch directly with these camps or consult with a safari specialist to get the latest information on offerings and safety protocols.
SEE ALSO: Top 5 Best Countries For Expats In 2023