Thai National Team Loses 0-2 To UAE in FIFA Day Warm-up Football Match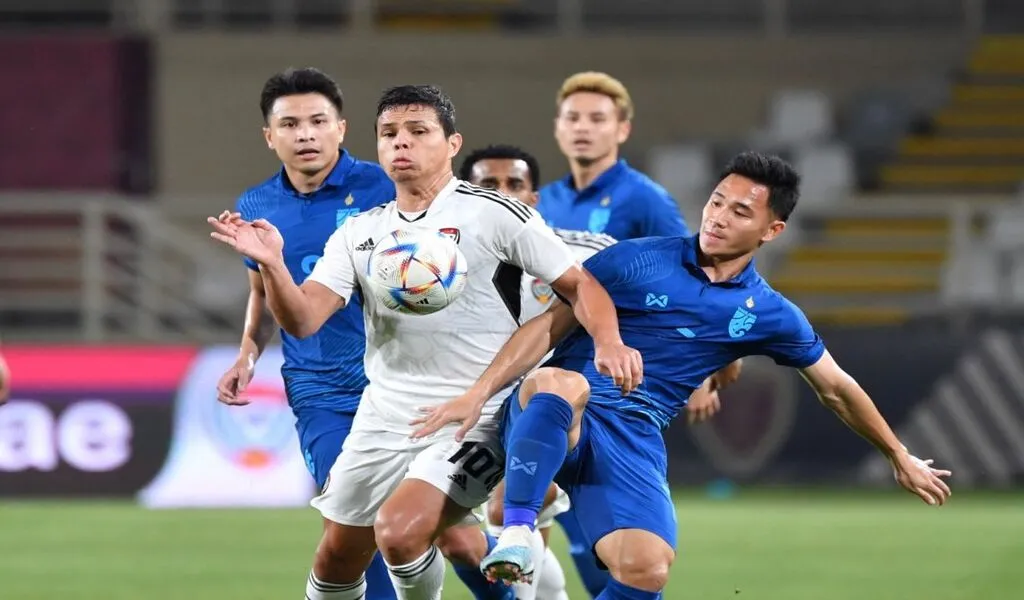 (CTN News) – UAE meets Thailand: football result 2-0| The March Calendar FIFA Day warm-up encounter featuring the Thai national team ended in a 0-2 loss to the host United Arab Emirates.
As part of FIFA Day 2 action on March 28, 2023, the Thai national football squad faced off against hosts United Arab Emirates, who were ranked 70th in the world.
Thai National Team's Struggle Continues as They Lose 2 Games in a Row
Patiwat Khammai, who missed two shots in Syria's 1-3 defeat in the offensive section, has been replaced by Kampol Pathomrakul.
This allows Mano Polking to field his most complete real 11 players. Put Supachok Sanchat and Supachai Jaided to work tracking down the web, along with Captain Jay Chanathip Songkrasin.
The Thai Football squad had a number of early scoring opportunities. but the finishing touch is lacking in precision Prior to Hareb Abdullah's 55th minute header giving the United Arab Emirates a 1-0 advantage.
After that, Thailand launched a full-scale invasion to overtake its competitor. The host team had a free kick opportunity in the 79th minute, but Abdul Salam Mohammed's shot into the United Arab Emirates was blocked. Thailand loses its second straight game after an impressive 2-0 rout at home on FIFA Day.
This group of players needs to be back in Thailand for a crucial World Cup programme on March 30 at 8:00 a.m. In November of 2023, the second round of Asian qualification will take place. Prior to the random selection, Thailand was placed in Pot 3.
Coach Issara Sritaro leads the Thai football team against Kuwait in the third round of the Doha Cup in Qatar. None of the players on the squad are older than 23.
The 23-and-under Thai national Team squad, it turned out, fought with all they had. Kuwait struck in first-half stoppage time thanks to a header from Ibrahim Kamil, but ultimately lost 0-1.
The Thai squad played in three matches, winning one, tying one, and losing one, for a total record of one win, one draw, and one loss, good for fourth place overall. South Korea is the programme's champion. After falling behind 3-0, the United Arab Emirates
The 23-year-old squad will fly back to Thailand tonight (March 29) at 7:00 p.m. to rest and recuperate before leaving for Cambodia at the end of April to pursue the SEA Games winner, who is currently in Vietnam.
List of 11 real players on the field
UAE national team: Khalid Aiza (GK), Abdul Salem Mohammed, Abdulla Idris, Tahnun Hamdan, Bilal Yousif, Abdullah. Lala Ramadan, Abdulla Faisal, Harib Abdalla, Fabio Lima, Ahmed Amer, Khalifa Mubarak Alhammadi
Thailand national team: Kampon Pathomrakul (GK), Nicholas Mickelson, Kritsada Kaman, Manuel Tom Bierh, Theerathon Bunmathan, Weerathep Pomphan, Thitiphan Phuangchan, Suphanat Muanta, Chanathip Songkrasin, Supachok Sanchat, Supachai Jaided
Related CTN News:
Ukraine's Zelensky: "Peace Message Was Heard Regardless Of FIFA's Broadcast Refusal"
FIFA World Cup 2022: Closing Ceremony List Of Performers
FIFA World Cup 2022: Argentina Beats Croatia 3-0 To Reach The Finals