Donald Trump's Indictment Could Lead To Unrest In New York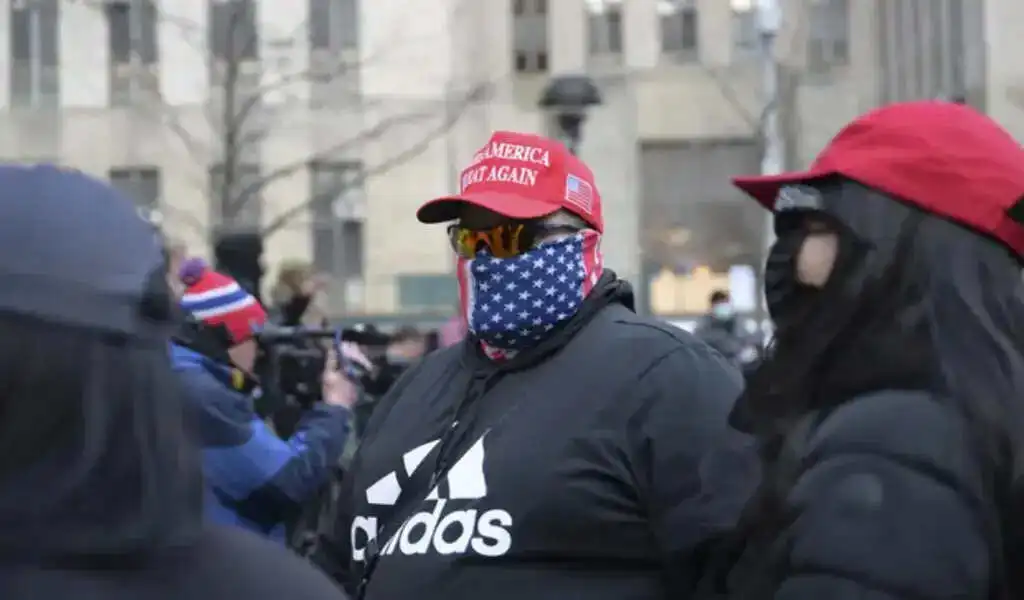 (CTN News) – It looks like a grand jury investigating Donald Trump over hush money payments to adult filmmaker Stormy Daniels appears poised to conclude its investigation by criminally indicting the former president on Tuesday as law enforcement officials in New York are preparing for possible unrest on Manhattan streets.
On the lower part of the island, barriers were placed around the Manhattan criminal courthouse. Police in uniform were everywhere. Protesters and reporters were also there.
"No one is above the law", chanted demonstrators holding placards against Donald Trump. During a pro-Trump protest, a lone protester held a sign saying Alvin Bragg, the Manhattan district attorney, was funded by George Soros.
An advocacy group supporting Bragg was funded by Soros, a progressive philanthropist. Demonstrators' signs echoed Republican slogans against "Soros-funded prosecutors", which themselves echo antisemitic rhetoric.
Without evidence, Trump claimed he would be arrested on Tuesday. According to his representatives, he had relied on media reports and leaks to make his prediction.
On Monday, the grand jury took a significant step forward by hearing testimony favorable to Donald Trump, presumably so that prosecutors could consider exculpatory evidence.
The next steps weren't clear. Additional witnesses weren't sure if they'd be called. In spite of knowing about the deadly riot at the US Capitol, authorities prepared for any violence associated with the unprecedented prosecution of a former president.
According to media reports, all NYPD officers should be in uniform and ready to deploy. On his Truth Social platform, Trump complained that NYPD officers were being used to go to prison while the "Soros-backed DA allows murderers and other violent criminals to roam the streets freely".
According to an internal intelligence assessment, police in Washington do not currently have any credible threats to the US Capitol, according to the same outlet.
On Monday, a Donald Trump campaign insider told the Guardian that Trump would not oppose extradition.
In 2018, Costello advised Cohen after Cohen became embroiled in a federal investigation into hush money payments made to Daniels and Karen McDougal, a former Playboy model who claims an affair with Trump. As part of his plea agreement, Cohen stated that Trump had directed the payments.
During his congressional testimony and testimony before the Manhattan grand jury, he became a vociferous Trump critic.
Despite Donald Trump's denials, Cohen called Trump a liar.
In an interview with reporters on Monday, Costello said he came forward because he didn't trust Cohen, who pleaded guilty to federal charges including campaign finance violations.
'If they have solid evidence, then so be it,' Costello said. Cohen's evidence, however, is far from solid."
As Cohen told MSNBC, Costello "lacks any sense of veracity".
The investigation was not affected by Costello's testimony. In case prosecutors wanted him to refute Costello, Cohen was available for more than two hours, his lawyer said.
After Donald Trump said he expected to be indicted and arrested, and summoned supporters to act, he directed particularly hostile rhetoric at Bragg during the testimony. Due to his blackness and Democrat affiliations, Trump claims Bragg is biased against him.
SEE ALSO:
Wyoming's New Abortion Pill Ban Puts It At The Forefront Of The Fight