Top 5 Tips for Starting a Business With Slush Machines
There are a few things you should be aware of if you're considering beginning a frozen beverage business with slush machines. You must first identify a niche market. Which kinds of frozen beverages are you looking to sell? There are several options, from nutritious smoothies to rich milkshakes. You'll need to make a decent expenditure on equipment once you've chosen your specialty.
You'll need a freezer to keep your items cold, as well as a good blender. The next step is to create some recipes. Here's when your originality comes into play! You may find a tonne of recipes online or create your own original dishes. Finally, you must market your business in some way.
Whichever suits your budget and choices, you can accomplish this either online or offline. In order to bring in clients, you'll need to come up with some eye-catching marketing materials. You might even want to give away freebies or discounts to entice them to buy. You can swiftly start a profitable frozen drink business with a little diligence and dedication.
Modern Innovations: From Residential to Commercial Use
It is encouraged that a particular set of machines be used with mixtures that fall within a specific percentage range or ratio. While reducing client wait times, using frozen drink machines can also save time and labor.
Home Slushy Machines
Slushy machines were originally used in commercial settings, but now they are also common in homes. People are able to experiment with flavors and make their own frozen delicacies with home slush makers. These gadgets are now popular at get-togethers with family and friends and on special occasions.
Applications in Market
In the hospitality industry, the commercial slush machine is still commonplace and provides a little flair to menus. Slushy flavors continue to be available in theaters, cafes, convenience stores, and theme parks, giving patrons another tasty and reviving beverage option.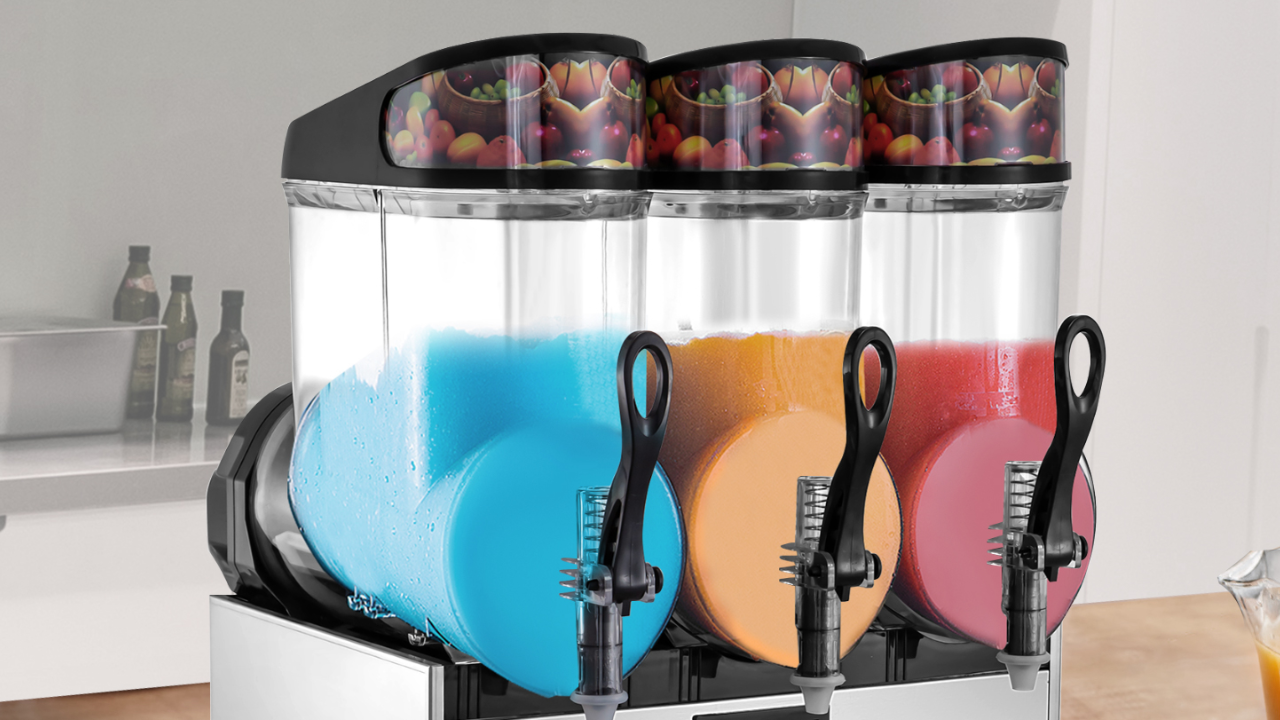 Selecting the Best Commercial Slush Machine
When buying a commercial slush machine, consider the subsequent aspects.
Capability
One of the first considerations to think about when buying a commercial frozen drink machine is its capacity for production. If you own a convenience shop or cafe and want to sell slushies in enormous quantities, selecting a large-capacity slushie machine is the most effective course of action.
On the other hand, you will discover a wide range of air-cooled, high-quality, medium-capacity slushy and margarita machines on VEVOR if you do not plan on selling frozen beverages or just want to add a small cocktail corner to your office or home.
Versatility
On the market, there are numerous varieties of commercial slushie producers. There are popular machines providing tasty frozen drinks like the ones you might discover at a convenience shop. A commercial margarita machine is a prime instance of a frozen drink machine that may make alcoholic cocktails. The best option for making many slushies at once is utilizing together slush machines.
Design
A commercial slush machine is not only outstanding for producing delicious frozen drinks, but it's also an excellent means to brighten up a workplace. Therefore, while choosing a frozen drink maker, be careful to choose one that harmonizes with the interior layout of your commercial space.
Durability of Slush Machines
Make sure you buy a slush machine that is guaranteed to endure repeated use when making the purchase. Some of the most exceptional models of commercial frozen drink machines have been exhibited by VEVOR and are referred to as robust and resilient.
Cost of Slush Machines
If you know how to effectively package frozen beverage goods, a commercial slush machine can be a fantastic investment that might increase a business's profitability. Yet, these water-cooled computers, particularly those that are commercial-grade, can also be fairly costly. A broad range of high-quality commercial slush machine goods can be bought from VEVOR, a well-respected brand of equipment and tools, at moderate price points.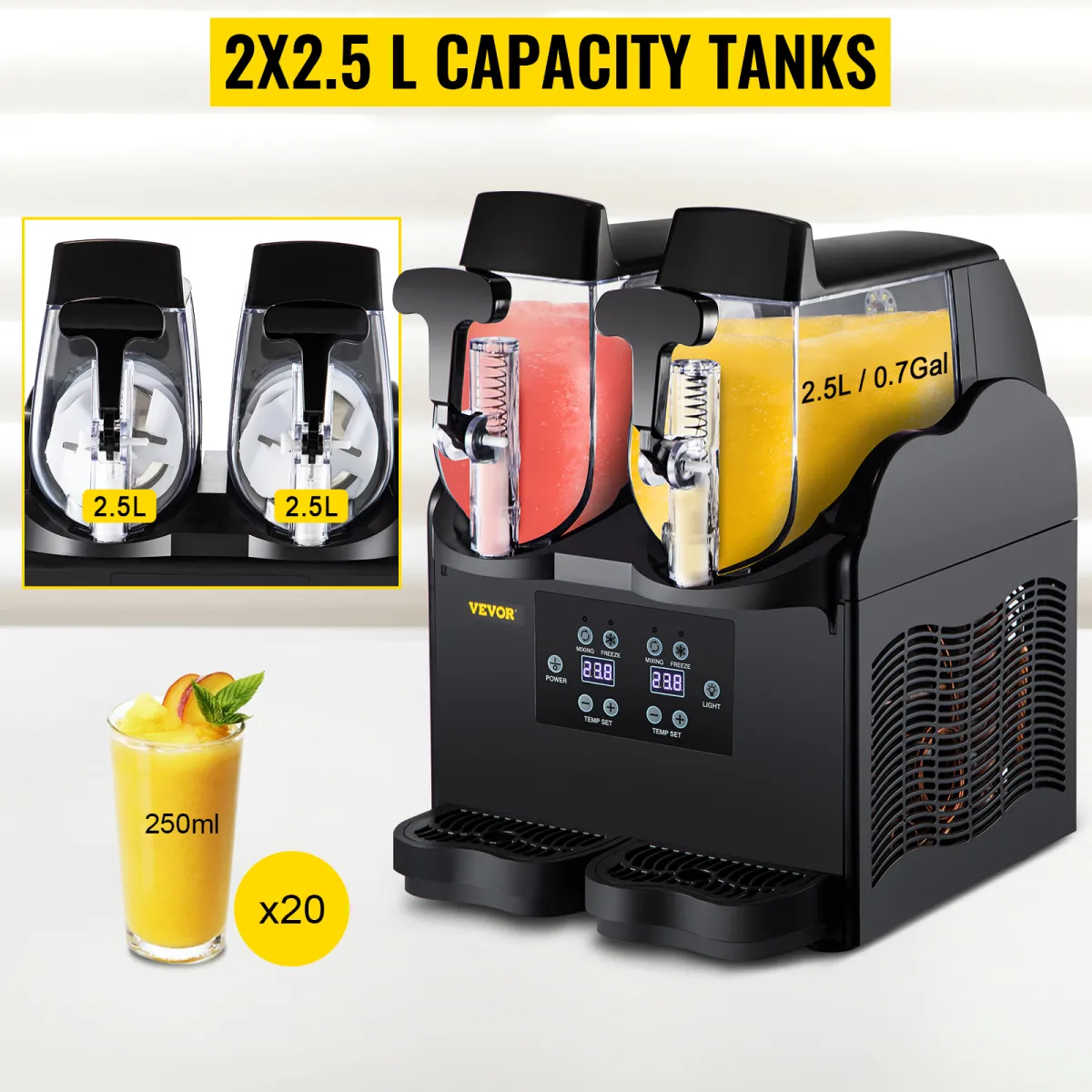 How Much Does It Cost To Produce Slushies?
Slushies are an ideal summertime beverage that you can rapidly and inexpensively create at home. You only require ice, your preferred fruit juice or soda, and a small amount of sugar. Just put everything in a blender and blend it up until the appropriate consistency is reached. You can top your slushie with an additional scoop of ice cream or yogurt for a more decadent taste.
A homemade slushie is an affordable summer delight because only a few simple ingredients are required. You can save money on home slush machines by making your own frozen drinks rather than purchasing them separately. For keeping machinery in functioning order, upkeep, and labor expenses are also significant considerations to machine operating costs.
Final Thoughts
On a day that is scorching, a frozen drink machine is a terrific way to stay cool. Any drink may be poured into the device, and it will transform it into a delectable frozen dessert. Iced coffee, iced tea, lemonade, and fruit juice are a few of our choices to put in a frozen drink maker. Sales can go up if retailers let customers enjoy cool beverages during the summer's heat.