Turkey Earthquake Kills More Than 35,410, Making It The Deadliest In Modern History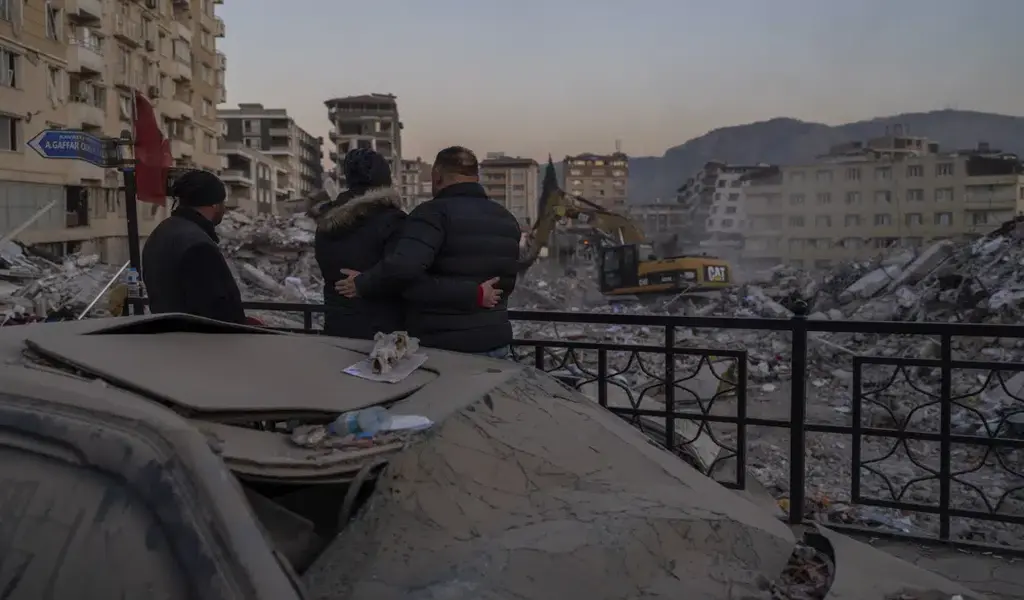 (CTN NEWS) – ANKARA – The earthquake that occurred last week in Turkey claimed the lives of more than 35,410 people, making it the deadliest tragedy to strike the nation since its founding 100 years ago, according to Turkish President Recep Tayyip Erdogan's announcement on Tuesday.
Many tens of thousands of survivors who were left homeless were still trying to meet basic requirements, like seeking shelter from the cold, even though the death toll is almost certainly increasing considerably.
The number of confirmed fatalities in Turkey exceeded that from the devastating earthquake in Erzincan, which claimed almost 33,000 lives in 1939.
According to Erdogan, the earthquake and its aftershocks on February 6 near Kahramanmaras resulted in 105,505 injuries.
The number of fatalities in neighboring Syria has increased to around 3,700, bringing the total in both nations to nearly 39,000.
More than 13,000 people were still receiving medical care in hospitals, according to the Turkish president, who has referred to the earthquake as "the calamity of the century."
Following a five-hour Cabinet meeting at the AFAD disaster agency's headquarters, Erdogan said 47,000 structures, which contained 211,000 homes, had either been completely demolished or were in such horrible shape that they needed to be torn down.
Erdogan said of ongoing rescue efforts: "We will keep working until we get our last person out of the wrecked structures."
Governments and aid organizations increased their efforts to send aid to Turkey's and Syria's ravaged regions.
The situation was particularly dire in Syria, where a 12-year civil conflict has complicated relief efforts and required days of bickering over how to even bring aid into the country, let alone distribute it. Some attendees claimed they received nothing.
Meanwhile, families crowded into train compartments in Turkey.
To give "desperately needed, life-saving help for over 5 million Syrians" for three months, the UN launched a $397 million appeal on Tuesday.
It comes a day after the international organization announced an agreement with Damascus to transport U.N. aid through two additional border crossings from Turkey to rebel-held areas of northwest Syria, but the needs are still great.
In Jinderis, one of the worst-hit areas in northwest Syria, Ahmed Ismail Suleiman set up a makeshift shelter made of blankets outside his wrecked home.
18 people slept outside under the improvised tent because he was terrified to relocate his family back into a home that might not be structurally stable.
He added that "we sit here but cannot sleep lying down. We are awaiting a suitable tent."
As nighttime temperatures drop to approximately minus 4 degrees Celsius, locals have so far been able to assemble about 2,500 tents, according to Mahmoud Haffar, head of the town council, but 1,500 households are still without shelter (26 degrees Fahrenheit).
The issue of when assistance will arrive is still brought up, according to Haffar.
One woman claimed that while tents were in low supply, donated bread and water were abundant in the community.
Only those squeezing into shelters appeared to be receiving supplies, according to Raeefa Breemo, in government-held Latakia to the southwest.
"To survive, we must eat and drink. Everything has stopped—our lives, our employment, everything, added Breemo.
Rescue teams, physicians, generators, and food have all offered their assistance, but the needs are still great after the magnitude 7.8 earthquake and strong aftershocks toppled or damaged tens of thousands of buildings, ruined highways, and temporarily shut down airports.
In addition to a sizable region in northwest Syria that is home to millions of people, the earthquake also hit ten provinces in Turkey that are home to almost 13.5 million people.
The health minister of Turkey stated samples from dozens of places in the water system revealed the water was unsafe to drink and that a large portion of the water infrastructure in the earthquake-affected area was not functioning.
Since last week, displaced families have sought sanctuary on train cars in the Turkish port city of Iskenderun.
On Tuesday, scores of people were still residing in the trains, even though many had recently gone for adjacent camps or other regions of Turkey.
According to Nida Karahan, age 50, "the wagons have become our home," Anadolu Agency.
Although the first Saudi relief plane carrying 35 tonnes of food touched down in Aleppo, which the Syrian government controls, transporting help to Idlib, controlled by the country's rebels, has proven particularly challenging.
Before the agreement reached on Monday between the U.N. and President Bashar Assad's administration of Syria, the international organization was only permitted to provide aid to the region through a single border crossing with Turkey or on government property.
The recently inaugurated crossings at Bab al-Salameh and Al Raée will be operational for three months. Russia reacted angrily when it was suggested that the crossings might be opened permanently.
According to its Foreign Ministry, the West was attempting to send aid "exclusively" to regions that were not under the control of the Syrian government.
Even though the first U.N. relief convoy with 11 trucks entered northwest Syria through Bab al-Salameh on Tuesday, major humanitarian organizations noted that logistical issues persist.
Christian Lindmeier, a spokesman for the World Health Organization, stated that the conversations are constantly going back and forth. "Each side must consent to receive convoys."
As search teams uncover additional victims, the death toll in both countries is expected to grow, and the window for discovering survivors was dwindling.
Nevertheless, according to the state-run Anadolu news agency in Turkey, teacher Emine Akgul was rescued from an Antakya apartment block by a mining search and rescue team more than 200 hours after the earthquake struck.
Rescuers in the Adiyaman province located 18-year-old Muhammed Cafer Cetin, and before trying a risky extraction from a structure that was further collapsing as rescuers were working, doctors gave him an IV with fluids.
Turkish TV revealed that the man was taken away on a stretcher after receiving an oxygen mask and a neck brace from medical personnel.
Authorities in Turkey continued to target contractors allegedly connected to the fallen buildings, and many blamed the extensive destruction on poor construction.
Turkey has implemented building regulations adhering to earthquake engineering requirements, although experts claim these regulations are rarely observed.
Erdogan stated on Tuesday that the nation would begin constructing 30,000 homes in March.
To meet the housing demand throughout the seismic zone, he added, "our goal is to finish the construction of high quality and safe buildings in a year."
190 families were sleeping on mats generally used for training on the floor of a basketball court at a temporary shelter in a sports facility in Afrin, in northwest Syria.
The families hung blankets from columns or sports bars to provide privacy.
Everyone has been ill for the past nine days, according to Sabah el Khodr and her two toddlers. The kids were dozing on the court's floor while covered in blankets.
According to local officials, the shelter is only in place while new tents are set up.
RELATED CTN NEWS:
Pakistan Raises Natural Gas Taxes In Bailout Bid
Syria: Gunmen Attack Hospital Where Newborn Was Saved From Earthquake