Turkey-Syria Earthquake Death Toll Passes 24,000 As Aid Trickles In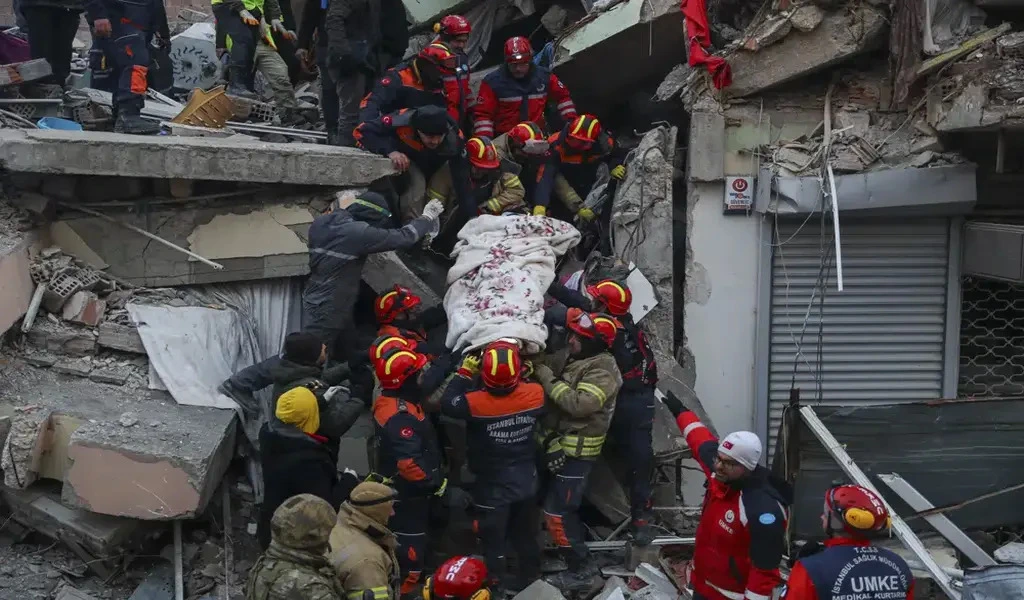 (CTN NEWS) – ANTAKYA, Turkey – After a significant earthquake struck a vast region on the border between Turkey and Syria, rescue teams in Turkey on Saturday managed to take out a family of five who had spent five days trapped inside their collapsed home.
However, the number of fatalities was close to 25,000.
In the severely damaged town of Nurdagi in the Gaziantep province, they initially managed to free mother and daughter Havva and Fatmagul Aslan from a pile of debris, according to HaberTurk.
When the crews eventually got to the father, Hasan Aslan, he insisted that Zeynep and Saltik Bugra be saved before his other daughter.
Rescuers then celebrated and sang, "God is Great!" as the father was taken out.
Nearly 132 hours after the earthquake, a 7-year-old girl was saved in the province of Hatay. Two hours later, a 3-year-old daughter and her father were recovered from the rubble in the town of Islahiye, also in Gaziantep province.
Despite dwindling prospects amid bitter cold, the rescues raise the total number of individuals saved on Saturday to 12.
What day is it today? According to NTV television, 16-year-old Kamil Can Agas questioned his rescuers after being extracted from the debris in Kahramanmaras.
The teenager's cousins and members of the joint Turkish and Kyrgyz search teams all hugged and shouted, "He is out, brother," as they did so. He has left. He is present."
Days after the 7.8-magnitude earthquake on Monday that destroyed thousands of structures, killed more than 24,500 people, injured another 80,000, and left millions homeless, the rescues gave glimmers of joy amidst the terrible loss.
Hours later, a second earthquake almost as strong as the first and probably caused by it inflicted more havoc.
However, not everything turned out well. Early on Saturday morning, rescuers found a 13-year-old girl trapped among the rubble of a collapsed building in Hatay province and successfully intubated her.
She passed away, however, before the medical staff could remove her from the debris and amputate a limb, according to the Hurriyet newspaper.
Even though experts claim that those trapped can survive for up to a week, the likelihood of finding more survivors rapidly decreased.
Rescuers switched to using thermal cameras to find life among the debris, a hint of the frailty of any lingering lives.
A 99-person team from the Indian Army's medical support team started attending to the injured in a makeshift field hospital in the southern city of Iskenderun, where a big hospital had been destroyed, as relief continued to arrive.
Sukru Canbulat, a guy with severe injuries to his left leg, including deep bruising, contusions, and lacerations, was wheeled into the hospital in a wheelchair.
He said he was saved from his fallen apartment building in the neighboring city of Antakya just hours after the Monday earthquake, wincing in pain.
He was nevertheless freed without obtaining sufficient medical attention for his injuries after receiving only basic first aid.
Canbulat listed his deceased family, saying, "My daughter is dead, my sibling died, my aunt and her daughter died, and the wife of her son," who was 812 months pregnant. "I buried (everyone I lost), then I came here."
On Saturday, a sizable improvised cemetery was being built outside of Antakya. Backhoes and bulldozers excavated pits in a field on the city's northeastern fringe as trucks and ambulances carrying black body bags kept arriving.
Soldiers in charge of traffic on the congested nearby road warned drivers not to snap pictures.
Simple wooden planks embedded vertically in the ground served as grave markers for the hundreds of graves, which were separated by no more than three feet (one meter).
Due to orders not to share information with the media, a Ministry of Religious Affairs employee in Turkey who wished to remain anonymous revealed that on Friday, the cemetery's opening day, some 800 remains were brought there.
He said that as many as 2,000 had been interred by Saturday noon.
People who are currently emerging from the rubble are lucky to be alive. He remarked that most of the folks arriving here are dead.
The vast area has continued to stay below freezing, and many people are without shelter. Although the Turkish government has donated millions of hot meals, tents, and blankets, it is still having difficulty reaching many people who are in need.
When visiting earthquake-stricken Diyarbakir, Turkish President Recep Tayyip Erdogan announced that colleges would switch to distance learning until the summer to provide room in state-run dormitories for displaced survivors.
Survivors in the city of Kahramanmaras wandered among hundreds of tents, waited in line for hot meals, and cuddled around campfires where a stadium had been converted into a makeshift camp.
Numerous Syrian refugees in Antakya have been given shelter in the grounds of a standing building on the city's outskirts by an international organization that aids Syrian refugees in Turkey.
According to Ahmed Abou el-Shaar, the founder of the Molham charity, "the issue is that there is not a single home that is inhabitable in Antakya; thus, the only shelter is the street."
The catastrophe increased hardship in an area plagued by Syria's 12-year civil war, forcing millions of people to flee their homes and rendering them dependent on handouts. Millions more people fled the war and sought asylum in Turkey.
Many sections of Syria are now isolated due to the violence, which makes it more difficult to deliver relief. According to the UN, the first assistance convoy due to the earthquake arrived in northwest Syria on Friday, the day after a pre-disaster aid shipment did.
According to the U.N. refugee agency, up to 5.3 million people in Syria are now without a home.
President Bashar Assad and his wife have visited sick earthquake victims in a hospital in the Syrian president's home city of Latakia on the coast.
According to Syrian state television, Assad and his wife Asma visited Duha Nurallah, 60, and her son Ibrahim Zakariya, 22, on Saturday morning after they were rescued from the wreckage the previous evening in the adjacent coastal town of Jableh.
According to state news agency SANA, Tedros Adhanom Ghebreyesus, the director of the World Health Organization, arrived in Aleppo in northern Syria on Saturday with 35 tonnes of medical supplies.
In the following days, he said, a second plane carrying an extra 30 tonnes of medical supplies will land.
On Saturday, White Helmets, an opposition group in Syria, claimed it was "nearly hard to find anybody alive."
There have been 2,166 fatalities in the northwest of Syria, including women and children. While there were 21,043 fatalities in Turkey as of Saturday, there were 3,533 fatalities in Syria.
RELATED CTN NEWS:
Thai Tourists don't Need to Show a Pre-Departure Covid-19 Test to Visit India from Next Week