Hamas Fighters And Israeli Forces Clash In Gaza As Conflict Escalates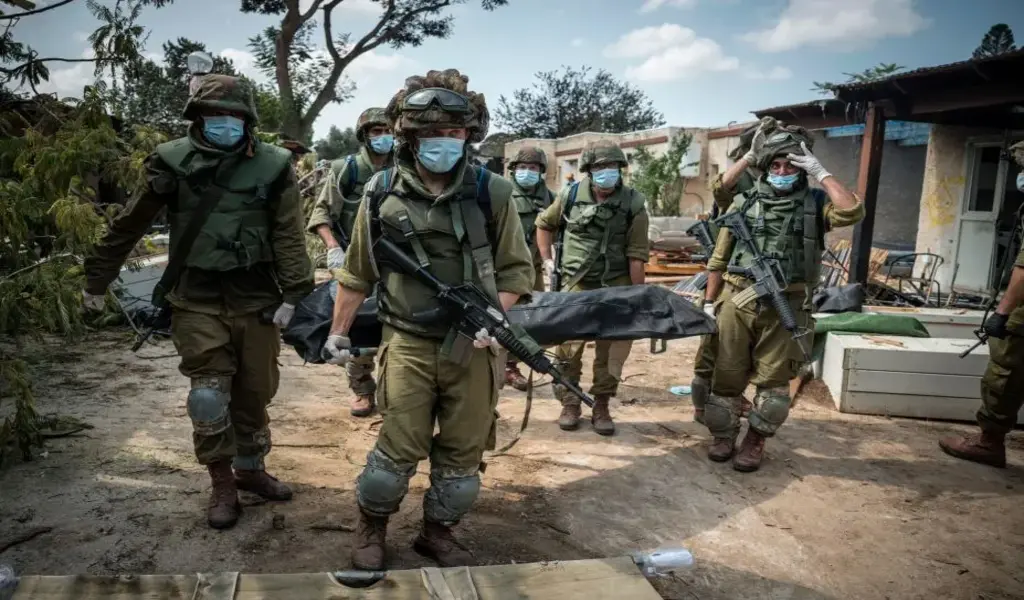 (CTN NEWS) – Hamas fighters and Israeli forces clashed in limited engagements within Gaza on Sunday as the Israeli military intensified airstrikes on the Palestinian territory, preparing for what it described as the "next stage" of its conflict with the militant group.
Hamas reported that its fighters had destroyed two Israeli military bulldozers and a tank in an ambush near Khan Younis in Gaza, forcing Israeli troops to withdraw without their vehicles.
The Israel Defense Forces (IDF) confirmed that its forces had been operating within Gaza during the incident and that an IDF tank had struck militants who fired on its troops.
This episode appeared to be one of the first ground skirmishes between the two sides inside the Gaza Strip since the conflict began following Hamas' deadly attack on Israel on October 7, resulting in over 1,400 casualties.
These clashes occurred as the IDF amassed a significant number of troops at the Gaza border and continued relentless airstrikes on the densely populated enclave in the past two weeks.
Hospitals in Gaza reported being overwhelmed with casualties on Sunday, with one describing the day as "bloody."
Another hospital had to reduce dialysis treatments due to shortages of electricity and fuel.
Since Israel's response to the Hamas attack more than two weeks ago, over 4,600 people in Gaza have lost their lives, according to the Gazan health ministry.
The situation has become so dire that some parents in Gaza have resorted to writing their children's names on their legs to aid in identification in the event of their deaths.
A CNN journalist documented the heartbreaking scenes at the Al Aqsa Martyrs Hospital, where a toddler and three children were seen lying lifeless on stretchers with their names written in Arabic on their calves.
It remains unclear whether the parents of these children also survived.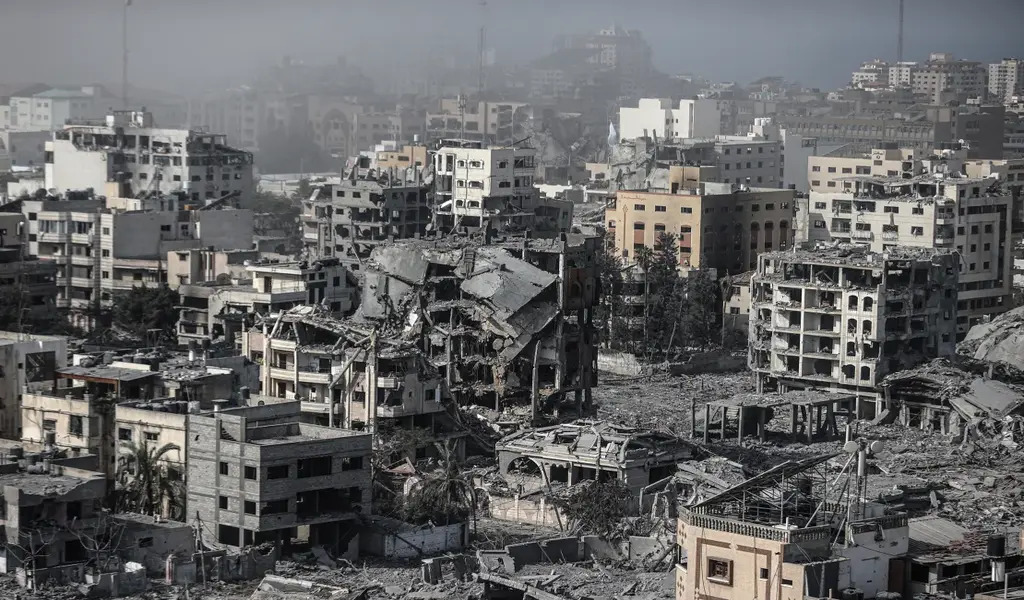 The US government has urged Israel to postpone its ground operations in Gaza, with the aim of facilitating the release of more Hamas hostages and providing humanitarian aid to Gaza.
This request comes in the wake of Hamas releasing two Americans who had been held captive.
There are around 200 hostages believed to be in Hamas' custody following the militant group's recent attacks.
While Israel has not provided a specific timeline for a potential ground offensive in Gaza, military officials have made it clear to troops that an incursion is imminent.
IDF spokesman Daniel Hagari announced on Saturday that Israel would increase its airstrikes, reduce the risk to its troops, and intensify the strikes in preparation for the next stage of the conflict.
An IDF soldier died during preparations for the Gaza ground operation, and three others were injured, according to an Israeli Defense spokesman.
The US and its allies have advised Israel to be clear and strategic about its objectives during any ground operation in Gaza, emphasizing the need to avoid a prolonged occupation and minimize civilian casualties.
The leaders of Spain and the Netherlands spoke to Israeli Prime Minister Benjamin Netanyahu on Sunday, expressing support for Israel while calling for restraint.
UN independent experts have raised concerns that Israeli actions in Gaza could lead to "crimes against humanity."
They highlighted the complete blockade of Gaza, along with unfeasible evacuation orders and forced population transfers, as violations of international humanitarian and criminal law.
The experts described these actions as unspeakably cruel in a statement issued on Thursday.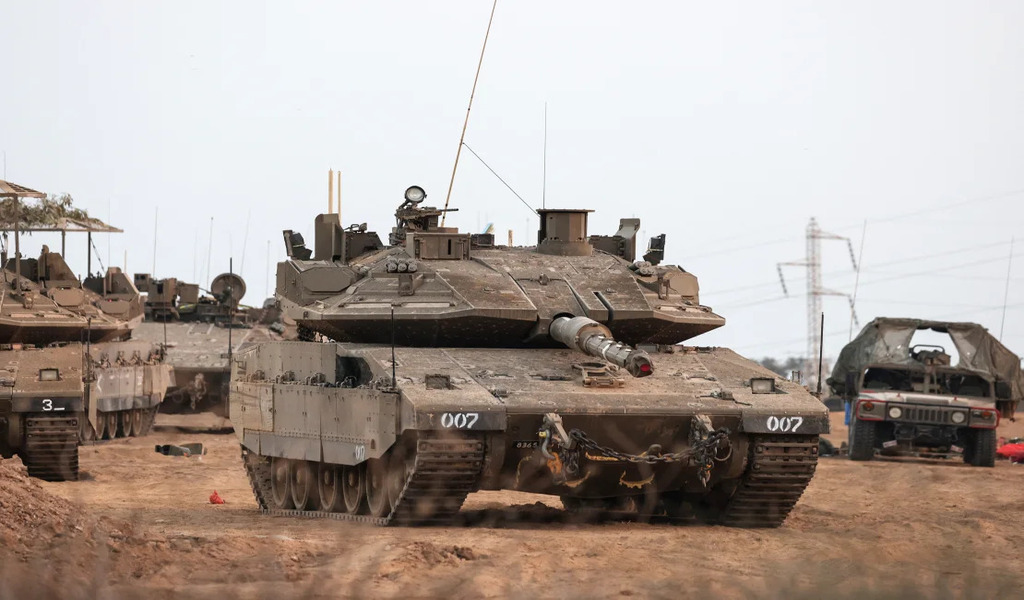 Increasing Violence
Israel's military conducted a series of airstrikes on Hamas targets in northern Gaza late on Sunday, marking one of the most sustained bombardments in the region.
According to CNN's Nic Robertson, who has been reporting from southern Israel for the past two weeks, this escalation was notable.
While the US and Qatar have been working on efforts to secure the release of hostages held by Hamas in Gaza, a senior Israeli official firmly rejected the possibility of a ceasefire, emphasizing that humanitarian efforts should not deter the mission to dismantle Hamas.
Violence has also flared in the occupied West Bank.
On Sunday, the Israel Defense Forces (IDF) launched an airstrike on the Al-Ansar mosque in the West Bank refugee camp of Jenin, citing its use by militant groups for planning an "imminent terror attack."
This incident, if confirmed to be from a fighter jet, would be the first such strike in the West Bank in nearly two decades.
According to Lt. Col. Jonathan Conricus, an IDF spokesman, the military had intelligence suggesting that a joint Hamas and Islamic Jihad squad was preparing for an imminent attack from an underground command center beneath the mosque.
The strike resulted in the death of three people, as reported by the Palestinian Ministry of Health on Sunday.
Additionally, clashes in the West Bank cities of Toubas and Nablus led to two fatalities, according to the Palestinian Ministry of Health.
The IDF also acknowledged an accidental incident in which an Israeli tank hit an Egyptian post near the two countries' border, resulting in minor injuries to Egyptian border guards.
The IDF expressed regret for the incident and is conducting an investigation.
Kerem Shalom, one of Israel's border crossings with Gaza, remains closed due to a "complete siege" imposed by Israel since the beginning of the conflict.
The area was previously targeted on October 7 when Hamas militants engaged in violence against civilians after breaching the Gaza border.
Since the outbreak of the conflict, Israeli authorities have imposed further restrictions on the movement of Palestinians in the West Bank, leading to a surge in attacks by Israeli forces and settlers.
The Palestinian Ministry of Health reported that at least 90 individuals have been killed in the occupied Palestinian territory since October 7.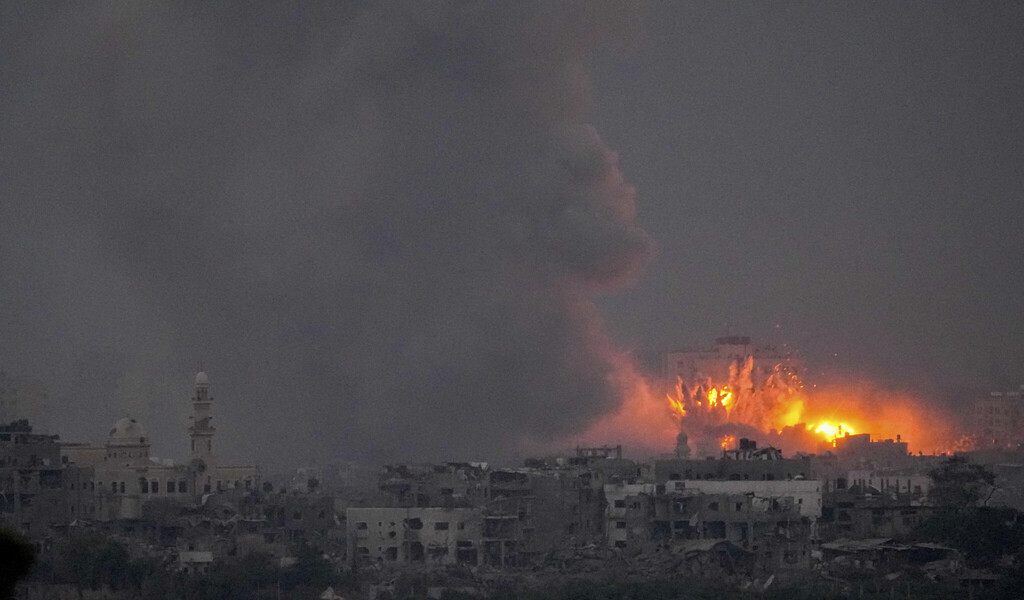 Telling Hospitals To Evacuate
In Gaza City, the IDF dropped leaflets written in Arabic, urging residents to evacuate southward to avoid potential association with the terrorist organization, Hamas.
The IDF confirmed the distribution of these flyers but emphasized that there was no intent to label those who hadn't evacuated as members of the terrorist group.
The IDF clarified that it distinguishes civilians and does not target them.
Israeli airstrikes in Gaza have resulted in significant destruction, including schools and mosques.
Israel contends that it is targeting Hamas facilities and alleges that the group uses civilians as shields.
As of Sunday, the Palestinian Ministry of Health in Gaza reported that Israeli airstrikes had caused the deaths of 4,651 individuals, including over 1,900 children and 1,023 women. More than 14,245 people have sustained injuries.
In northern Gaza, over a million residents received instructions from Israel to relocate to the south.
Additionally, Israel has ordered the evacuation of over 20 hospitals in northern Gaza, where thousands of patients are receiving treatment.
Humanitarian organizations, such as the United Nations and the Palestinian Red Crescent, argue that these orders could effectively be a death sentence for those patients, as they lack the means to safely relocate critically injured individuals.
The IDF maintains that it does not target hospitals, but international organizations like the UN and Doctors Without Borders assert that Israeli airstrikes have struck medical facilities, including hospitals and ambulances.
Dr. Iyad Issa Abu Zaher, Director General of Al Aqsa Martyrs Hospital in Gaza, described the dire situation, characterizing it as a "bloody day."
The hospital received a substantial number of bodies and admitted more than 300 injured individuals.
Dr. Abu Zaher noted the overwhelming number of injuries, limited space, and the catastrophic situation, with injured patients waiting for medical attention outside operating theaters and piled on top of one another.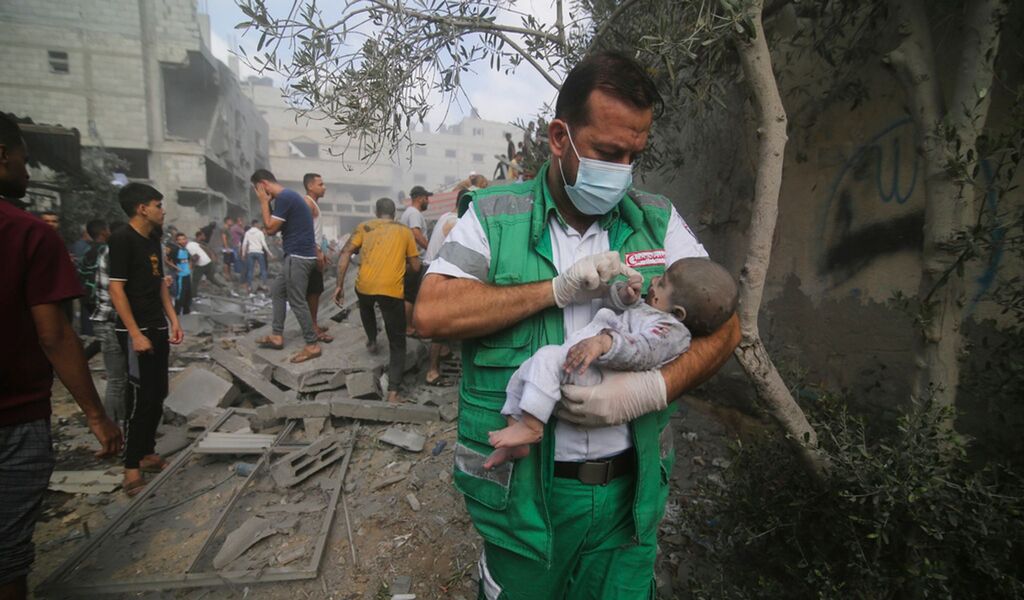 insufficient Aid
CNN observed that at least 14 relief aid trucks, backed by the Egyptian Red Crescent and the United Nations, entered the Gaza Strip from Egypt via the Rafah crossing on Sunday evening.
A Palestinian Red Crescent Society official in Gaza confirmed that the trucks were allowed entry, and their contents were offloaded to proceed to UN storage facilities in Gaza.
However, the trucks did not transport fuel, which is essential for operating hospitals and water treatment facilities in the isolated territory, according to UNRWA spokesperson Juliette Touma.
This delivery follows the initial convoy of 20 trucks that carried food, water, medicine, and medical supplies into Gaza on Saturday.
While this aid is essential, aid workers and international leaders emphasize that much more is needed to address the "catastrophic" humanitarian crisis in Gaza, home to over 2 million people.
WHO director general Tedros Adhanom Ghebreyesus has emphasized that the aid Gaza has received falls far short of its actual needs.
The Ministry of Health in Gaza noted that the initial aid convoy accounted for only 3% of the daily health and humanitarian requirements that used to enter Gaza before the conflict.
One UN official warned on Sunday that the UN's fuel supply in Gaza will run out in three days, threatening water, hospital operations, and food distribution.
The UN's World Food Programme (WFP) stated that it urgently requires $74 million to sustain its emergency response in Gaza for the next 90 days, citing severe shortages of food, water, power, and medical supplies pushing civilian lives to the brink of catastrophe.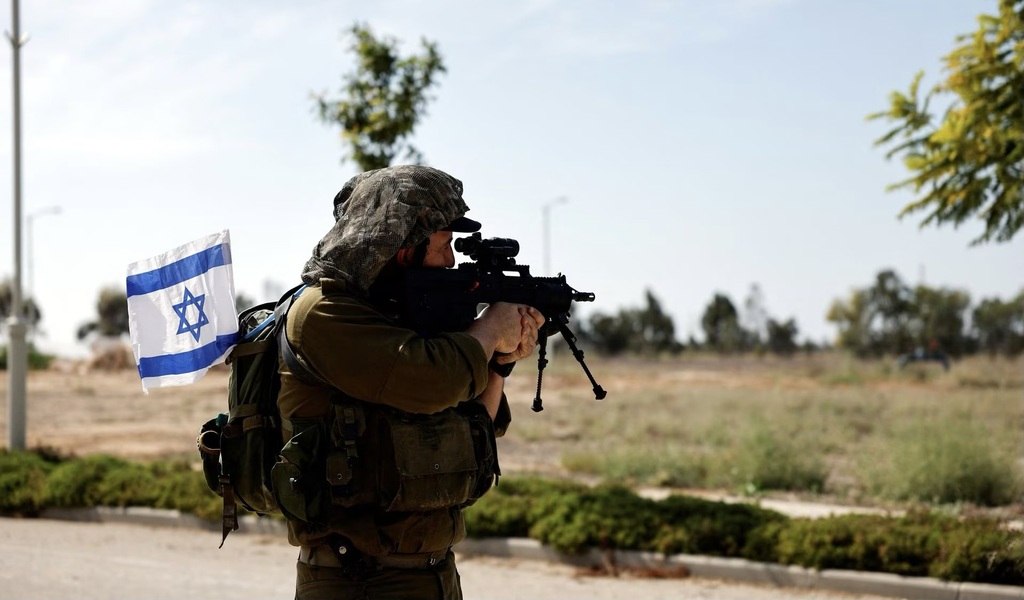 Wider Conflict
As the Israeli military prepares for the next stage of the conflict, they have issued warnings to regional actors not to become involved in the ongoing conflict.
IDF spokesperson Conricus emphasized that the Lebanese militant group Hezbollah is "playing a very dangerous game" that could potentially draw Lebanon into a war with no benefit.
Hezbollah has been reportedly attacking Israeli positions near the Lebanon border, resulting in civilian and military casualties.
In response, the IDF has launched counterattacks utilizing tanks, drones, artillery, and infantry to target Hezbollah infrastructure and squads operating anti-tank missiles.
Furthermore, Israel's Ministry of Defense and the IDF have expanded a state-funded evacuation plan to include 14 additional communities in northern areas near the Lebanon border.
The voluntary evacuation plan, initially rolled out for 28 communities, had already led to the evacuation of approximately 123,000 civilians from their homes in northern and southern Israel by Friday.
MORE RELATED NEWS:
US Prosecutors Accuse High-Profile Crypto Firms Of $1 Billion Investor Fraud
Israel army orders villagers to evacuate Lebanon border as tensions rise with Hezbollah
Gaza, Syria, and the West Bank are struck as Israel fights Hamas on other fronts