The Spotify Ambassador Of The Month Is Pakistan's Tina Sani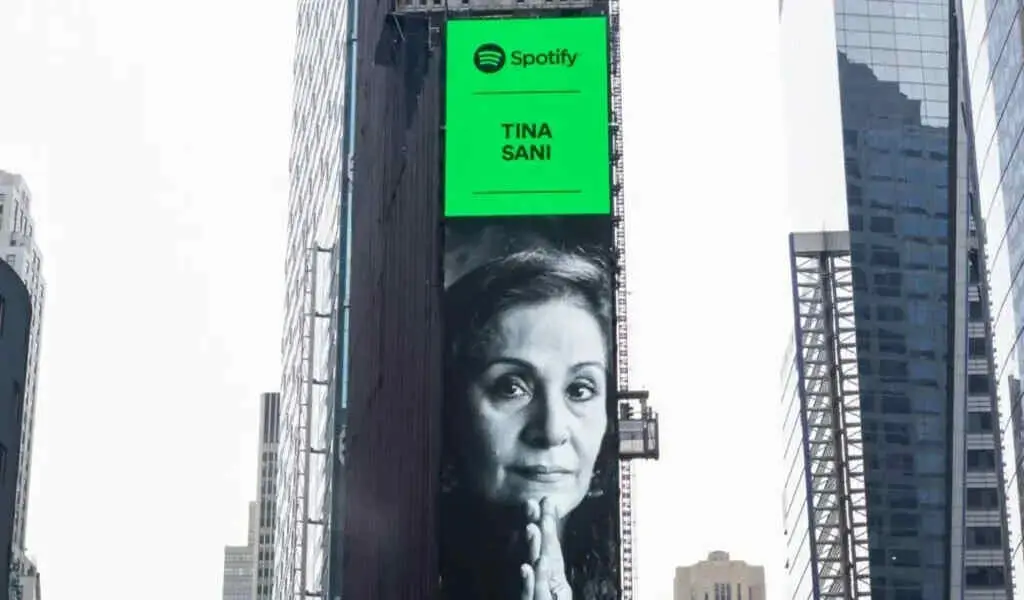 (CTN News) – As part of its first anniversary celebration, EQUAL Pakistan has honored classical maestro Spotify Tina Sani as its Ambassador for March 2023.
In celebrating a year of honoring legendary and rising women musicians, EQUAL Pakistan has set a grand stage for their performances.
With her mesmerizing track 'Dasht-e-Tanhai' being featured on Spotify's EQUAL Pakistan playlist, Tina Sani becomes the latest Pakistani idol to be featured on a Spotify EQUAL's digital billboard.
As part of EQUAL's first anniversary, Spotify is launching a trend highlighting the last twelve ambassadors, all of whom are inspirational figures in their own right, amplifying their voices further through an innovative digital campaign.
In this initiative, all of the previous women artists showcased by EQUAL Pakistan will be brought together to emphasize the power the female segment holds once they are given the right platform.
Since EQUAL launched in Pakistan, women musicians have had a new experience. Spotify revealed on EQUAL Pakistan's 1 year anniversary that EQUAL artists received 2.2 million hours of editorial streams in the first year.
The number of streams for women artists featured by EQUAL has increased by 330% since last year. In addition, women get 68% more discoveries when they're on EQUAL Pakistan.
The numbers show how much reach the music streaming service gives women artists through its signature offering. Natasha Baig, one of the featured EQUAL Pakistan Ambassadors, had the biggest year-on-year stream increase. Her listenership frequency jumped 430% in a year.
EQUAL Ambassador Natasha Humera Ejaz had a 274% increase in streams, followed by Shae Gill, who had a 242% increase.
"I am honored to be the Spotify Equal Ambassador for Pakistan," said the legendary singer, Tina Sani. It's about time female musicians get the recognition they deserve in the Pakistani music scene.
This brilliant initiative showcases their deep rooted investment in the music scene to worldwide audiences," she said.
In Indian classical music, Tina Sani is associated with ghazal 'gayaki'.
As a classical music prodigy trained by Ustad Nizamuddin Khan and "Shahenshah-e-Ghazal" Mehdi Hassan, Tina has established such a profound presence that she is currently receiving both the Pride of Performance Award and the Performance Recognition Award from the President of neighboring India.
EQUAL's amplification of women musicians didn't stop with the Ambassadors of the Month.
Alycia Dias, an emerging playback singer on the EQUAL Pakistan playlist, saw her streams rise by 1084%. 584% growth in streams was seen by Sehar Gul Khan, the voice behind Bol Kaffara. Another notable addition was Nimra Gilani, and Yashal Shahid, both with 508% increases.
There were streams of EQUAL artists emerging from Pakistan, India, USA, UK and Canada, demonstrating a global reach for female musicians. Following EQUAL Pakistan, which featured 93 EQUAL artists, Women of Pakistan featured 80 EQUAL artists.
How to pay for Spotify in Pakistan?
Payment methods
Credit/debit card.
Prepaid cards.
PayPal.
Gift cards.
Pay by mobile.
Pay as you go.
SEE ALSO:
Court Filing Reveals Some Parts Of Twitter's Source Code Was Leaked Online