With Opera Browser, You Can Now Summarise With ChatGPT And AI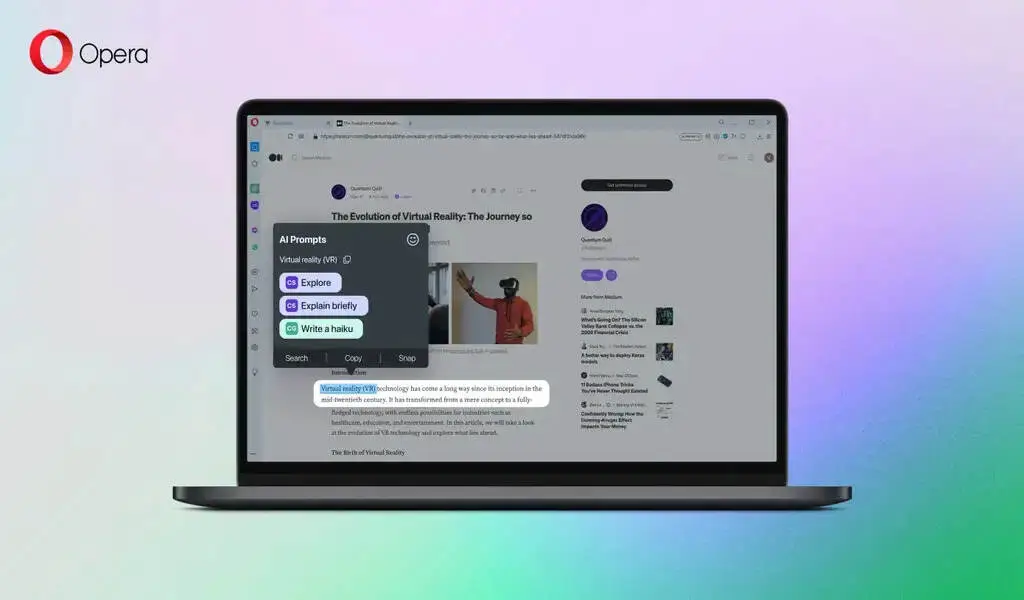 (CTN News) – Several weeks ago, Microsoft launched a GPT-4-powered chatbot in its Edge browser. Opera is following suit and incorporating generative AI chatbots built by ChatGPT and ChatSonic into its desktop browsers Opera and Opera GX, just weeks after Microsoft did.
According to the browser maker, these updated tools are available as early access on all desktop platforms right now.
Additionally, Opera is releasing a feature that lets you generate AI prompts by simply highlighting text on a website or typing it out directly from your browser. Additionally, these chatbots are also capable of summarizing articles or webpages, writing social media posts for you, or even helping you come up with new ideas through prompts.
The "AI prompts" feature is only available to users who manually enable the feature through the settings menu.
It is also being made possible by the company that is owned by a Chinese consortium, to integrate ChatGPT and ChatSonic into the sidebar of its browsers.
Although ChatGPT can also generate images from text inputs, Opera says that ChatSonic's bot – which is also powered by GPT-4 – can also let users generate images from their text inputs using their bot.
"AI based content will revolutionize the way we browse the web and change how users browse. Using these technologies, our goal is to reimagine the way our users learn, create, and research – giving them a new level of power when browsing – empowering them to uncover new knowledge.
"Opera's product director, Joanna Czajka, says that the company is actively expanding its AI program into AIGC for browsers, news products, and game products through its own solutions and partnerships with existing and new vendors."
In the future, the company plans to unveil more AI-powered features powered by its own GPT-based model to enhance the existing offerings while also introducing new ones.
Considering the popularity of generative AI, it is very likely that more browsers will follow suit and integrate some kind of AI-based tool in the near future.
As part of the recent update to its search offering, Brave has added summerization features, and the company has also confirmed that it is experimenting with AI-focused features for its browser, as well.
SEE ALSO:
Horizon Worlds, Meta's VR Social Network, Is Gaining Users